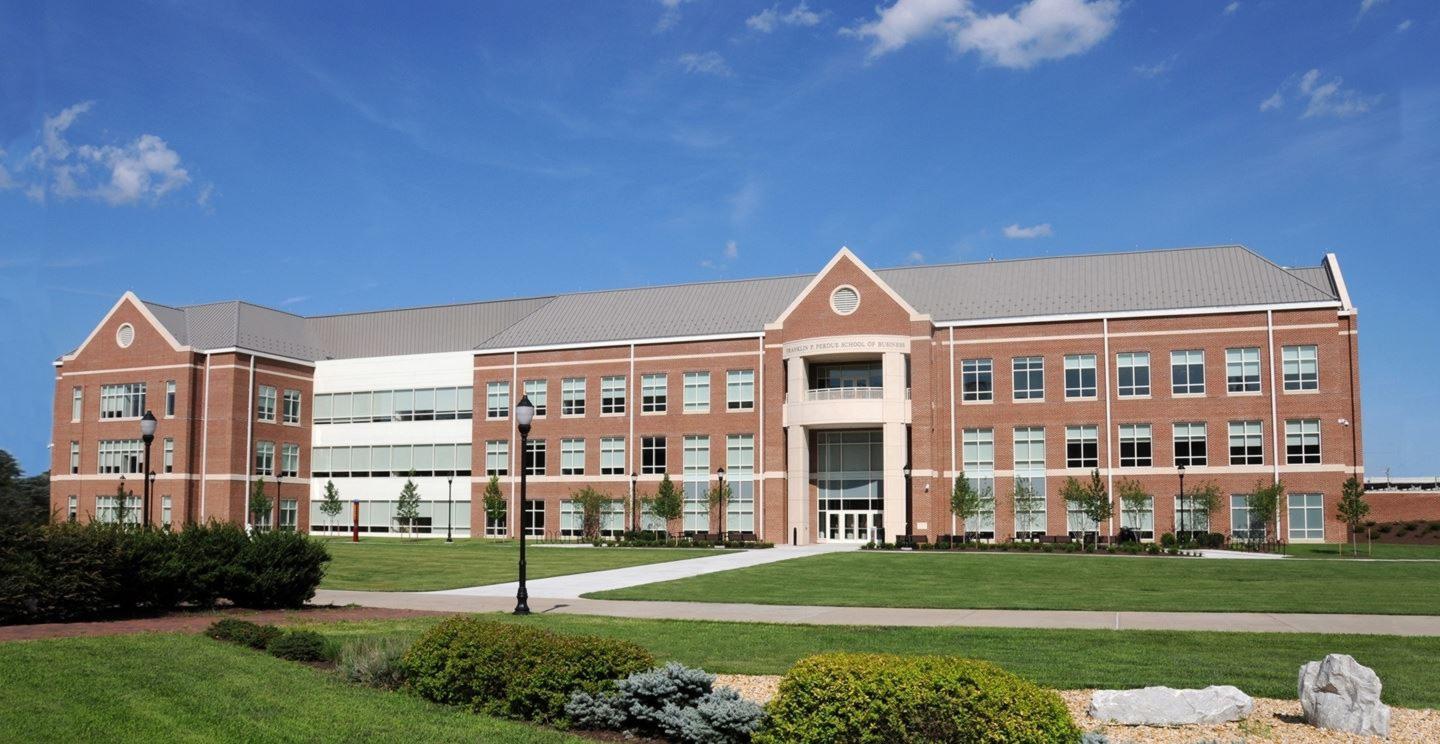 Perdue School of Business
At the Franklin P. Perdue School of Business, you have the opportunity to study at one of the best business schools in the world! Perdue has worked diligently to obtain and maintain its accreditation by the AACSB International, enabling us to offer you an outstanding business education. Our academic programs reflect the highest standards of business education with an emphasis on the entrepreneurial spirit, teamwork and friendly, community-outreach experiences. You will graduate with a leadership drive to succeed and ethically serve business, government and the community.
Departments, Programs and People
The business school provides for student interaction with the business world and focuses on preparing graduates who can apply business knowledge to solve problems; make sound decisions using the most current technological resources available; communicate effectively verbally and in writing; demonstrate the interpersonal skills and ethical awareness to function as a successful business professional; and operate successfully in the diverse, global, team-based environments of business. Learn more about our faculty, administration, programs, departments and their major:
Perdue School News
Get the latest happenings on our students, faculty and alumni in the Perdue School News.
Pledge To Be Your Best Self
All of our courses, intentions and actions are guided by the Perdue School Pledge. These are principles everyone should follow!
I will …
Act ethically in the decisions I make.
Make an effort to represent Salisbury University in a positive light.
Promise to work hard to achieve my academic and professional goals.
Engage in activities that make a difference through serving the community.
Recognize myself and others by honoring achievements.
Draw beneficial experiences from my networking opportunities.
Understand that when I act, speak and write, the world may be watching.
Embody this code to represent myself, my school and my community honorably.
I AM PERDUE
Academic Programs
Undergraduate Degree Programs
The Perdue School of Business offers the following majors:
In addition, the Perdue School offers an Upper-Division Certificate in Fraud and Forensic Accounting.
Professional Program
Juniors and seniors admitted into the Professional Program complete the following requirements:
Six upper-division core courses which must be taken by all majors
A set of specific course requirements unique to the major, concentration track that the student is pursuing
An applied business learning experience
Meet the student professional development requirements
Business Honors Program
Our Business Honors Program is designed to bring together high-achieving students and dedicated faculty in a small classroom environment to enrich and complement our educational opportunities and programs.  We provide students the opportunity to fulfill many of their Honors College requirements with honors sections of courses that also fulfill their requirements for their degree in Accounting, Economics, Finance, Information Systems, Management or Marketing within the Perdue School of Business.
Learn More about the Business Honors Program
Graduate Degree Program
The Perdue School of Business offers the Master of Business Administration.
Minors
The Perdue School of Business offers the following minors:
The business administration and marketing management minors are not open to business, management information systems or accounting majors.
Non-Degree Seeking Students
The Perdue School serves non-degree-seeking students by allowing them to enroll directly in both lower- and upper-division courses. Students who do not meet specific course pre-requisites must obtain approval from the associate dean of the Perdue School of Business before enrolling.
The Perdue School welcomes students from other disciplines in lower-division classes and can accommodate a limited number of these students in upper-division (300/400- level) courses as the school's professional-program students are given priority.
Because the Perdue School cannot guarantee that non-majors will be able to enroll in upper-division courses during any specific semester, students from other disciplines should plan ahead if their program requires upper-division Perdue School courses
1
of 452 colleges and universities worldwide with Accreditation by AACSB
5.5M
dollar gift kickstarts Center for Entrepreneurship
300K
dollars awarded annually for the Perdue School's Entrepreneurship Competitions