Record Nine from SU Named 2022-23 Fulbright Students
Tuesday May 24, 2022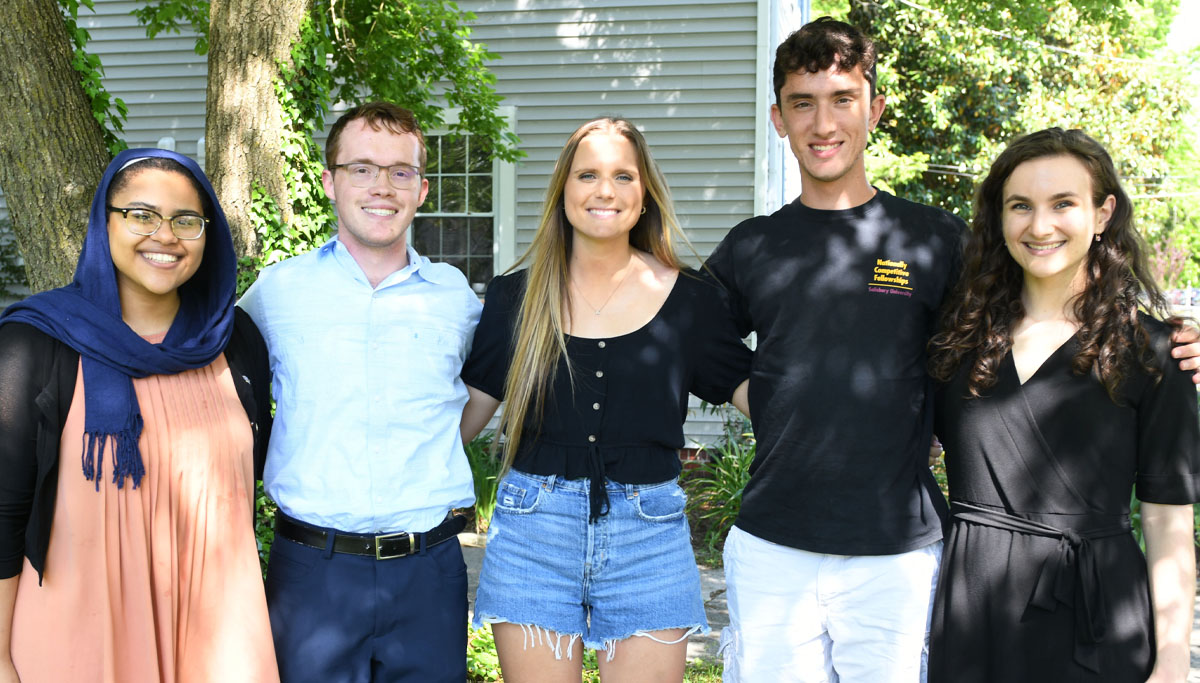 SALISBURY, MD---A record nine Salisbury University students and alumni have earned the prestigious U.S. Fulbright Student Award for the 2022-23 academic year.
Abigail Boltz '21, and seniors Christian Ciattei and Melanie Staszewski won research awards to study in Finland, Brazil and Poland, respectively.
Kimberly Arriaga-Gonzalez '21; senior Aida Dodoo; N'Tumahawa Kamara '21; Morgan McGlone-Smith B.A. '20, M.A. '22; Nathaniel Sansom '21; and senior Kylie Webb earned English Teaching Assistantships (ETAs) in Peru, Madagascar, Bulgaria, Romania, Slovakia and the Czech Republic, respectively.
"This is Salisbury's best year ever for the Fulbright Student Award, with a nearly 50% acceptance rate from original applicants," said Dr. Kristen Walton, director of SU's Nationally Competitive Fellowships Office. "Overall, we had 19 applicants, 15 semifinalists and nine recipients. The students worked hard and demonstrated both academic success and community involvement to win these awards."
She also noted the diversity of this year's applicants, which included students from racially diverse backgrounds, students with disabilities, first-generation students and Pell Grant recipients.
Ciattei, a geography major from Nottingham, MD, plans to study capuchin monkeys at Brazil's Carlos Botelho State Park and Una Biological Reserve to determine whether human activity that has degraded some of the country's natural primate habitat has affected their social and navigational capacities.
"Though Brazil is one of the few countries that still possesses vast pristine primate habitat, many of its primate species are coming under threat as this habitat diminished," he said. "It is important to understand the behavioral responses of primates to human activity in order to gain a clear picture of this intensifying conflict for space."
Ciattei also was a Rhodes Scholar finalist in 2021. His Fulbright application was supported by Drs. Mara Chen, Arthur Lembo and Andrea Presotto of the Geography and Geosciences Department.
Staszewski, a biology major from Poolesville, MD, will join the team of Dr. Tomasz Wojdacz, whose research has suggested that methylation may play a role in the manifestation of breast cancer.
"With Dr. Wojdacz's expertise and extensive network in the field of epigenetics, I will have the necessary mentorship and resources available to apply the ChAMP data analysis- pipeline toward the analysis of methylation changes near BRCA1 in the blood," she said. "This knowledge will help expand upon the poorly understood connection between methylation near BRCA1 and breast cancer pathology, which can help develop and improve breast cancer prediction models that ultimately improve patient prognoses."
Her application was supported by Drs. Jessica Clark of the Provost's Office and Biological Sciences Department, Stacia Kock of the Bellavance Honors Program and Anthony Rojas, formerly of the Chemistry Department, with assistance from Agata Liszkowska of the Dudley-Eshbach Center for International Education.
Arriaga-Gonzalez, an English and philosophy major from Millsboro, DE, hopes to provide Peruvian communities with tools to support their English language acquisition while also learning to use Spanish as a language of expression and sincerity.
"Over the past year, I have realized my strong adoration for words can be a sanctuary when life leads to unexpected places," she said. "The importance of understanding personal desires or goals and holding the tools to execute them properly cannot be underrated."
Her application was supported by Drs. Cristina Cammarano, Grace Clement and Timothy Stock of the Philosophy Department.
Dodoo, a French and international studies major from Salisbury, saw an opportunity to become a more well-rounded scholar through the Fulbright Program, continuing an academic path forged around the study of languages.
"Because of my background, I have always had an interest in north and west Africa based on the influences from the Islamic world, as well as their prominent connections to Europe," she said. "Madagascar shares many similarities to those regions in terms of history and global affairs. This award will allow me to visit language study on the other side of the lens and give back the same opportunities I have been provided."
Her application was supported by Drs. Brittany Foutz of the Conflict Analysis and Dispute Resolution Department, Arnaud Perret of the Modern Languages and Intercultural Studies Department, and Walton.
Sansom, a political science and conflict analysis and dispute resolution major from Eden, MD, sees his Fulbright award as an opportunity to build upon his experience in education and policy while also providing a service and learning more about the Slovak culture.
"From interning at UNESCO's (the United Nations Educational, Scientific and Cultural Organization's) headquarters in Paris to being appointed by Maryland Governor Larry Hogan to represent over 172,000 students as the University System of Maryland's voting student regent, working within education has refined my passion for policy and public service," he said. "Delving into the mechanics of the English language, I will help my students to become adept in their command of English, using conversational, reading, writing, listening and comprehension exercises."
Sansom also has earned a 2022 Hertog Fellowship for political studies. His Fulbright application was supported by Julia Glanz, Salisbury city administrator; and Drs. Adam Hoffman of the Political Science Department and Brian Polkinghorn of the Conflict Analysis and Dispute Resolution Department.
Webb, an exercise science major from Gilbertsville, PA, plans to collaborate with other Fulbright English Teaching Assistantship recipients in the Czech Republic to bring new ideas into her classroom and keep students engaged.
"Teaching English will allow me to share my knowledge and love for American culture while learning more about my family's national origins from my Czech students," she said. "My experience as an ETA will help me learn how to better convey information to others, which will be critical in my future career as a pediatric prosthetist."
Her application was supported by Kelly Baskow of SU Athletics, Dr. April Logan of the English Department and Autumn Romanowski of the Exercise Science Program.
Three of SU's recipients declined their Fulbright awards to focus on other opportunities: Boltz, a finance major from Delmar, MD; Kamara, a public health major from Hyattsville, MD (also a Donald M. Payne International Development Fellowship recipient); and McGlone-Smith, an English M.A. student, from Waldorf, MD.
Boltz's application was supported by Dr. Leonard Arvi of the Economics and Finance Department, Kelli Delgado of University Dining Services, and Dr. Ani Mathers of the Franklin P. Perdue School of Business and Economics and Finance Department.
Kamara's application was supported by Drs. Carolina Bown of the Modern Languages and Intercultural Studies Department, Andrew Martino of the Glenda Chatham and Robert G. Clarke Honors College and Brandye Nobiling of the Public Health Program.
McGlone-Smith's application was supported by Drs. Melissa Bugdal, Carolyne King and Beth Towle of the English Department.
Boltz, Ciattei, Kamara, Sansom and Staszewski are students and alumni of the Clarke Honors College.
In the past eight years, more than 90 SU students have won national and international fellowships, scholarships and awards. SU had 15 Fulbright Student semifinalists this year, tying the record number set in 2020 and matched in 2021.
For five consecutive years, the U.S. State Department and Chronicle of Higher Education have spotlighted SU as one of the nation's top producers of Fulbright Students. The campus also has a long history of faculty, administrator and alumni Fulbrighters. This year, SU was recognized as one of only five campuses nationwide named a top producer of both Fulbright Students and Fulbright Scholars.
The Fulbright is America's flagship international exchange program and is sponsored by the U.S. Department of State's Bureau of Educational and Cultural Affairs.
SU students or alumni who are interested in applying for national fellowships may contact Walton for assistance.
For more information, visit the SU Nationally Competitive Fellowships Office webpage.
Learn more about how SU students and faculty are exploring opportunities for greatness and making tomorrow theirs at the SU website.