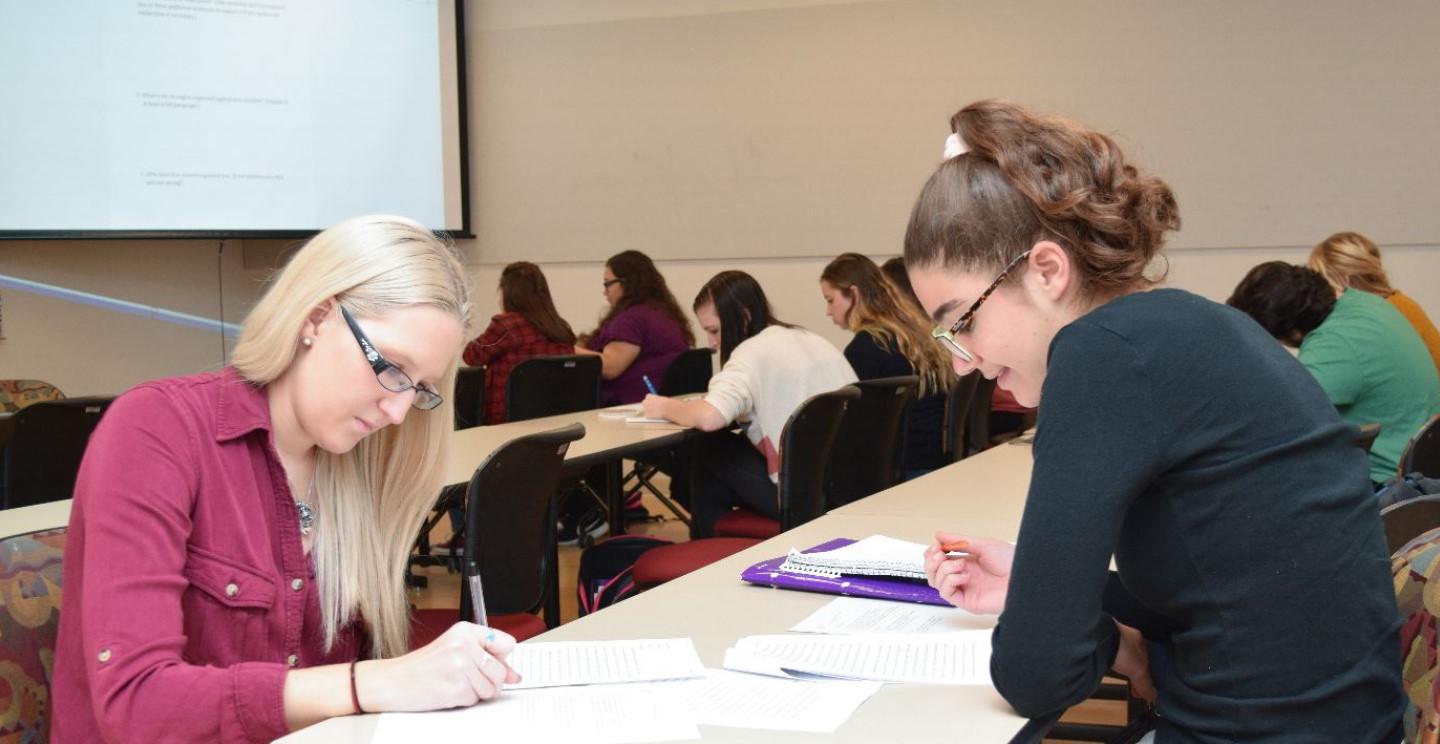 English Department
In the English Department, we cultivate visionary thinkers by allowing students to chart their own course of study through a variety of classes in writing, film, literature, new media, and rhetoric. Students of SU English engage with important questions about the human condition, especially where issues of race, gender, ethnicity, identity, and class are concerned.
Curious about our English MA? Come learn more about our tracks in Literature, TESOL and Rhetoric & Composition! Information about funding through our TA program will also be covered!
Great Thinkers Learn Here
"I love English majors. I love how smart they are. I love their intellectual curiosity. Most of all, I love to hire them."
This is what accomplished entrepreneur, best-selling author, and USA TODAY columnist Steve Strauss says in his Huffington Post article, "Why I Hire English Majors." Strauss advocates for English Majors because "they know how to think, to think for themselves, and how to analyze a problem," and they do so boldly. English majors, he says, are the teammates "that can make us all better." Similarly, Jeffrey Dorfman from Forbes magazine names the English major a "great return on investment."
Following Salisbury University's mission and values, SU English strives to empower students with intellectual curiosity, critical and analytical thinking, exceptionally-crafted writing and rhetorical skills, and appreciation of linguistic diversity. SU English emphasizes innovative thinking, which prepares students not only for the workplace of today, but the workplace of tomorrow, graduate school, and life-long-learning. The faculty of English all champion values of diversity, empathy, and integrity as we educate our students with a view to their lifelong journey as people who understand the value of human expression.
Meet the English Department faculty and staff.
Our Academic Programs
We focus on providing as wide-ranging a curriculum as possible: from analyzing Medieval literature to the rhetorical strategies of digital media, and from contemporary cinema to linguistic study that stretches into the distant past. We offer students creative opportunities to contribute to and edit a literary magazine (The Scarab), to attend numerous on-campus events featuring world-renowned writers, to study abroad in disparate places including Ghana and Iceland, to participate in the SU Student Film Festival, and to take up a wide variety of internships. Our department may be housed in a relatively small city, but our outreach is truly international: our linguistics/TESOL graduates have taught English abroad in Asia, Europe, the Middle East, and South America; and we are home to one of the most distinguished academic journals worldwide, Literature/Film Quarterly, which holds subscriptions in over 30 countries.
In Our Own Words
For more information on our collective vision and strength, check out the videos featuring our faculty discussing:
All About Our Tracks/Concentrations
Student Information and Resources
2

Literary Publications: LFQ & Scarab

7

Tracks and Concentrations

50

Students Published Nationally Each Year
Support the English Department Today!