Dogwood Village
Dogwood Village houses primarily sophomore students.  There are 140 single rooms in 14 buildings with a building director and 4 resident assistants.  Each building is single sex. *Some new students are housed in Dogwood Village.
Room sizes vary some, but rooms are approximately 8' x 11'.
Windows are approximately 53" x 37".
Furniture: bed, desk, desk chair, and wardrobe.
Amenities
Each room door opens into an interior hallway.
Each building has 2 full, stand-alone bathrooms.
Ethernet and wireless connection per student.
Cable TV connection per room.
Air Conditioning unit in each room.
Microwave and stove in the lounge.
Housekeeping to maintain common areas and bathrooms.
Laundry facilities with unlimited use to residents.
Resident Gull Card access to doors 24 hours a day.
Vending machines
Exterior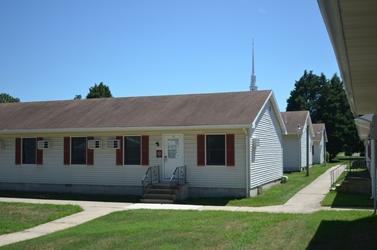 Bedroom