The Counseling Center will continue to provide services virtually during the Fall 2021 semester. Due to applicable mental health licensure requirements, please be advised that the Counseling Center can only provide counseling to students who are physically located in the State of Maryland at the time of service. Short-term crisis support and/or referral assistance can be provided to out of state students, so that they may be connected with a provider located within their state.
Our dedicated staff provides high-quality professional mental health services including prevention efforts, assessment and treatment of psychological problems, emotional concerns, and mental health issues of individuals and groups. We aim to provide mental health promotion and education related to early problem detection and intervention, student advocacy, and effective access to services. Our goals are to promote student welfare and psychological well-being, a safe and healthy campus community, and academic success. Through a graduate internship training program, we provide quality education and supervision for master's degree level students in social work and other counseling programs. The Counseling Center maintains accreditation by the International Accreditation of Counseling Services.
TimelyCare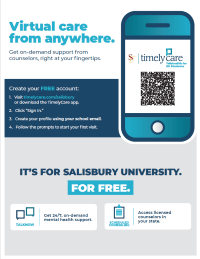 View Launch Services Flyer
All Salisbury University students can access virtual mental health services for free through TimelyCare! Get started today by downloading the TimelyCare app or by visiting the TimelyCare web portal and following the prompts! Once logged in you can choose their TalkNow 24/7 mental health support service or Scheduled Counseling to schedule a time to meet with a licensed therapist. All students are able to attend 12 scheduled appointments per academic year at no cost and without utilizing health insurance! View Launch Services Flyer or visit our TimelyCare webpage to learn more about TimelyCare!
Diversity Statement
The Salisbury University Counseling Center strives to affirm, promote and celebrate diversity. We are committed to being aware of and understanding diversity in its broadest sense. We value the importance of diversity for all individuals. People from every background are affected by issues of culture. Such has been highlighted by many recent events. When there is violence, or other acts of discrimination and oppression, which target any identity or group of people, the Counseling Center is here to stand in solidary with those marginalized populations. Multicultural competence and cultural humility are essential components of our work with every client and are ongoing areas of professional growth of the Center.
Notably, we all benefit from an understanding of how power, privilege, cultural identities, (e.g. gender identity, race, religion, sexual orientation, ethnicity, nationality, social class, and many others) and individual differences affect our daily experiences. The Counseling Center recognizes that students come to the center at various levels of comfort with these identities and therefore, make it a priority to meet students where they are. All of our lives are enhanced by a better understanding of the diverse world in which we live.
Related Campus Resources
In addition to our services and programs, we have provided you with many helpful resources.