Understanding Off-Campus Resources
Individual therapy, counseling, psychotherapy, or talk-therapy are all terms used to describe on-going sessions with a licensed professional where you primarily talk about your mental health. This professional can be a licensed counselor, maintaining a LCPC or LGPC, or a licensed social worker, maintaining a LCSW-C or a LMSW. Psychologists (PhD or PsyD) can also provide talk-therapy, as well as other services like testing and assessments.
Psychiatrists are medical doctors (MD) who specialize in prescribing medication to treat mental health diagnoses. They can also provide psychiatric evaluations, and some may offer psychotherapy. Nurse Practitioners (NP, CRNP, MHNP) are nurses who have a master's degree, and can also prescribe medication.
How to connect with an off-campus therapist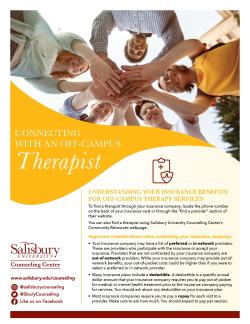 If you, or your counselor at the Counseling Center, decide that consistent, ongoing therapy would be the best fit to meet your needs, then a recommendation may be made to an off-campus therapist. If that is the case, we encourage you to seek the services that fit your needs. Requesting support from your insurance company to find an in-network provider list and understand what services may be covered is a way to get started. To learn more about how to connect to an off-campus provider please see the Connecting with an Off-Campus Therapist information sheet. You can also use the locator tools listed below.
Locator Tools for Community Resources
The listings below are not exhaustive, and the listing of these links does not constitute any endorsement of the sites, nor of the providers listed there.
To find a counselor/therapist
To find other mental health services or support