On-campus residence halls are available from the end of May through the beginning of August. Residence halls are available for guests participating in on-campus conferences, sports camps and other special programs. All residence halls are equipped with air conditioning and follow a modified A/C policy.
Our housing staff is happy to assist you with your needs during your stay. The housing desk is staffed until midnight each night of conferences and an on-call number is available after hours. Wireless Internet is available campus-wide.
Suite Style Residence Halls: (Pocomoke, Wicomico, Manokin, & Nanticoke Hall)
Suite style, double occupancy carpeted rooms
Two bedrooms are connected to another room by a bathroom with shower, toilet, and two sinks
TV lounge and classroom are located on the main floor.
Each building consists of three floors with elevator (please note elevator does not provide access to all floors)
High-rise Residence Halls: (Choptank Hall, Chester Hall, and Severn Hall)
Each high-rise residence hall consists of six floors with an elevator
Residents are housed in cluster units consisting of five double occupancy bedrooms surrounding one central shared bathroom with two each of shower, toilets, and sinks.
There is a lounge and classroom on the first floor of each building
Non-traditional Residence Halls: (Chesapeake, St. Martin, and Dogwood Village)
Chesapeake Hall
Three-story building with no elevator
Consists of 22 units which houses eight residents per unit in four double-occupancy bedrooms.
Each unit has 2 ½ baths, small lounge, and kitchenette.
St. Martin Hall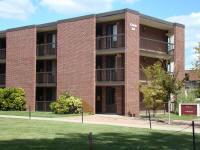 Three-story building with no elevator
Consists of 146 double-occupancy bedrooms housing 292 residents
Residents are housed in units of two double-occupancy bedrooms with a shared bathroom
There are two lounges and a small fitness center
Dogwood Village
Comprised of all single rooms and houses 140 residents in 14 buildings
Each building has two bathrooms
There is also one lounge located in the center of the buildings
East Campus Housing (located 1.12 miles from the main campus)
University Park Apartments offers contemporary apartment-style units for residents. The apartment complex is available for housing summer guests from the end of May through the first week of August.
University Park offers the following amenities: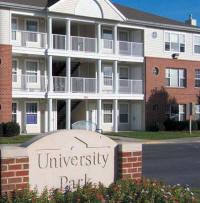 Fully furnished apartment
Modern kitchen with microwave, stove, refrigerator, dishwasher
Washer and dryer
Air-conditioned
On-site pool and clubhouse with lounge with large flat- screen TV, pool tables
Computer lab
Fitness center
Internet access in each room
Linens included
Apartment styles available
4 bedrooms/4 bathrooms
4 bedrooms/2 bathrooms
Please visit www.upsalisbury.com to view floor plans and take a virtual tour.