Two SU Seniors Win $5,000 Bernstein Award
Monday April 23, 2012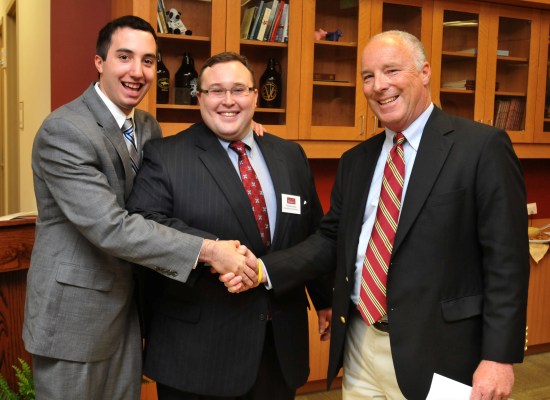 Pictured are seniors Daniel Corvino and Thomas Hood, with William Burke of SU's Information and Decision Sciences Department.
SALISBURY, MD---For Salisbury University senior Thomas Hood, winning the $5,000 top prize in the annual Bernstein Award competition stemmed from his work helping a nonprofit utilize data software in ways that cut costs and improved efficiency.
Last spring, the accounting major helped the Maryland Association of Certified Public Accountants implement the software system eXtensible Business Reporting Language (XBRL).
The successful results inspired the Owings Mills native to team up with classmate Daniel Corvino of Madison, NJ, to create a business plan for a consulting group. Together, the firm would help other organizations, especially nonprofits, which may not have the time, resources or knowledge, to implement XBRL. The data tool is already widely used by public companies.
The four Bernstein judges applauded their proposal.
"They really knew their product and concept," said SU alumna Hayley Gallagher, executive director of Maryland Capital Enterprises. "They could easily take it to the next level. They are so knowledgeable and detail-oriented, and they have already been in the trenches doing that kind of work."
Hood's efforts at MACPA led the Altova company to publish a case study about the potential uses of its XBRL software for nonprofits. The study is expected to appear in the national Journal of Accountancy in May. MACPA also shared it with U.S. Congressman Darrell Issa, House Oversight and Reform Committee chairman, in support of the Digital Accountability and Transparency (DATA) Act of 2011. In addition, Hood has presented at state and national conferences.
"We've always believed that students today have skills that even seasoned professionals don't have," said MACPA Executive Director Tom Hood. "All you have to do is believe in that and empower them, and this is what happens." For Hood, the successful project held particular meaning because it was implemented by his own son.
"Just walking away with our finished business plan would have been rewarding, but this is really exciting," said Corvina, who is also a senior accounting major.
Dr. Stephen Adams, the competition director who also teaches entrepreneurship in SU's Franklin P. Perdue School of Business, said: "I can't imagine a better way to celebrate the 25th Bernstein Awards. A variety of imaginative business models were represented this year."
Selected from among submissions from all four of SU's schools, the four finalists did their final presentations on Saturday, April 21.
Second place and a $1,000 prize went to sophomore Shane Yeager, a communication arts major from Elysburg, PA. Coordinators encouraged him to continue working on his plan for CaptureWell, a company providing photo, video and other media services, and to compete again.
"Everyone who graduates from SU is going to work in business somehow, so this was a great experience," Yeager said. "Absolutely, I'll be here next year."
Honorable mentions and $250 prizes went to senior business administration major Dustin Krausman of Parkville, MD, and sophomore finance major Alex Coffin of Salisbury. Krausman's plan was for Brewskis, a contract brewing company and restaurant. Coffin developed The Ocean Called, LLC, a pilot, controlled-environment shrimp farming operation.
The Bernstein Achievement Award was launched in 1987 by local entrepreneur and SU alumnus Richard Bernstein '76, founder of BAI Aerosystems, Inc. in Easton and K&L Microwave, Inc. in Salisbury. He created the competition to recognize students who develop original, well-researched and potentially successful proposals for a business startup or for the transformation of an existing business.
The award encourages young entrepreneurs to move forward with their visions. Several winners have gone on to operate successful businesses. In addition to Gallagher, the other 2012 judges were Mike Cottingham, president and CEO of Rommel Holdings; Walter Moore, president and CEO of APPI Energy; and Joe Ollinger, past owner and CEO of Data Services, Inc.
For more information call 410-543-6030 or visit the SU Web site at www.salisbury.edu.