McCormick and Company Chairman Speaks to SU Students
Friday April 20, 2012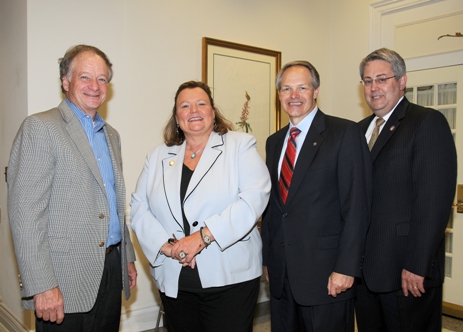 SALISBURY, MD---"The absolute key to success is to work harder than everyone else," McCormick and Company Chairman, President and Chief Executive Officer Alan D. Wilson recently told students attending a Franklin P. Perdue School of Business Executive Leader lecture at Salisbury University. He added that being engaged and showing passion always helps with promotions.
Wilson discussed McCormick's worldwide brands and its mission "to save the world from boring food!" He also took questions about motivation, trends and forecasting, career challenges, and even his favorite spice — cinnamon.
Wilson joined Baltimore-based McCormick in 1993 and ascended to his current position in 2008. In 2011, he led the company to a record $3.7 billion in sales.
Pictured are Jim Perdue, chairman of Perdue Farms; SU President Janet Dudley-Eshbach; Wilson; and Dr. Bob Wood, dean of SU's Franklin P. Perdue School of Business.