Students Develop Audio Tour Apps for The Nature Conservancy
Tuesday April 24, 2012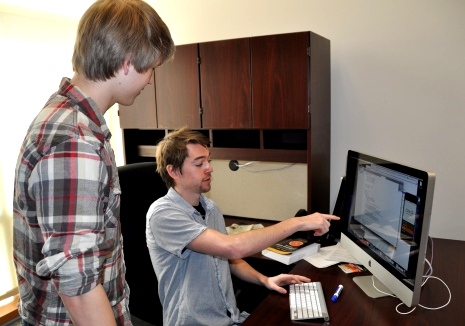 SALISBURY, MD---Anyone exploring Nature Conservancy preserves across Maryland and the Washington D.C. metropolitan area will soon be able to download audio tour apps created by Salisbury University students.
The Conservancy's "Put a Naturalist in Your Pocket" initiative was the first project tackled by SU's new interdisciplinary GNAppWorks program. Following a final review by the international conservation group, the apps will be available in the Apple iTunes store.
"We are giving our students practical training in developing useful mobile platform applications for government and non-profit organizations," said Dr. Arthur Lembo, technical director of the Eastern Shore Regional GIS Cooperative (ESRGC) at SU. "They are creating real, cutting-edge, large-scale apps from concept to completion."
Sophomore Joshua Souders of Annapolis, a computer science and political science double major, helped create the apps for the Conservancy. He said: "I feel like the work I'm doing applies to a future job. I'm also helping out the community. It's a good opportunity that relates to what I want to do in the future."
Also assisting were SU alumnus and ESRGC programmer Frank Rowe '10 of Ocean City and students from the Franklin P. Perdue School of Business, who conducted planning and design meetings with the Conservancy. Geography and geosciences majors helped with mapping.
The audio tour downloads include geo-enabled trail maps with numbered sites — and mp3 tracks to play at each site. The apps are available on the Internet and for platforms including iPhone, iPad and Android.
The Nassawango Creek Preserve in Worcester County features two tours: the Leifer Trail, exploring area human history, and the Johnston Tract, highlighting invasive species and sustainable forestry efforts.
A Sussex County, DE, trail winds through the 908-acre Ponders Tract in the Pemberton Forest Preserve. Other sites include D.C.'s Potomac Gorge and its popular two-mile Billy Goat hiking trail; the Sideling Hill Creek in Washington County; and the 2,000-acre Cranesville Swamp, which stretches from Garrett County into West Virginia.
Currently, SU students are earning independent study credits for their involvement with GNAppWorks (Government and Nonprofit Application Development). They also have opportunities present at local and regional conferences, giving them exposure to potential employers. Lembo hopes the initiative will become an official class in the future.
Upcoming potential projects may include developing apps that track open foster care beds, share women's health information and monitor equipment for the Department of Defense related to risk management and disaster prevention.
GNAppWorks is a partnership between the ESRGC and SU's Business, Economic and Community Outreach Network (BEACON).
For more information about the GNAppWorks project, call 410-543-6030 or visit the SU Web site at www.salisbury.edu.