SU Students Earn Inaugural Bosserman UNESCO Fellowships
Friday January 26, 2018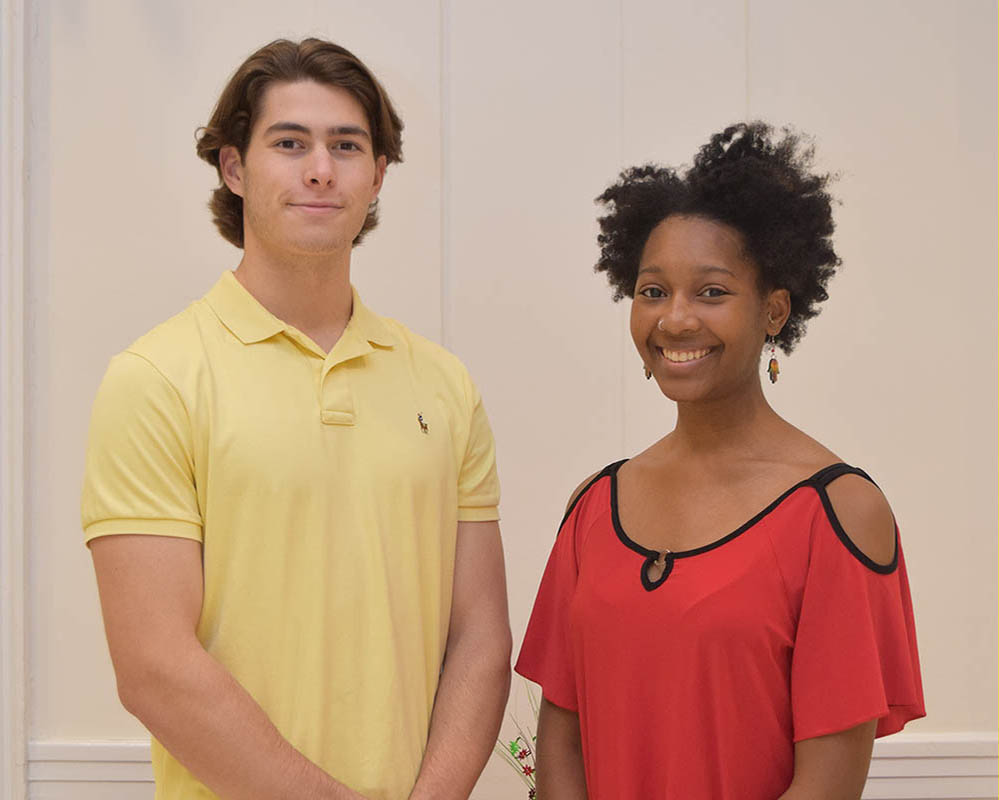 SALISBURY, MD---Two Salisbury University students are headed to the Paris headquarters of the United Nations Educational, Scientific and Cultural Organization (UNESCO) in February.
Senior Dana Day and sophomore Harrison Leon, both conflict analysis and dispute resolution majors, have received the inaugural Bosserman UNESCO Fellowship.
They are part of a 10-student cohort from the U.S. selected for the fellowship; the others are all graduate students from Penn State and Georgetown universities. The fellowship is named for the late Dr. Phil Bosserman, founder of SU's own Bosserman Center for Conflict Resolution.
"Phil would be so proud to know that Salisbury University students are a part of this prestigious program, which is named after him," said his wife, Carol. "It is quite fitting given Phil was selected to be a part of the U.S. student delegation that attended the grand opening of UNESCO Paris headquarters in 1948. This closes a loop for Phil and opens a new chapter for our young people at SU. I am so thankful the Bosserman Center is able to make this kind of contribution to a University he so dearly loved."
Day and Leon will assist UNESCO's Youth and Sports Section with its Empathy Education initiative. Believing that young people play important roles in promoting international peace and security, UNESCO created the initiative to help tackle societal challenges of intolerance, hatred and fear, and prevent violent extremism through education and understanding.
Dr. Brian Polkinghorn, director of SU's Bosserman Center, credits Dr. Mark Brennan, UNESCO chair and Penn State professor, for making the fellowship a reality.
"Twenty-five years ago Mark was a student at SU," Polkinghorn said. "Phil was a mentor, and Mark was active in the founding of the center. Phil had a tremendous impact on Mark, and naming this fellowship after him is Mark's way of paying tribute to his friend and mentor."
Leon, a political science double major from Philadelphia, first learned about UNESCO when Director-General Irina Bokova spoke at SU about preventing violent extremism by fostering a new generation of global citizens. "I fell in love with their message and everything that they stand for: promoting peace through education," he said.
Day, a psychology double major from Frederick, MD, said she had to apply after reading about UNESCO's mission and impact. "It's an amazing opportunity working with a huge international organization," she said.
During the six-month fellowship, the students will assist UNESCO with the initiative's implementation. They will help contribute to a Youth, Peace and Security report; support the role of young people in preventing violent extremism; develop project proposals; support youth activities and events; and promote youth and peacebuilding initiatives through advocacy materials.
UNESCO hopes the empathy program, which targets Ireland, the U.S., Canada, Nigeria, Uganda and Myanmar, will positively impact such areas as racism prevention, reduced bullying, improved mental health and personal resilience, LGBT anti-discrimination, and the risk of youth extremism.
Leon said the fellowship aligns with his plans to study humanitarian law. Day hopes it will allow her to see different types of work environments and how culture impacts them, as she plans to study organizational psychology in graduate school.
Both students are part of SU's Honors College and the Phi Eta Sigma national honor society.
Leon, who also plays club lacrosse, applauded Drs. Thomas Boudreau and Dean Ravizza for helping prepare him, adding that Ravizza's passion for his work using sport to foster peace is admirable. Day, a member of the Delta Sigma Theta sorority and Student NAACP chapter, said Dr. Lance Garmon, her Honors thesis advisor, helped open her eyes to different opportunities.
UNESCO works to create conditions for dialogue among civilizations, cultures and peoples, and believes that global visions of sustainable development, human rights, mutual respect and the alleviation of poverty can be achieved.
For more information call 410-543-6030 or visit the SU website at www.salisbury.edu.