'Still They Persist' Celebrates Women's March Protest Art January 29-March 31
Monday January 29, 2018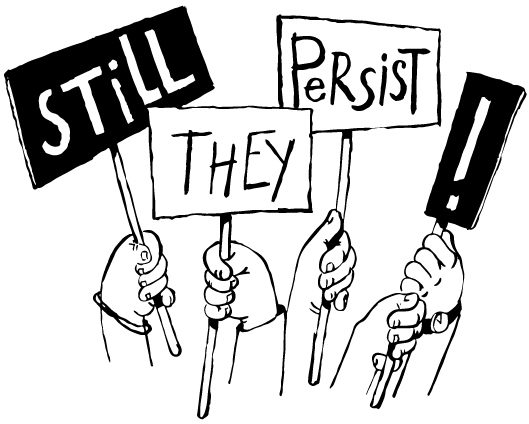 SALISBURY, MD---An estimated half million women (including several from Salisbury University) made history last January, taking to the National Mall to demonstrate for women's rights during the inaugural Women's March in Washington, D.C.
FemFour, a Cincinnati-based group of artists and art advocates, remembers the event with the traveling exhibit "Still They Persist: Protest Art of the 2017 Women's Marches," on display at the University Gallery of SU's Fulton Hall from January 29-March 31.
An artist talk with members of the FemFour is 5:30 p.m. Thursday, February 15, in Fulton Hall Room 111.
The exhibit includes posters, placards, sculptures, textiles and photos created by advocates who participated in the D.C. march and "sister marches" throughout the U.S. The items are curated from local archives, as well as the collection of FemFour founder and philanthropist Sarah Vance Waddell, who originally collected them for her personal home gallery.
Gallery hours are 10 a.m.-5 p.m. Monday-Thursday, noon-4 p.m. Friday-Saturday. Sponsored by SU Art Galleries, admission is free and the public is invited.
For more information about the traveling exhibit visit www.stilltheypersist.com. For more information about its engagement in Salisbury call 410-548-2547 or visit the SU Art Galleries website at www.salisbury.edu/universitygalleries.