SU, UMES Partner for Six-Year Joint Pharmacy Doctorate
Friday January 26, 2018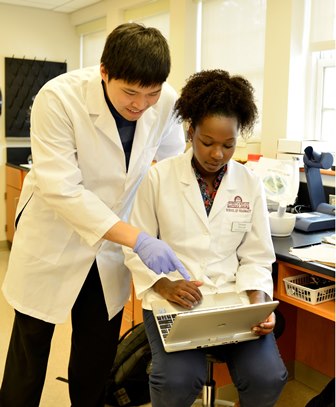 SALISBURY, MD---Salisbury University and the University of Maryland Eastern Shore have forged a new academic partnership capable of producing pharmacists in six years.
The agreement creating a "cooperative undergraduate/professional program" will streamline instruction by as many as two years and subsequently save students the comparable cost of extra tuition.
"We are excited about our partnership with Salisbury University and look forward to working with them to fully implement this agreement," said Dr. Rondall E. Allen, dean of the UMES School of Pharmacy and Health Professions.
Chemistry majors at Salisbury University who meet the requirements and have strong academic credentials may gain preferential admission to UMES' professional degree program after just three years of undergraduate study.
UMES's pharmacy program, one of 15 in the nation that offers year-round instruction, enables students to earn a doctorate in three years instead of the traditional four.
Salisbury University students who opt to pursue the UMES pharmacy track and successfully complete the "3 + 3" program will earn two degrees, one from each institution.
"Salisbury University has a strong Chemistry Department," said Dr. Michael Scott, interim dean of SU's Henson School of Science and Technology. "The new agreement will benefit its majors wishing to become pharmacists, particularly those who may find it financially practical or have other reasons to stay longer in the region."
"To earn an undergraduate degree and a professional doctorate in six years has obvious benefits in costs and employment," Scott said. "We are grateful that collaborations like this work well for students and programs at each institution."
The partnership's goal, Allen said, is "to encourage academic and administrative coordination between the institutions and the exchange of evaluative information on outcomes of the program with the goal of continual improvement."
Ashley Gosseline, a counselor at Wicomico High School in Salisbury, predicts "this agreement between two local colleges our student population highly desires will find much success and a high level of interest."
"Even in high school, students who have definite career plans, especially those that require more than four years of schooling, are very eager to learn about programs that can help cut down the number of years required of them," Gosselin said.
UMES has produced 284 pharmacists - including six during the December 2017 commencement exercises - since its first class enrolled in 2010. The university is among the nation's top 10 institutions producing African-American pharmacists.
Gosselin, the Wi-Hi counselor, said she finds students and their families increasingly are cost-conscious, especially those considering in-state options for college and career choices that lead to graduate-level training.
"I think you'll find many students creating definite plans that include (Salisbury and UMES) early on in their junior and senior years," she said. "This is an amazing opportunity for us to share with our students and help them think about and solidify their long-term goals."
Faculty at both institutions, Allen said, will collaborate to ensure courses and student performance meet rigorous academic standards, and that Salisbury University students have access to advising about how to qualify for early admission to UMES.
Collaboration between UMES and Salisbury University faculties in crafting complimentary academic agreements dates back to 1990, when the two institutions created a rigorous dual degree program in sociology and social work. That long-standing program since has been followed by two more dual degree options for undergraduates; environmental science (UMES) and biology (Salisbury) as well as physics (Salisbury) and engineering (UMES).