SU Alumni Association Honors Four With 2012 Faculty Appreciation Awards
Wednesday December 19, 2012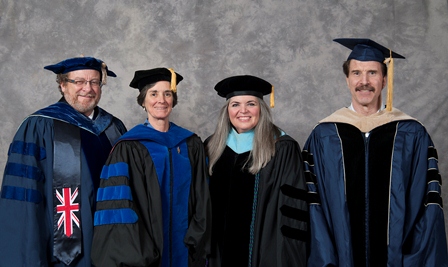 Pictured, from left: Drs. T. Paul Pfeiffer, Judith Stribling, Teena Gorrow and Ken Smith.
SALISBURY, MD---Their former students call them "motivational," "amazing," "dedicated" and "inspiring." This year's Salisbury University Alumni Association Faculty Appreciation Award winners are all that and more.
Four were honored with the accolade during SU's recent 87th-year Winter Commencement. They include Drs. T. Paul Pfeiffer of the Charles R. and Martha N. Fulton School of Liberal Arts, Judith Stribling of the Richard A. Henson School of Science and Technology, Ken Smith of the Franklin P. Perdue School of Business, and Teena Gorrow of the Samuel W. and Marilyn C. Seidel School of Education and Professional Studies.
"Each year we receive a number of nominations from our alumni," said Jayme Block, director of alumni relations and gift development. "With so many deserving faculty, it's not always easy for the committee to select recipients. These faculty members represent the outstanding contributions to the quality education our graduates receive."
Pfeiffer "is a great teacher, mentor and friend to his students," said one nominator. "He is willing to assist his students in achieving their dreams no matter what those dreams are. … He had the ability to transport his students to the time and place in theatre history that he was discussing … He really knew how to motivate his actors and get them to unleash the performer within themselves. He even motivated me to achieve my dreams and goals outside the theatre. … I truly believe that without Paul's help and support … I would not be where I am today."
Stribling "is an amazing professor and person … and that is an understatement," said one former student. "Anyone could tell that she genuinely cared for her students … both for their education and for them as individuals. She went out of her way to help every student feel welcome and important, and she helped them understand the material. … I am currently a high school science teacher, and for the past 10 years I've been trying to be as amazing in and out of the classroom as Dr. Stribling is."
Smith "taught the most difficult class I have ever had at Salisbury University," said his nominator. "Although hard, the class was very enjoyable because it was taught by a very knowledgeable professor. His teaching and his concern with the success of his students made a great impression on me. I can honestly say that it was an honor for me to be his student and learn from him." Another former student added: "When I exited his class and still liked accounting, I knew that I had made the right choice in my chosen career path."
Gorrow "is an amazing educator who truly cares for each and every student, both in her classroom and in classrooms across the country," said her nominator. "Dr. Gorrow leaves no rock unturned. She doesn't merely teach how to run a classroom, but … other skills and techniques, as well. She works … in the community with thousands of students each year … I could go on about all of Dr. Gorrow's accomplishments, but I feel that anyone who comes in contact with her knows that she is much more than a list of accomplishments; she is a truly inspiring educator."
For more information call 410-543-6030 or visit the SU Web site at www.salisbury.edu.