Monday, December 17, 2012
Prince Named SU Vice President of Advancement and External Affairs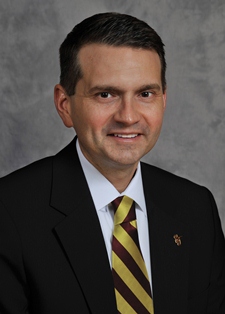 SALISBURY, MD---An advancement professional with a successful career at some of the most well-regarded campuses in the East has been appointed vice president of advancement and external affairs at Salisbury University and executive director of the SU Foundation, Inc.

T. Greg Prince began his career at his alma mater, the University of North Carolina—Chapel Hill, working with undergraduates and young alumni. At the Alumni Center of Harvard University's famed law school, he gained experience as part of a successful team which set multi-million-dollar Harvard Law School fundraising records. While a full-time law school employee, Prince earned his master's degree in administration, planning and social policy from Harvard.

His work with medical fund raising began at the University of Miami Miller School of Medicine. The Miller School has been among the nation's and world's best in several specialties. With more than $180 million in external grants and contracts, Miller ranked in the top third of U.S. medical schools for research funding awards. Among his accomplishments at Miller, Prince developed a major gifts program and volunteer structure for its medical alumni.

In 2007 he returned to his native North Carolina to serve at East Carolina University's Medical & Health Sciences Foundation, which has a $35 million endowment. He oversaw development in its division of health sciences. Prince also began his doctorate in educational leadership at ECU's respected college of education, while working full time.

"After our nationwide search, we found Greg Prince to be an excellent candidate and the best fit for Salisbury," said SU President Janet Dudley-Eshbach. "Our Advancement team will benefit from his knowledge, experience and leadership style. Our donors and benefactors will come to appreciate his commitment to service in addition to the depth of his background. He has a record of accomplishment, innovation and collegiality. I look forward to working with him as we continue to advance Salisbury as A Maryland University of National Distinction."

Prince has 20 years of professional experience in advancement. At UNC he initiated an undergraduate development program and served as a staff member for the university's $2 billion capital campaign steering committee. At Harvard he revitalized an "Emeritus Club" for alumni beyond their 50th anniversary and planned high-level stewardship events. At ECU, he created a dean's advisory board for the Brody School of Medicine, as well as managed all fundraising activity for Brody and the Leo Jenkins Cancer Center.

An avid runner, Prince has finished three marathons: the Boston, Washington, D.C. Marine Corps, and San Diego; and four half-marathons. He and his wife, Hope, live in the Salisbury area with their five children.

"My family and I are excited by the opportunity to come to this fine university—a campus which elicits such passionate devotion from faculty, staff, students, alumni and other community supporters," Prince said. "SU offers a strong academic core, competitive athletics programs and interesting cultural offerings, and the area is just beautiful. President Dudley-Eshbach is a dynamic and respected leader and I look forward to serving with her. This is the place where we want to be."

At SU he will lead a division which includes development, alumni relations, marketing, public relations, sports information, publications, Web, copy center, and government relations. Prince also will oversee the SU Foundation, which currently holds $55 million in assets.

For more information visit the SU Web site at www.salisbury.edu or call 410-543-6030.