Spring Ratcliffe Shore Hatchery Winners Announced
Monday May 13, 2019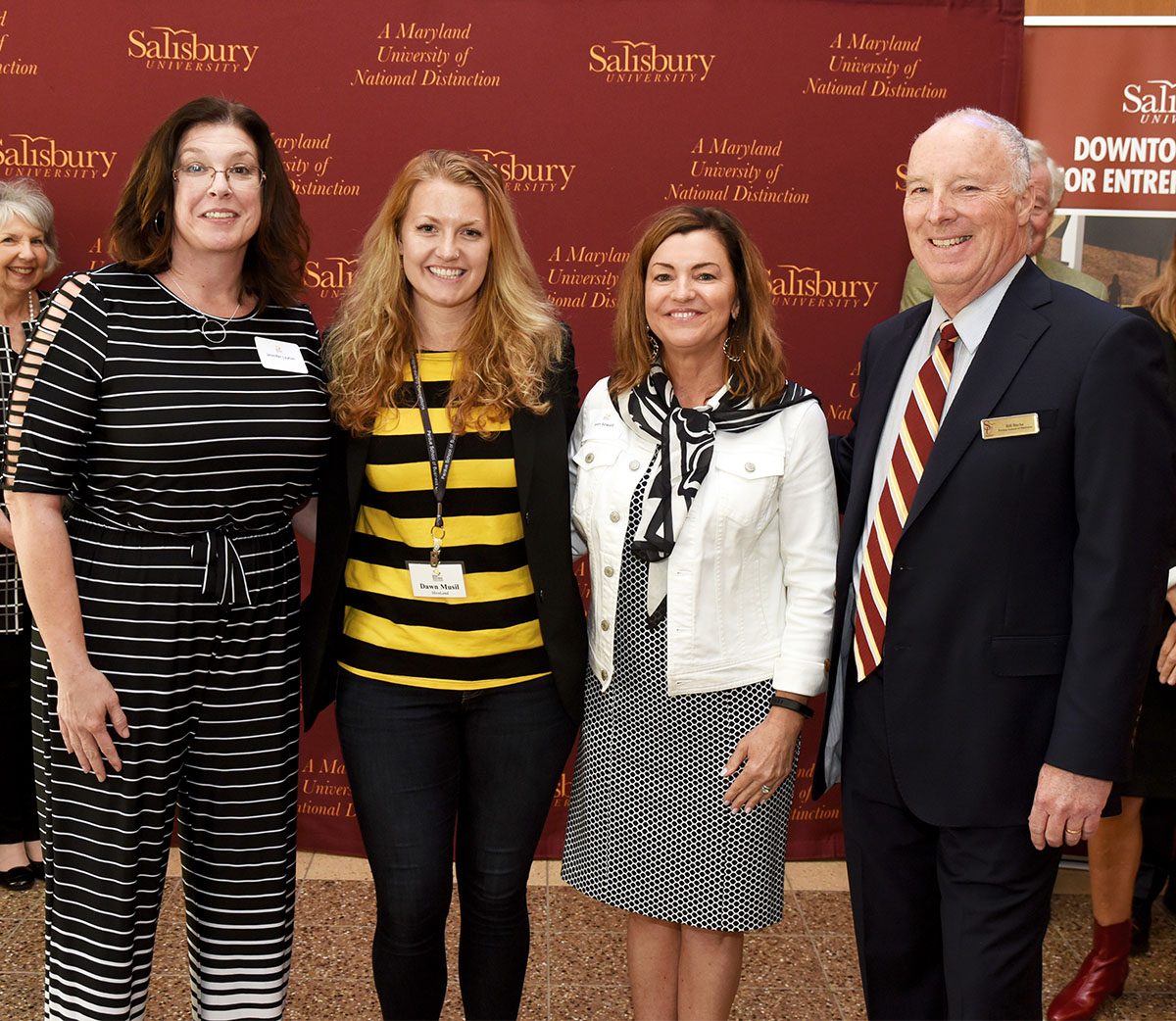 SALISBURY, MD---Dawn Musil and Nick Zajciw, founders of HiveLend, a pollination platform to connect farmers and beekeepers, were the top winners of the 12th round of Salisbury University's Philip E. and Carole R. Ratcliffe Foundation Shore Hatchery entrepreneurship competition, taking home $35,000.
HiveLend, based in Baltimore, allows faster communication between beekeepers and farmers and promotes conscious sustainable agriculture. This innovative Agtech company improves crop yields and brings pollination to the forefront of sustainable economic development.
The spring 2019 Ratcliffe Foundation Shore Hatchery competition drew 15 entrants throughout the Mid-Atlantic and awarded $105,000 in prize money to six businesses. Other winners included:
• MADTECH, LLC – Thomas Marnane with Monica Beeman, Zachary Marnane, Emma Mullineaux, Eric Peterson and Charlie Taylor, Sr.: an agriculture and environmental drone service that assists farmers in more efficient, profitable and sustainable crop seasons, based in Huntingtown, MD – $30,000
• DiPole Materials – James Dolgin: an electrospinning company that specializes in nanofiber manufacturing, from Baltimore – $15,000
• Asterisk (Forte) – Nat Ware: a training platform providing free financial education and vocational training to disadvantaged individuals in the Mid-Atlantic, from Washington, D.C. – $10,000
• Blue Sources – PJ Bellomo with David Barr and Terry Collins: a water treatment technology that uses live fish to detect toxic levels in water sources, from Frederick, MD – $10,000
• Atlantic Vermiculture, LLC – Lawton Myrick: a worm grower that produces high-quality earthworm castings for fertilizer and bait for the fishing industry, from Salisbury, MD – $5,000
In addition to funding, winners and participants also receive mentoring support from the program's board. Mentors include business leaders such as Mike Cottingham of Rommel Chesapeake, Inc.; Kathy Kiernan and Patricia Royak, members of SU's Perdue School of Business Executive Advisory Council; David Landsberger, entrepreneur; Jennifer Layton of Layton's Chance Vineyard and Winery; and Jean Sewell of CareFirst BlueCross BlueShield.
William Burke, SU director of Shore Hatchery and executive director of economic development said, "Our winning businesses were all innovative and agriculture or technology related. These entrepreneurs join the 49 winners from our five-year Ratcliffe Foundation Shore Hatchery program who created 226 jobs with an estimated revenue of $16.4 million in 2018 (self-reported)."
This year's applications self-identified as five women owners and six minority owners, representing eight different business sectors.
"The quality of our applicant pool continues to improve because of the extended reach and promotion, in addition to the support provided by the Innovation, Entrepreneurship and Economic Development Hub and our team of ecosystem partners," Burke added.
The Ratcliffe Foundation Shore Hatchery program was established in 2013 through a $1 million gift from the Philip E. and Carole R. Ratcliffe Foundation of Baltimore, with a goal of providing $200,000 per year in funding for entrepreneurs in the Mid-Atlantic region. A second $1 million gift, announced in 2017, will continue the program through at least 2023.
For more information call 410-546-4325 or visit the Ratcliffe Shore Hatchery website.