SU's 'Saunterer' Named Best Honors Print Newsletter in U.S.
Monday December 9, 2019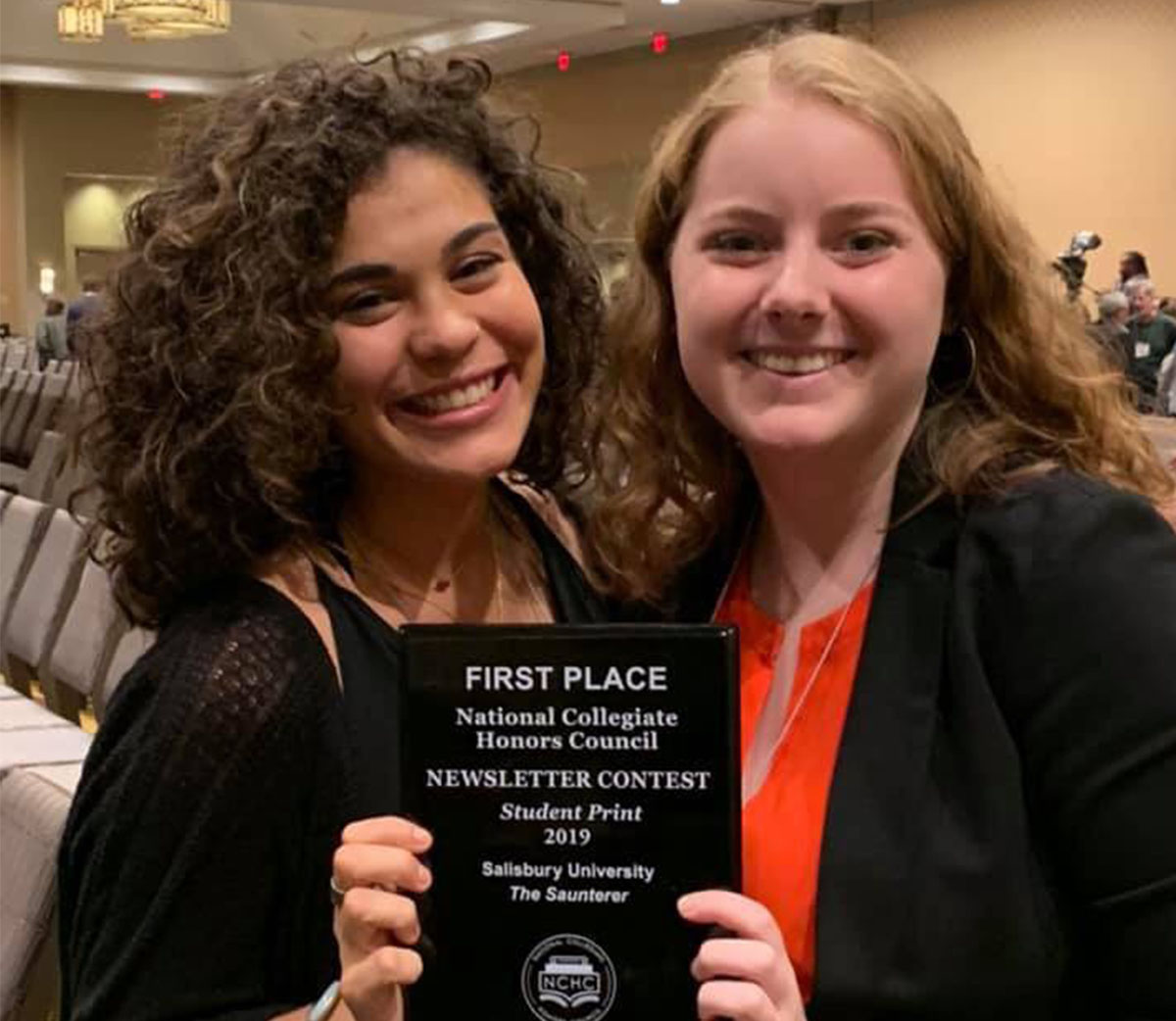 SALISBURY, MD---The National Collegiate Honors Council recently named the Salisbury University Honors College publication The Saunterer the No. 1 honors print newsletter in the U.S.
For editor Emily Ball, this accolade is the perfect way to finish her first year at the helm.
"This was a labor of love, and to see all our hard work pay off means so much," the junior English major from Westminster, MD, said. "We have incredibly talented writers, and I'm lucky I get to work with such creative peers."
This year marks the second time the magazine was ranked No. 1, an honor first earned by SU in 2017.
Ball thinks content is key to the publications success.
"The staff is comprised of seasoned writers who produce quality stories with unexpected angles and are catering to what students want to read about," she said.
The accolade was no surprise to Dr. Andrew Martino, Honors College dean, who knew the students were dedicated and creative.
"I'm extremely proud of the work our student editorial team has done, most notably by editor-in-chief Emily Ball, whose vision for the newsletter is remarkable," he said. "This national distinction validates the hard work our students put into The Saunterer."
For co-editor Amar Naboulsi, a senior exercise science major from Marlboro, NJ, the entire process from start to finish is exciting.
"It's so fun to hear and see everything that goes into the publication," she said. "I have so many favorite aspects. Coming up with the storyboard, bouncing ideas off each other, selecting the main features and learning how to make it marketable are a few."
Ball, Naboulsi and Martino traveled to New Orleans last month for the award presentation during the National Collegiate Honors Council 2019 conference.
"New Orleans was the most unique city I've ever been to," Naboulsi said. "The variety of cultures and uplifting atmosphere was very cool to be a part of."
The conference consisted of awards presentations, poster sessions and other lectures and discussions.
"To come together with other honors publication editors and faculty brought such a sense of community," said Ball. "It was so beneficial to be in one place all together and get to discuss how to build honors programs and inspire each other to take new ideas back to your own institutions."
Ball and Naboulsi agreed that the advice they would give future editors is to have faith in their writers and encourage them to portray the campus community in their stories.
Recent issues of The Saunterer are available online at www.salisbury.edu/academic-offices/honors/the-saunterer.aspx.
For more information call 410-543-6030 or visit the SU website.
SHARE