Friday, October 2, 2009
TETC Earns USGBC LEED Silver Certification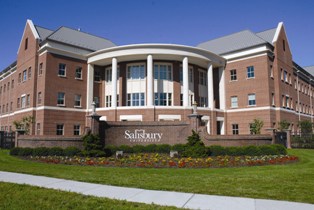 SALISBURY, MD---Salisbury University has earned its first Leadership in Energy and Environmental Design (LEED) certification from the U.S. Green Building Council (USGBC) for its Teacher Education and Technology Center (TETC), opened in 2008. The center is the first LEED certified building on the Eastern Shore.

The USGBC is the nation's leading organization supporting environmentally responsible building. The TETC earned silver certification, one of the top three levels available, following the council's inspection and analysis.

"We are very proud of this achievement," said Jeff Downes, SU facilities planning director. "There is a much more awakened awareness on campus today that resources are limited. We are building and designing to the highest environmental standard we can."

In designing and building the new center, Ayers Saint Gross Architect + Planners and Holder Construction Co. used a set of 69 guidelines established by the USGBC for environmental quality. This included everything from reflective pavings on the roof and sidewalk to reduce heat island effect to recycling waste materials from construction (more than 72 percent—some 1,357 tons—was recycled).

Crews returned much of the former parking lot on which the building was constructed to greenscape and softscape materials. The center itself was designed with equipment that heats and cools the building 17 percent more efficiently than minimum standards and plumbing fixtures that use 32 percent less water than a building of its size with standard fixtures—a savings of more than 100,000 gallons each year. Other highlights included the use of low volatile compounds in materials such as carpet and paint, reducing air-based toxins, and sustainable materials from bamboo flooring to acoustical ceiling tile with high-recycled content.

Downes said the LEED certification ushers in a new era of construction sustainability at Salisbury, an extension of the American College and University Presidents Climate Commitment pledge signed by SU President Janet Dudley-Eshbach in 2007. All new buildings at SU are being designed with LEED standards in mind. Some of the older buildings, including four residence halls currently undergoing or preparing for renovations, are being retrofitted to meet those standards.

Even SU's new parking garage—which, as an unoccupied building, is not eligible for USGBC certification—was designed with LEED-based elements such as LED lighting, which uses 60 percent less energy than traditional metal halide lighting. The University's new Franklin P. Perdue School of Business building, due to open in fall 2011, will set the bar even higher, being designed with gold certification as its target.

Though Downes is pleased with the TETC certification, he does not want the building's sustainable aspects to be taken for granted once the "newness" wears off. He and other SU officials are planning an educational kiosk for the center highlighting the building's green features. It will be the latest step in keeping with the campus' growing environmental mindset.

"From students to faculty to staff, people are signing on," Downes said. "They're excited about sustainability."

For more information call 410-543-6030 or visit the SU Web site at www.salisbury.edu.