Wednesday, March 27, 2013
SU's Shipper Earns Prestigious Ruble Fellowship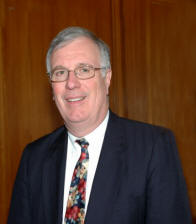 SALISBURY, MD---Dr. Frank Shipper, chair of Salisbury University's Management and Marketing Department in the Franklin P. Perdue School of Business, recently received the prestigious Kevin E. Ruble Fellowship from Rutgers University.

The fellowship, presented by Rutgers' School of Management and Labor Relations, includes a $15,000 award. Shipper plans to use the prize to research and write a new book on employee ownership in business, tentatively titled Shared Entrepreneurship: A Path to Engaged Employee Ownership.

Generally, shared ownership and employee engagement are examined and written about separately, said Shipper, who has researched the benefits of employee engagement and employee ownership in companies domestically and internationally. He hopes the book will allow scholars and business leaders to see how the two interact to yield shared entrepreneurship. Many businesses, he said, are finding a path to success though this business model.

"Organizations such as Southwest Airlines and NUCOR are forcing some of their competitors into bankruptcy in their respective industries," he said. "Others are developing new product lines, such as W.L. Gore & Associates has done, and still others are reviving failing plants, such as SRC Holdings has done.

"In all these organizations, opportunities to innovate and participate in and often lead the implementation are available to workers at all levels of the organization. In addition, they share in the rewards that come from successful implementation of their ideas."

Shipper's employee ownership research has been referenced by national media, including MSNBC and The Wall Street Journal, and featured on the Aspen Institute's CasePlace Web site. In 2010, Shipper earned Rutgers' Louis O. Kelso Fellowship, also supporting the study of shared entrepreneurship.

As a Ruble Fellow, Shipper will have access to assistance and mentoring from Rutgers faculty. Also, he will participate in a symposium of fellows on the campus this June and present his research during a workshop in January.

For more information call 410-543-6030 or visit the SU Web site at www.salisbury.edu.