SU Team Wins Enactus Ethics Competition
Thursday March 28, 2013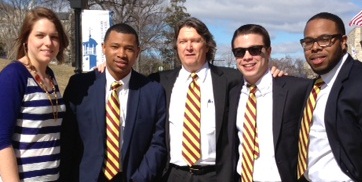 From left: Katie Joy, Julian Scott, Mo Brown, Corey Salemi and Henry Hunt.
SALISBURY, MD---For the second time, students from Salisbury University's Franklin P. Perdue School of Business recently placed first at the Enactus ethics competition held at Mount St. Mary's University in Emmitsburg, MD.
Enactus is sponsored by over 100 major corporations including BB&T, Wal-Mart, KPMG, Coca-Cola and Unilever. SU also won the competition in 2011.
This year, each student team was asked to develop and present a strategy to solve an ethical dilemma faced by textile giant Inditex. In the case, the company was providing funding for community centers and working with a non-governmental organization to identify problem areas such as literacy to better assist contractual workers in Tangier, Morocco.
While effective, the programs' expense led the company to consider whether to continue funding in those areas or move operations to another country where labor and infrastructure may have been less expensive.
The SU team's response was to advise Inditex to continue funding operations and outreach in Tangier, Morocco. "We wanted the company to be considered not only a world leader in business, but a world leader in corporate social responsibility," said senior information systems major Henry Hunt of Baltimore.
Judges were impressed by the students' presentation, which earned them a total score of 116.5 out of 125 possible points.
"I was completely engaged," wrote one judge on their score sheets. Another hailed it as an "excellent presentation — poised, fluid and professional."
Most judges complemented the team on its "Quad R" presentation, during which they emphasized reconfiguring, refocusing, rejuvenating and revamping the company's social image.
"The whole process is important," said team coach Mo Brown, faculty in SU's Management and Marketing Department. "When the students leave SU, they are going to be working in teams to make these kinds of decisions and presentations. This type of training prepares them for that and helps them develop a boardroom presence. It will set them apart in the future."
Students on the SU team included Hunt; senior business and political science major Katie Joy of Lexington Park, MD; senior finance major Julian Scott of Baltimore; and senior marketing and public relations major Corey Salemi of Ellicott City, MD. They competed against others from Penn State Abington, Towson University, Mount St. Mary's University and Hood College.
For more information call 410-543-6030 or visit the SU Web site at www.salisbury.edu.