SU's Burke, Morris Earn Regents' Faculty Awards
Wednesday May 20, 2015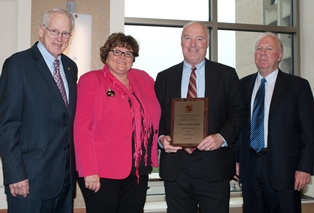 From left: USM Chancellor William "Brit" Kirwan, SU President Janet Dudley-Eshbach, William Burke and USM Board of Regents Chair James Shea.
SALISBURY, MD---Two professors from Salisbury University's Franklin P. Perdue School of Business have earned the University System of Maryland's highest faculty honor: the Regents' Award for Excellence.
William Burke, professor of the practice in the Information Systems and Decision Sciences Department and coordinator of SU's entrepreneurship competitions, was honored for public service. Paula Morris, professor of the practice in the Management and Marketing Department, earned her award for mentoring.
"Mr. Burke is a visionary with the energy and contacts to help vision become reality," said SU President Janet Dudley-Eshbach. "He has singlehandedly re-energized our business competitions, attracting more investment, press and national attention to Salisbury University and our entrepreneurial efforts."
Burke is credited with growing SU's annual $5,000 Bernstein Achievement Award for Excellence business competition, founded by alumnus Richard Bernstein in 1987, into a multi-round day of student Entrepreneurship Competitions, this year with up to $100,000 in prizes.
He also oversees SU's Ratcliffe Shore Hatchery program, founded in 2013 with a $1 million grant from the Philip E. and Carole R. Ratcliffe Foundation. Each year, entrepreneurs throughout the mid-Atlantic compete for their share of $200,000 in prize money, with a goal of having new businesses open within six months and the potential of employing five or more within a year.
The success of these programs drew the attention of producers from the hit ABC-TV show Shark Tank, which partnered with local affiliate 47 ABC and SU to host the program's first national small-market audition at the University in 2014. Auditions return to campus this May as part of SU's inaugural Entrepreneurship Week, also led by Burke.
"With Bill's vision and leadership, entrepreneurship has blossomed within the Perdue School, at SU and throughout the greater Salisbury community," said Dr. Christy Weer, Perdue School dean.
She noted that in addition to his other duties, Burke helped found Launch/SBY, a team focused on the entrepreneurial growth of downtown Salisbury; coordinates the hotdesks.org Race to Innovate entrepreneurial program; is a member of the Maryland Capital Enterprises "Incubator Without Walls" advisory board; and serves as faculty advisor for the SU Collegiate Entrepreneur Organization.
Like Burke, Morris' reach extends not only to her students, but into the community, as well.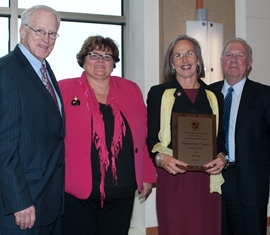 From left: USM Chancellor William "Brit" Kirwan, SU President Janet Dudley-Eshbach, Paula Morris and USM Board of Regents Chair James Shea.
"Mrs. Morris' efforts are life-changing for our students …." said Dudley Eshbach. "She works closely with SU students to become their own best advocate, teaching them practical skills for building networks and landing employment. Beyond her responsibilities [at SU], Mrs. Morris founded a non-profit organization, Kids of Honor, with the mission of mentoring high school students to make good choices and to graduate. This program made the difference in steering young people toward college who formerly may not have seen higher education in their future."
In addition, Morris has raised more than $130,000 in financial and in-kind donations and publicity for area non-profit organizations by adopting an applied learning method in her advertising and promotions classes. Student groups partner with non-profits each semester to organize or assist with fundraisers or campaigns, giving them practical experience while helping the community.
With Dr. George Whitehead of SU's Psychology Department, she also leads the annual Youth Leadership Academy, bringing some 50 middle and high school students to SU each summer for several days of immersive team- and leadership-building skills.
For these and other efforts, she has earned the White House's President's Call to Service Award for lifetime achievement, as well as the prestigious Daily Point of Light Award. The Daily Record has twice named her among "Maryland's Top 100 Women."
In her nomination, Weer noted the large number of students, at all levels, Morris has touched. As an example, she quoted from a note sent by SU alumna Jules Waxman, who credited Morris with helping her accomplish "more during college than I would have ever imagined possible. Her mentorship and the extracurricular experiences she helped provide gave me the needed foundation for starting my career … and for that I am truly grateful."
For more information call 410-543-6030 or visit the SU website at www.salisbury.edu.
SHARE