The Women's Circle of SU Endows Student Award
Tuesday May 19, 2015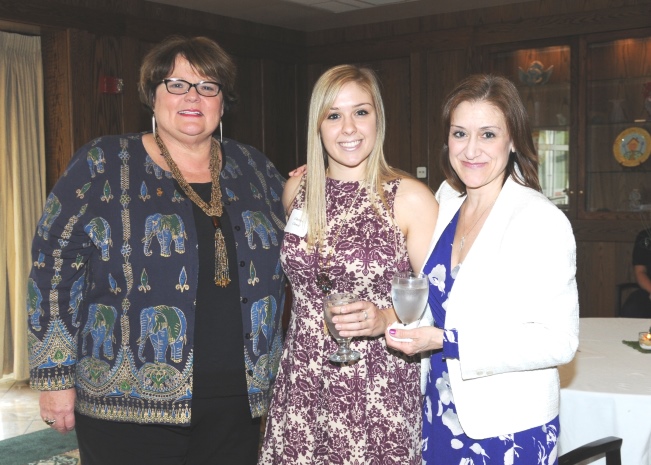 SALISBURY, MD---In its inaugural year, The Women's Circle of Salisbury University raised over $20,000 in gifts and pledges to endow an Educational Enhancement Award.
SU senior Chelsea Chmel of Ellicott City, MD, is the recipient of the first $500 award, which was matched with an additional $500 from SU's Thomas E. Bellavance Honors Program. The fund was created by The Women's Circle to help SU students further their education with experiences outside the classroom.
"This award has provided me opportunities to enhance my education academically and professionally," said Chmel, an exercise science/allied health major, who graduates from SU this spring.
Chmel first purchased textbooks to study for an exam to become a group exercise instructor certified by the American College of Sports Medicine. She also used the award to pay for a 14-day gross anatomy pre-matriculation workshop and cadaver program at the University of Maryland Eastern Shore this summer.
Chmel will begin her Doctor of Physical Therapy at UMES in the fall. Eventually, she hopes to become a physical therapist so she can improve people's quality of life.
"The Women's Circle has opened up many doors for me and helped my family," said Chmel, the daughter of a single mother with three children in college.
Recipients of the annual award must demonstrate leadership and volunteerism at SU or in the community and have a 3.0 G.P.A. or higher.
At SU, Chmel has been a member of the Girls on Top of the World community service club and has volunteered for the "I Love Salisbury" neighborhood cleanup. She also has been involved with the Women Supporting Women's Breast Cancer Awareness Walk; Alzheimer's, Crohn's and Colitis walks; the Humane Society and Operation Christmas Boxes for underprivileged children.
A dance minor and SU Dance Company participant, Chmel also is a member of the Bellavance Honors Program and the Phi Eta Sigma, Phi Kappa Phi and Phi Epsilon Kappa national honor societies. She has made the Dean's List every semester of college.
Founded in June 2014, The Women's Circle of SU is open to any women who are committed to supporting the University and the educational experiences of students, as well as the personal and professional growth of one another. Spearheaded by SU Foundation, Inc. board members Michele Thomas and Ashley Stern, along with SU staff and administrators, the group is comprised of women from varying backgrounds, careers and ages.
Activities during its first year included a welcome reception, a demonstration at SU's Richard A. Henson Medical Simulation Center, a culinary night at Sobo's Wine Beerstro, and, at SU's Perdue Hall, a motivational lecture by author Neen James and a National Business Women's Week panel. Future events will similarly engage members in cultural and intellectual events that often showcase the University and provide interaction with students.
The revenues earned from the endowment fund, which is managed by the SU Foundation, will be used to provide the annual award. The fund will allow the efforts of The Women's Circle to positively affect the lives of SU students in perpetuity.
Pictured, from left, is SU President Janet Dudley-Eshbach, Chmel and her mother, Diane.
For more information about the award or the group, find The Women's Circle of Salisbury University on Facebook or contact Stefanie Gordy at 410-677-0292 or skgordy@salisbury.edu.