SU Social Work Students Raise Over $10,000 in Community Funds, Awareness
Wednesday May 20, 2015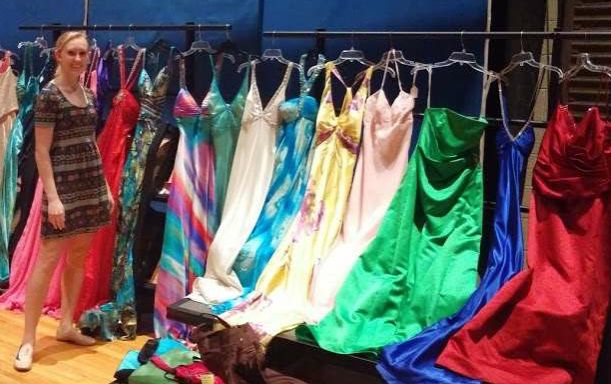 Maria Kolar stands with some of the prom dresses collected through the "Cinderella's Fairy Godmothers" project.
SALISBURY, MD---Students in Eileen Gilheany's Macro Social Work Practice III: Working with Communities and Organizations class at Salisbury University spent countless hours on efforts to better the region during the spring semester.
Projects included:
A "Cinderella's Fairy Godmothers" initiative that collected 157 prom dresses for students at North Dorchester and Cambridge-South Dorchester high schools in Dorchester County, MD, where 16.5 percent of families reportedly live and work in poverty. Organizers Deanna Cupo, Ashlyn Gray, Jessica Januz and Maria Kolar also served as dress consultants for prom-goers. The project is set to continue in 2016 under the Dorchester County Public School System's New Directions Learning Academy.

A restoration of the Vienna Elementary School Nature Trail, also in Dorchester County. Organized by Nicole Lore and McKenzie Thomas, this project, too, is expected to continue through community support.

A collection of nearly $1,500 for renovations at Salisbury's Life Crisis Center. Organizers Angela Griffith, Joyce Medlin, Kristy Tyler and Jill Vincent also created "Handbags of Love," containing some $600 in personal items for women and children served by the center.

A drive that collected more than 2,500 in hygiene items, worth over $2,000, for the Salvation Army House of Hope in Cambridge, MD. Organizers Mike Dyer, Bryanna Murphy, Katherine Thompson and Naomi Witherspoon also cooked a homemade dinner for those served by the organization.

Another drive that collected nearly 1,900 hygiene items, worth some $1,500, for Diakonia and Hope and Life Outreach Ministries (HALO). Organizers were Crystal Poole, Pamela Quiroga and William Sanders.

The donation of some 140 springtime baskets, valued at $1,500, for families and individuals at the Atlantic Club, an Ocean City, MD-based non-profit dedicated to helping people overcome addiction. Organizers were Emily Forka, Danesha Owens Harrell, Marty Myers and Alexis Nuga.

A collection of more than $400 to allow Worcester Adult Medical Day Services to continue patient outings. Organizers were Lauren Barrett, Julie Brandt and Heather Lyons.

A drive that brought in some 350 hygiene items, valued at $350, for patients discharged from the Eastern Shore Hospital Center. Organizers included Liz Askew and Courtney Higgins.

A collection of nearly $250 for the Eastern Shore Pregnancy Center by Jennifer Tello, Maya Terry and Kelly Wolf.

Four "For Your Health" workshops for 66 individuals served by HALO, conducted by Liz Alexander, Gemmy Green, Pam List and Liz Sorenson.

A drive that collected nearly 370 hygiene products, valued at $350, for the Christian Shelter in Salisbury. Organizers were Jessica Flowers, Rashidat Ghabegesin and Rosa Jackson.

A Wellness Day at the Holly Center in Salisbury that is planned to become a monthly event. Organizers were Illena Hoffman, Maggie King and Haylee Tyler.

A collection that raised some $200 for Women Supporting Women. Organizers were Kerry Mahony, Courtney McKenna and Chelsea Tarleton.

A Springtime Celebration Party and Easter hat parade at the Alice B. Tawes Nursing Home in Crisfield, MD, organized by Brittany Dillon and Michele Gardner. Some $665 worth of items were donated for the event. At the party, one resident, who had not spoken in several weeks, sang along with a church choir.

A "New You Day" at Dove Pointe, during which some 50 residents received a day of pampering, along with gift bags, valued at some $425. Organizers were Olivia Bankard, Gabriala Stuchdel and Amanda Ward.

The donation of some 200 books, worth $100, for homeless Wicomico County school children. Organizers were Jacqueline Argueta, Megan Kawahare, Kaitlyn Kermisch and Kelsy Shilod, banding together as the Sea Gulls for Schools team.
In all, SU students participating in these projects raised more than $10,000 in funds and in-kind services, and helped increase awareness of some 18 different organizations, impacting hundreds of individuals throughout the Lower Eastern Shore.
For more information call 410-543-6030 or visit the SU website at www.salisbury.edu.