SU Management Faculty Author Book on 'Shared Entrepreneurship'
Thursday June 5, 2014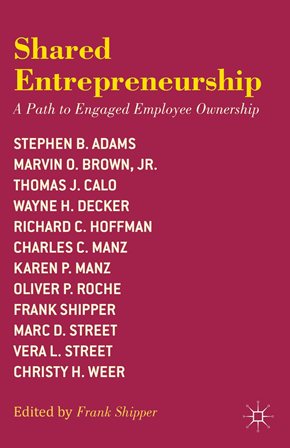 SALISBURY, MD---A team of 10 management faculty members at Salisbury University have written a book on what many consider unorthodox management practices.
They describe how a number of companies following employee-centric practices have survived, thrived and even displaced competitors following traditional management orthodoxy.
Shared Entrepreneurship: A Path to Engaged Employee Ownership begins by describing the fundamental principles underlying the success of these exemplary enterprises. It concludes by providing a variety of case studies. It is due from Palgrave Macmillan in August. Both Amazon.com and Barnes & Noble recently released the book at a pre-order discount.
"By providing all employees with the freedom and skill to share in the leadership, ownership and collaborative efforts, the worker-owners become highly engaged and continuously innovative," said Dr. Frank Shipper, the book's lead author. "Shared entrepreneurship replaces the top-down approaches of the past with a new framework that draws strengths and innovation from collaboration and sharing."
The faculty team members whose studies comprise the book include Drs. Stephen Adams, Marvin "Mo" Brown Jr., Thomas Calo, Wayne Decker, Richard Hoffman, Olivier Roche, Marc Street, Vera Street and Christy Weer, along with research associate Karen Manz and Charles Manz, the Nirenberg Professor of Leadership at the University of Massachusetts Amherst.
Companies profiled include Herman Miller, Inc.; SRC Holdings and W.L. Gore & Associates, among others.
The book has earned international and domestic praise from industry and academic leaders including John Hoffmire, director of the Impact Bond Fund at Saïd Business School at Oxford University, who said, "Shared Entrepreneurship in its introductory chapters provides an outline of how companies can improve the quality of life and financial well-being of worker-owners while developing a superior competitive advantage.
"In its concluding chapters, it documents how eight companies have done this, and how they came out of the Great Recession of 2008 stronger than their competitors. Leaders interested in how business can improve social and economic conditions for all should read this book."
Mike Rydin, CEO of ESOP-owned HCSS, said, "This book lays out the foundation of these [shared entrepreneurship] principles in a way that pulls together the disparate activities that we have been doing …. We plan to use this book with all managers and leaders, and as a tool in our leadership development program for future leaders."
For more information call 410-543-6030 or visit the SU website at www.salisbury.edu.