Monday, June 9, 2014
LLC Students Present Survey Results to Maryland Senator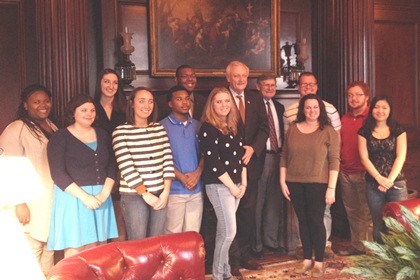 SALISBURY, MD---A group of 11 Salisbury University students shared the results of a survey on contemporary issues with Maryland Senator Jim Mathias and his staff in Annapolis during this year's legislative session.

The study was conducted as part of a Living Learning Community math class taught by Dr. Bob Barber of SU's Mathematics and Computer Science Department. Surveying the entire student body of over 8,000 students, it explored student opinion on 15 topics ranging from marijuana legalization to the national debt.

"Hopefully, after this real life experience, the students will take an active interest in keeping up with the issues being debated throughout the country and understand the role that mathematics has in analyzing public opinion," Barber said. He added that Mathias, a strong supporter of these kinds of learning experiences, applauded the students and their efforts in putting an extremely important and timely effort together.

SU freshman Sara Wood presented the survey results to Mathias.

In addition to taking the class together, all of the students reside in SU's Communication Arts Living Learning Community, advised by Dr. Lori DeWitt of SU's Communication Arts Department.

For more information call 410-543-6030 or visit the SU website at www.salisbury.edu.