SU Geosciences Student Chases Tornadoes
Tuesday September 12, 2017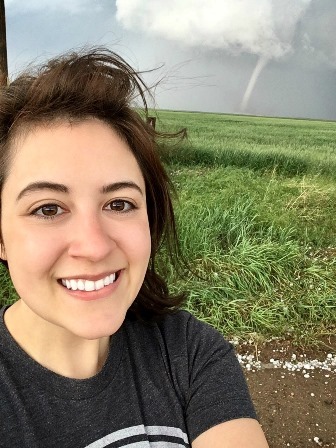 SALISBURY, MD---Over the summer, when many of Alison Banks' classmates caught some beachside rays, the Salisbury University student preferred a landlocked state and cloudy days.
It's not because she's the gloomy, mopey sort. On the contrary, the geography major is quite chipper, especially when pursuing her interest in atmospheric sciences and meteorology. Throw in tornadic activity and windshields being smashed by golf-ball-sized hail, and she brims with excitement.
"We were driving around the Pawnee Grasslands [in northeastern Colorado] for hours, which is not the most interesting place to be without cell service, so when we spotted a tornado it was absolute chaos in the van," Banks said of her summertime fun as a storm chaser. "From there we followed the Doppler on Wheels, which is this funny little truck with what looks like a rotating satellite dish on it, and saw four tornadoes. Of course, I got some amazing pictures."
One of those photos is a smiling selfie — oh, with a twister menacing in the background. Good times.
For 10 weeks, Banks attended the National Science Foundation's Research Experiences for Undergraduates (REU) program at Colorado State University in Fort Collins, CO.
"I stayed in the dorms and had a meal plan," she said, "so I had some major flashbacks to freshman year."
Now a senior, Banks — whose parents, Rodney and Grathel, are SU alumni — plans to attend graduate school and, eventually, study artificial intelligence and apply the most advanced technology to forecasting and climate change.
"Alison is one of the top students in our atmospheric science track," said Dr. Brent Skeeter, chair of SU's Geography and Geosciences Department. "She would already be an ideal candidate for graduate school in meteorology. However, the REU experience will put her well ahead of her peers in our department, as well as others across the country, when applying for acceptance into graduate programs and competing for an assistantship or fellowship."
As a paid intern in CSU's Department of Atmospheric Science, Banks attended scientific seminars and weather-balloon launches, participated in a variety of professional development training, and visited national scientific laboratories.
"I got to see the supercomputer at the National Center for Atmospheric Research in Boulder," Banks said. "Its power is measured in petaflops, which is hilarious sounding and spectacularly fast. We watched some weather visualizations in 3-D, which made it a totally mind-blowing field trip."
Some field trips were within walking distance … and unscheduled and possibly unauthorized.
"The Cooperative Institute for Atmospheric Research was next door," she said, "so I snuck into some of their weather briefings and watched the latest satellite products on the big screen."
By the end of the internship, Banks had authored a research poster and produced a presentation on the "Comparison of Convective Aggregation in Cloud-Resolving Models." She described her research in terms of a Pixar movie:
"The animators spend an incredible amount of time making every detail — every strand of hair or drop of water — behave like it would in the real world," Banks said. "Climate models are like that, except the creators need to layer in everything we know about how the universe operates. Running this simulation produced a unique and mysterious cloud that may or may not exist in our world. Even stranger, the cloud disappears and reappears with regularity."
… a Pixar movie about a cloud inflating and deflating like a balloon.
"My project involved reproducing this effect in a different model," she continued, "and figuring out why it appears and pulses. We still aren't sure why, but I found that recreating the cloud in a different climate model was difficult, so we learned that this phenomenon only occurs under very specific conditions."
When Banks wasn't busy programming and running the simulation, she and her REU cohort often would hike at Rocky Mountain National Park.
"The altitude was killer for a sea-level girl like me," the Salisbury native said. "But we made it up high enough to have snowball fights."
Frolicking in the snow: For Banks, it's just typical summer fun.