New Students Canoe, Bike and Hike Their Way to SU
Tuesday September 12, 2017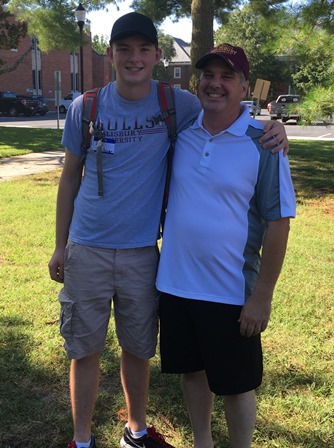 SALISBURY, MD---In 1983, cellular mobile phones, as they were redundantly called then, were the size and weight of a brick and, as for reception, pretty much the entire Earth was a dead zone.
That summer, a handful of Salisbury University faculty, administrators and incoming freshman journeyed to Algonquin Provincial Park in Ontario, Canada, to canoe, camp, contemplate the four years of college life that lay ahead, and to listen to the loons. The bird call reception was excellent. It was the beginning of the New Student Outdoor programs, which, for 34 years, has been returning to this blissful dead zone, where it's always 1983 and no one ever asks, "Can you hear me now?" The questions are more sociable, practical and self-improving.
"There's something special about the Algonquin trip; it completely removes students from any safety net," said Dr. Michael Lewis in 2007, on the 25th anniversary of the program. He is a former course leader and now chairs SU's Environmental Studies Department. "No cell phones, no bathrooms, and they have to cook their food. It forces them to rely on each other."
Ten years later, young adults are even more dependent on their personal devices – which makes the New Student Outdoor programs all the more important for helping to orient students to their days on campus. There's not an app for that – but there is "Algonquin Canoe" and the other destinations that make the transition to college life a little bit easier.
"When you're up in the wilderness without a cellphone, it feels a little weird," said SU sophomore Adam Prouse, 19, who was an upcoming freshman on the 2016 Algonquin trip and a peer leader in 2017. "You are disconnected from modern society, yet connected to another group of people at the same time. Even though I missed being able to connect with my friends and family to tell them about how much fun I was having on the trip, I knew I would be given the chance to do so when I got back."
Prouse is a legacy at SU – both of his parents, Drew and Beth, are alumni, plus his twin sister, Hannah, is an SU undergraduate – and he's also an Algonquin legacy. His dad went on the trip in 1984.
"When I heard about this trip from my father, I thought it was too good to be true," said Prouse, who acquired a lot of outdoor skills as an Eagle Scout. "The thought of being able to make a lot of friends, go canoeing in the wilderness of Canada, and have fun while doing so was all I could have really asked for."
So his father must have had a lot of helpful advice?
"He prepared me for the trip by not telling me anything about it," Prouse said. "I believe he wanted me to find my own path and forge my own fire by taking this trip, which I was able to do."
Prouse can give a nod of gratitude to Joe Gilbert, a former SU vice president for administration, who initiated the New Student Outdoor programs. The idea was to offer freshman orientation during a wilderness trip as an alternative to the classroom. One of the first of its kind and a model for other universities, it was named a Distinguished Program for Student Services in 1986 by the Maryland Association for Higher Education. The honor stemmed in part from the high graduation rates, strong campus involvement and academic success among student participants. It started with Algonquin and, in 1985, led to cycling, hiking and camping at Acadia National Park on Maine's Mount Desert Island. In 2017, additional programs included two with local destinations: "Achieve at Assateague" and "Bike, Beach and Beyond." All the programs double as three-credit courses, so there's the added benefit of getting a head start academically before the semester begins.
Jeanne Anderton, a lecturer in SU's Art Department, was one of the course directors for this year's "Acadia Adventure."
"Maine gave us all the weather that she has to offer, except for rain, with heavy fog the first few days and sunshine the rest," she said
Maine also gave them a dead battery in the van.
"As a result, the course directors got to meet some of the 'real island folks,'" Anderton said.
The good and the bad: It's all part of a process that, ideally, prepares the students for their college experience and allows them to discover the strengths they have. At Acadia, this could involve overcoming a fear of heights or hiking a trail that they never thought they could, to the mundane tasks of learning to cook or do laundry.
"We hope that each student takes away something to help him or her become more successful in college and, perhaps, in life," Anderton said. "Then there is the beauty of the outdoors and Maine, the reward in helping maintain the park through a service project with the Friends of Acadia, discovering that camping is fun, maybe even seeing a shooting star for the first time."
Prouse would have been happy just seeing the sun.
It was rainy and windy when he and his group arrived at Algonquin's Burnt Island Lake in 2016. They set out on canoes. The waves were topped with white caps, and "in one fell swoop our canoe goes up and dumps us into the warm lake with all our gear in the swamped canoe," Prouse said.
He and his fellow canoeists, nicknamed "Abs" and "The Loon King," weren't injured.
"We all just laughed for a couple of seconds," Prouse said, "and just swam back to the campsite with our swamped canoe and all our gear, which happily stayed dry in the dry bags."
The fun was just beginning.
"Once camp had been set up," Prouse said, "we all climbed in the tent to try to get warm. Suddenly, we heard this loud crack and Dr. Ragan [an associate professor in SU's History Department and an Algonquin course director] yelled, "Everybody out of the tent!"
Above them, the wind had created a giant "widow-maker," a hanging branch.
"A little later, we somehow got a fire going with all the wet materials and cooked up some steaks," Prouse said.
For dessert, he had s'mores with nearby camping Canadians. They sat around a fire and sang Monty Python's "Lumberjack Song," accompanied by what looked like a homemade ukulele.
"This experience is so unique that I would not trade it for the world," Prouse said. "Not only because it is my favorite on this trip, but because it brought my whole trail crew together on that day."
Prouse went home with fond memories, started his freshman year with new friends and a sense of camaraderie, and, nickname-wise, he didn't leave Algonquin empty-handed. They called him "Eagle."
"The only advice I have for people going on this trip is to try to have fun," Prouse said. "You get to meet a lot of people on this trip and have a lot of fun at the same time, which in a way creates a whole new experience within itself."
An Eagle talking and bonding with Sea Gulls: Thanks to the New Student Outdoor programs, the bird call reception is excellent at SU.