Wednesday, March 12, 2014
Perdue Entrepreneurship Competition Sponsors Sought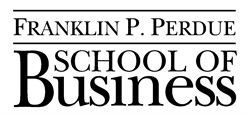 SALISBURY, MD---To encourage entrepreneurship among Salisbury University students, businesses and companies from the local community and beyond are being asked to contribute to $50,000 in cash and prizes.
On Friday, April 11, students will have the chance to vie for these rewards by sharing their plans to create new businesses or expand existing ones. The three-part Entrepreneurship Competitions, which ultimately support job creation in the state, are hosted by SU's Franklin P. Perdue School of Business.
Among those backing the event is Warren Citrin, who, for the second year, has donated $10,000 to support the Gull Cage portion of the competition. Citrin, co-founder of Solipsys, Gloto and Redox Power Systems, will again serve as a judge.

In addition, SU alumnus Bob Livingston '75, CEO and president of Dover Corporation, a Fortune 500 global manufacturer located near Chicago, has committed $10,000 for the competition.

Other new supporters from the local community include the Salisbury Area Chamber of Commerce (SACC) and Salisbury-Wicomico Economic Development (SWED), which have teamed up to offer $5,000 in prizes and services. These include assisting winning entrepreneurs with selecting a place to begin their business and identifying funding sources, as well as offering business consulting, discounted or rent-free space, and free, limited-time advertising.

"Supporting new business ventures and promoting entrepreneurship in our community will help drive jobs of tomorrow," said Dave Ryan, SWED director. "We're pleased to partner with the chamber in lending our support to a growing business plan competition and entrepreneurial community at SU."

"A community that fosters entrepreneurship is home to consistently greater opportunity," added Bradley Gillis, SACC president. "The chamber sees a very bright future of entrepreneurship in Salisbury. We will continue to support the competition and we hope to keep these future business leaders in our area."

Several other local individuals and entities have committed $1,000 sponsorships, with some also giving their time and expertise as judges. They include Burbage Properties, Inc., Gillis Gilkerson Inc., Maryland Capital Enterprises and its Women's Business Center, Yard Designs, Inc., Bruce Rogers of Sherwood of Salisbury, Jennifer Layton of Layton's Chance Vineyard and Winery, and Monty Sayler with Bank of America.

Another sponsor, the Eastern Shore Entrepreneurship Center, has offered prize money plus a one-year free membership to hotDesks, the Eastern Shore's first co-working space located in Salisbury to serve the needs of the region's technology and innovation entrepreneurs.

SU alumnus Richard Bernstein '76, founder of BAI Aerosystems, Inc. in Easton and K&L Microwave, Inc. in Salisbury, also continues with $10,000 for the grand prize for the Bernstein Achievement Award for Excellence. The roots of SU's entrepreneurship contests began more than a quarter century ago with Bernstein's support.

For more information about the competitions, visit www.salisbury.edu/perdue/EntrepreneurshipCompetitions. To contribute as a sponsor, contact William Burke, competition director and Perdue School professor, at 410-677-5386 or wpburke@salisbury.edu.