Monday, June 9, 2014
SU Student to Fly Across U.S. in Air Race Classic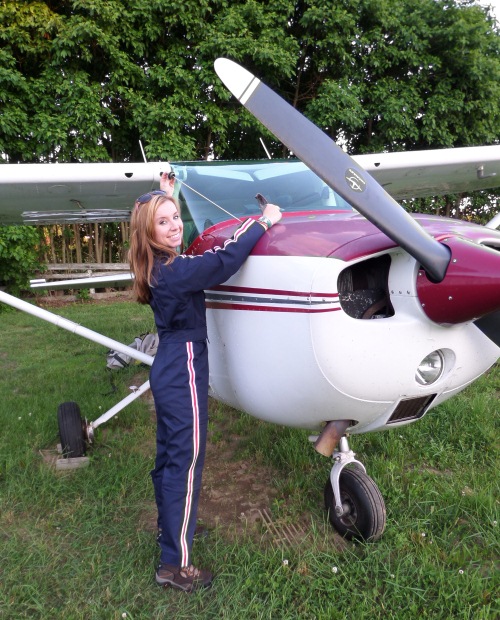 SALISBURY, MD---Salisbury University is fond of saying its Sea Gulls soar. This summer, one student will take that phrase literally.

In June, Emily Lewis, a junior geography major from Mickleton, NJ, will fly from California to Pennsylvania as part of the Air Race Classic, an annual competition for female aviators. The event, founded in 1977, recalls similar contests that began as popular exhibitions in the late 1920s and were revived following World War II.

During the race, scheduled June 16-19, Lewis and her co-pilot, Alicia Sikes, join more than 50 other planes on a journey that includes stops at checkpoints in Ohio, Illinois, Iowa, Nebraska, Wyoming, Nevada and Oregon. The teammates met through Lewis' father, John, who flies for American Airlines along with Sikes.

Lewis comes from a long line of aviators. Her grandfather, a World War II pilot, founded Cross Keys Airport in Williamstown, NJ, and became an instructor after the war. Her father followed in his footsteps, also serving as an instructor. He purchased a private plane so her brothers could take flying lessons.

At age 14, Lewis decided she wanted to become part of the family tradition, realizing a prediction she had made at multiple airshows as a child: "I always said, 'Hey, Dad, I'm going to do that one day.'"

Three years later, she earned her private pilot's license. Earlier this year, at age 20, she took her training a step further, successfully completing the test for her multi-engine license. The Beechcraft Travelair she and Sikes plan to fly in the Classic will be the only multi-engine plane in the competition.

The duo has spent the past few months planning its route, using nine paper maps as well as online resources. At this point, the only question left is flight times. They largely will be determined by another of Lewis' passions: weather.

After taking her first weather unit in her fourth-grade science class, Lewis knew she wanted a career in weather. Taking academic tracks in atmospheric sciences, as well as environmental land use planning, at SU, her interests include paleoatmospheric studies — the examination of weather throughout history.

The weather courses she had to take as part of her pilot training helped combine her two major interests.

"The most exciting part of the race will be combining the atmospheric skills I've learned at SU with my interest in aviation," she said. "It has all kind of come full circle, which is great."

After graduation, she would like to work as a TV meteorologist, an ambition she has embarked on by providing weather forecasts for the University's SUTV club. For the immediate future, however, she has another job lined up as a counselor this summer at an aviation camp in Pennsylvania.

Getting the next generation interested in aviation — especially younger girls — is important to Lewis, who also is a member of the Ninety-Nines, an international organization dedicated to female pilots. She hopes her participation in the air race will inspire future women aviators in a field she said can sometimes be intimidating.

"We can do it just as well as the men can," she said.

Working with Sikes and flying in the race, Lewis is excited to hone her skills even more. She already has applied to participate in an exclusive race in France for pilots 24 and under. One American receives a scholarship to enter the event each year.

After the race, she plans to pursue her commercial pilot's license and, like her father and grandfather, become a certified flight instructor.

Ultimately, she would like to travel the world and see how aviation differs from country to country. First, however, she has to make it from Concord, CA to New Cumberland, PA, in four days.

For more information call 410-543-6030 or visit the SU website at www.salisbury.edu.