COVID-19 Vaccine Clinics and Updates to SU COVID-19 Protocol
Wednesday August 24, 2022
Dear Students,
Welcome back to campus! As you gear up for a successful fall semester, make sure it's a healthy one too! If you are not already vaccinated against COVID-19, or are in need of a booster, Campus Health is holding three clinic dates, open to all campus community members:
Thursday, August 25

Friday, September 2

Thursday, September 22
All clinics run from 9am to 3pm in Blackwell Hall. Register for your vaccine or booster at: suvax.timetap.com. The latest information on COVID-19 and upcoming clinic dates can be found by visiting the University Coronavirus Information page.
Keeping up-to-date with COVID-19 vaccinations remains the most effective tool to fight COVID-19 and prevent against severe illness. Vaccine clinics and appointments will continue to be offered by Campus Health. Information on eligibility and other vaccine locations is available at: https://coronavirus.maryland.gov/pages/vaccine#locator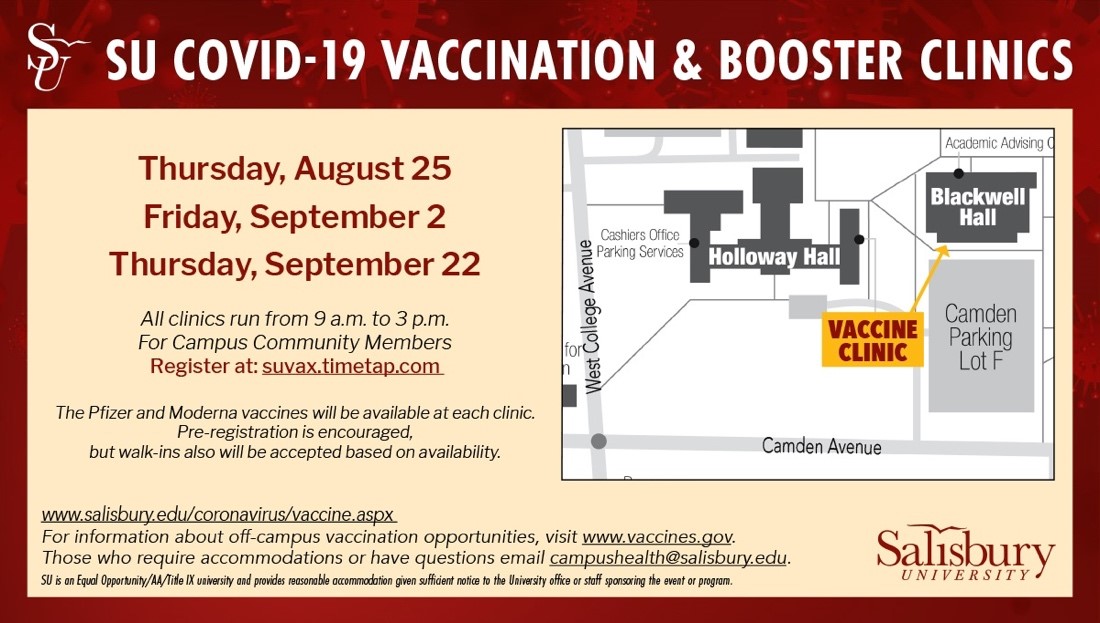 Updates to SU COVID-19 Protocol for Fall 2022
The University's protocols are now shifting to the endemic stage of COVID-19, and our goal is to reduce the time spent away from campus and the classroom while maintaining the safest possible environment for students. Keeping up-to-date with your vaccinations and boosters remains the most effective tool to protect individual and community healthy.
Students and employees who are symptomatic or sick should stay home and contact Campus Health (410-677-0006 or CampusHealth@salisbury.edu).
For those who test positive for COVID-19:
You

must

isolate for a minimum of 5

full

days (day 0 being the day you tested positive).

Specific isolation dates will be determined on a case-by-case basis by Campus Health.
Students living on campus (including University Park) will need to isolate at home.

Students living off campus may choose to isolate at their permanent address or temporarily relocate if isolating at their current residence is not an option.

Students who are in isolation or quarantine will need to make arrangements with their instructors regarding class attendance and assignments.
Quarantine has generally been lifted for those identified as close contacts. All students, regardless of vaccination status, who are identified as a close contact will be required to take a campus administered test 5 days after exposure.
*Residential students who are identified as close contacts, and are not up-to-date on their COVID vaccination (including booster) will be required to quarantine at home for 5 full days. Campus Health will provide you with a return date. You must test negative at Campus Health on this date to be cleared from Quarantine.
Individuals who test positive and close contacts should wear a well-fitting KN95 mask when around others for at least 10 days.
Members of the campus community should feel free, and are encouraged, to wear face masks – and must wear them in all areas designated as required. Please remember, all plans and protocols are subject to change based on the case rates and circumstances.
SHARE