Maryland First Lady's Official State Portrait by SU's Kim Unveiled
Monday May 16, 2022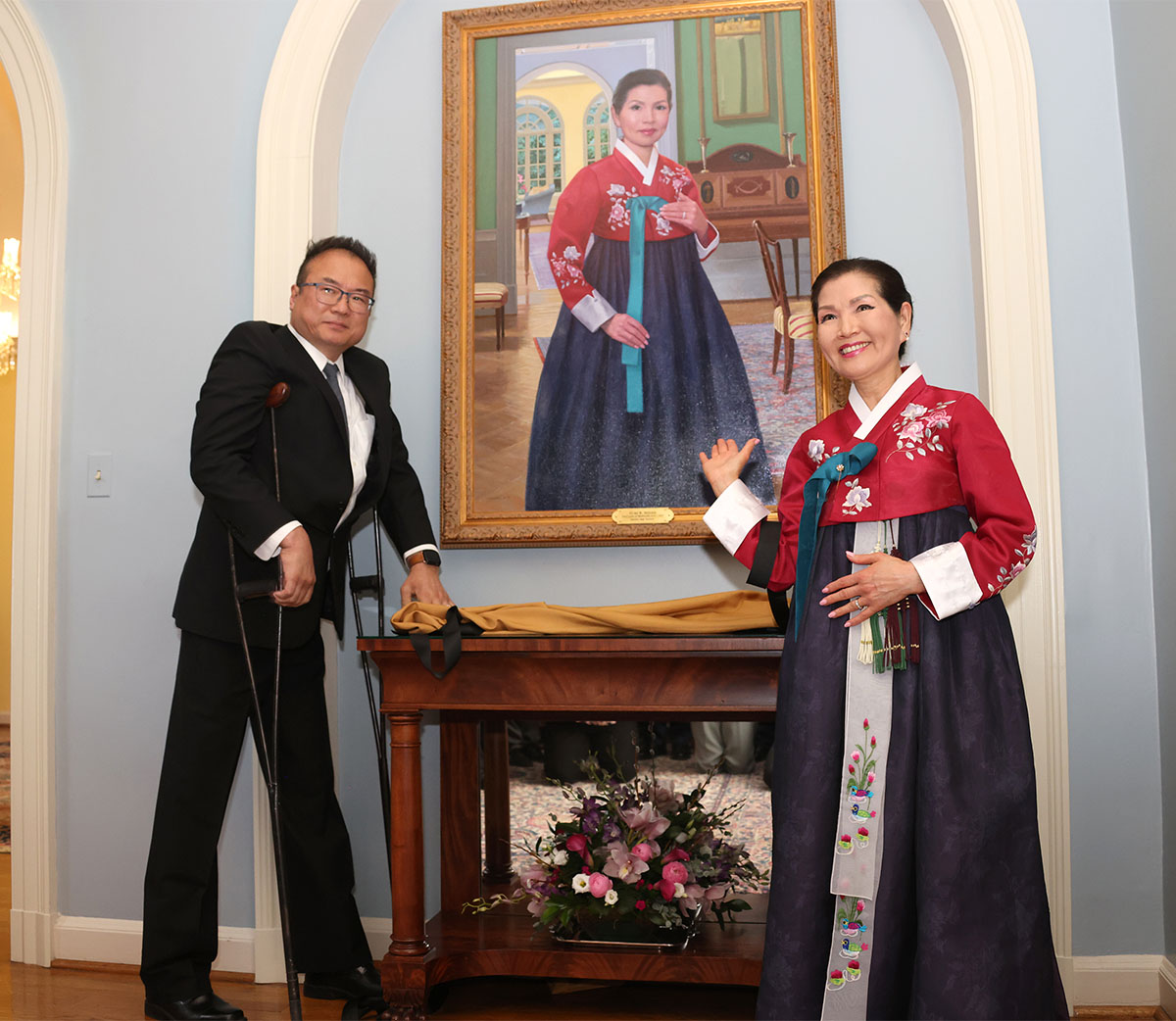 SALISBURY, MD---Jinchul Kim, Salisbury University professor of art, knew Yumi Hogan well before she became the First Lady of Maryland.
The two artists traveled in the same circles, including the Han-Mee Artists Association of Greater Washington for Korean American artists, and have displayed their work together.
When Hogan chose Kim for her official portrait, it meant more to him than some of his other works, as it gave him the opportunity to capture a friend on canvas.
"When you create a portrait painting, you do more than just the likeness or resemblance of a person," he said. "The portrait creates an incredible understand of the personality."
The portrait of Hogan and that of her husband, Governor Larry Hogan, painted by artist Cedric Egeli, were unveiled recently at the Government House in Annapolis.
The Foundation for the Preservation of Government House of Maryland, Inc. commissioned the official portrait, which is part of the state's art collection.
"It's very exciting, and it's a great honor for me to be invited to do the portrait and finally have the unveiling," Kim said.
The First Lady visited Kim's studio on several occasions throughout the process, which was completed early in 2021. She is an abstract artist whose work impressed Kim before he even knew who the artist was. She has said that when she comes to the Eastern Shore, the geography and agriculture of the chicken farms and corn fields remind her of the town in which she grew up in Korea.
"When I first saw her work, I felt that," Kim said. "Without even knowing she did that painting, I thought, 'This is a very inspiring painting.' It was an abstract expressionistic style painting with the magical harmony of ancient Korean traditional painting spirit. The mood and atmosphere is a combination of the eastern and western juxtaposition of the two different cultures."
Kim is the head of the SU's painting and drawing areas in the Charles R. and Martha N. Fulton School of Liberal Arts. He is a former winner of the Maryland Board of Regents Faculty Award for Excellence in Teaching and has received critical acclaim for his artwork.
Learn more about how SU students and faculty are exploring opportunities for greatness and making tomorrow theirs at www.salisbury.edu.
SHARE