SU's GULLS VEXU Robotics Team to Compete in 2022 World Championship
Wednesday April 20, 2022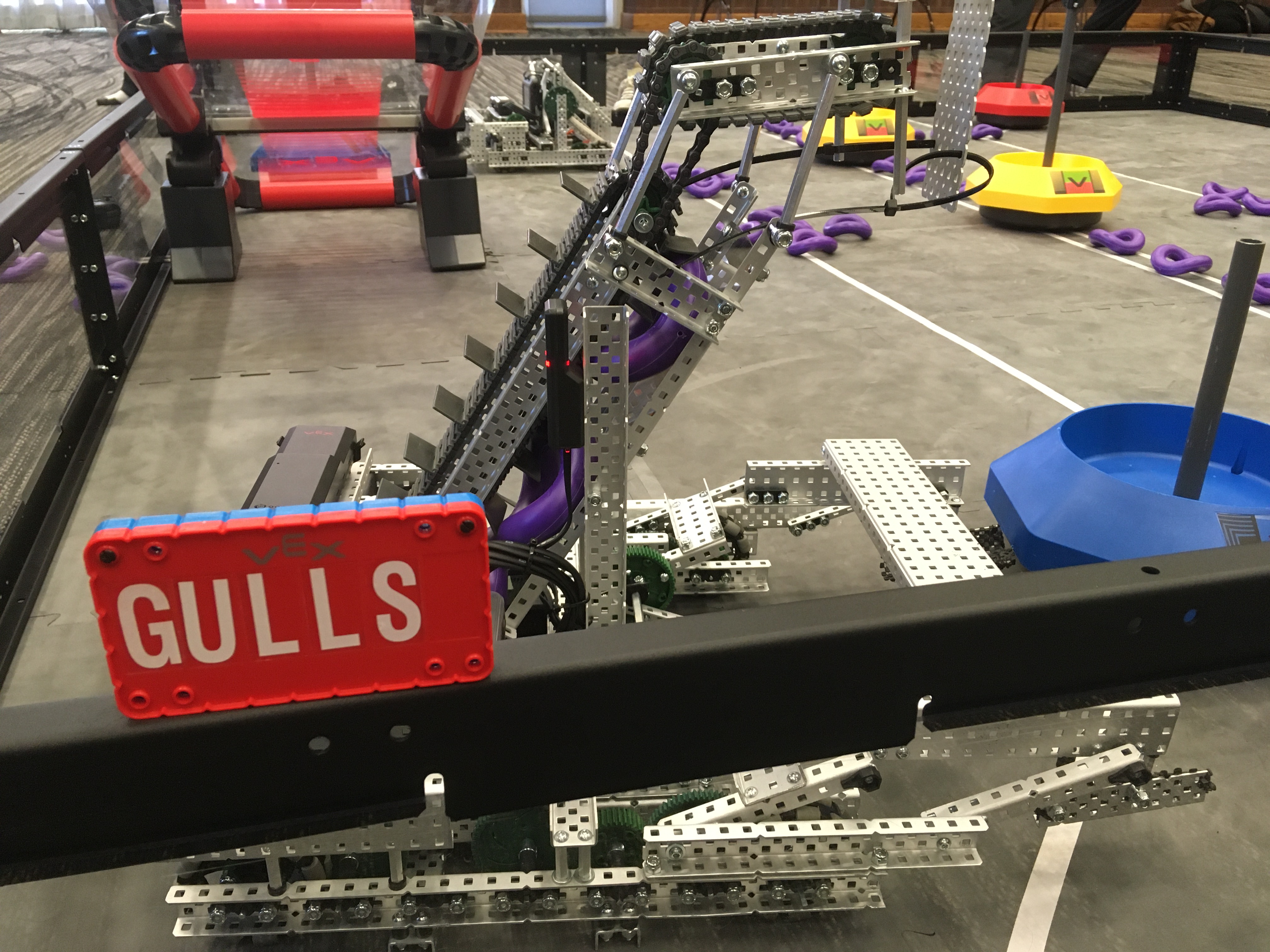 SALISBURY, MD---Students in Salisbury University's VEX Robotics club have ranked among the best in that nation for their game strategy, design and teamwork.
Up next: The team travels to Texas to display its skills on the global stage at the 2022 VEX Robotics World Championship.
The club, also known as the GULLS VEXU Robotics Team, began in fall 2021 and is advised by Dr. Giulia Franchi, assistant professor of computer science. The club introduces robotics to those with beginner to advanced science, technology, engineering, and mathematics (STEM) knowledge and is open to interested SU students across disciplines.
"During class, it's often difficult to show students real-life problem solving thoroughly, but in this club, students have the time and resources to work through complex problems and obtain valuable engineering experience beyond textbook examples," said Franchi.
The team has participated in several collegiate-level competitions throughout the academic year, and its high rankings in awards and points have earned it a spot at the world championship event May 3-5 in Dallas, TX.
Team members include Andrew Bradley, a senior computer science major, of Bel Air, MD; Daniel Bradley, a senior computer science major, of Bel Air, MD; Jacob Barford, a senior information systems major of Centreville, MD; Olivia Brague, a freshman computer science major, of Owings, MD; Mitchell Krystofiak, a senior mathematics major, of Pocomoke, MD; Jordan Long, a senior information systems major of Columbia, MD; and Corey Phillips, a sophomore data science major of Mardela Springs, MD.
"The students are able to work a lot on design and learn how to use SU's Maker Lab for 3-D printing, which is a special tool not everyone has access to," said Franchi. "To have top-of-the-line resources that students can use for free sets them apart from so many that don't experience this until later in their careers. They know how to build their own parts and are advanced in programming, which makes them even better students in computer science."
In addition to competing with other universities, the club also brings STEM and robotics opportunities to area students by hosting competitions that help raise funds for the team.
SU held a high school competition in February and a collegiate competition in March, during which dozens of teams were judged by SU Henson School of Science and Technology faculty volunteers on their designs, functionality and skills.
In addition to design evaluation, the competition points rounds included two robots and their teams going head-to-head, vying to arrive first to a target, and solo field performances that showed off the robots' ability to maneuver a course.
"These competitions show young students in STEM that coding, engineering and designing can be fun while learning new things simultaneously," said Franchi. "At both levels of competition, college students are able to advise prospective students and be an example of what the future could hold, and also make connections with peers from other universities and network."
The excitement won't stop in Texas for the club. It is expected to continue this fall, when the team will move from Franchi's office to its own robotics lab. The space will provide a welcoming and centralized location to gather for meetings and enhance the opportunities for programming, designing and storing the robotics equipment.
Learn more about how SU students and faculty are exploring opportunities for greatness and making tomorrow theirs at www.salisbury.edu.