SU Students Participate in International Negotiation Competition with University of Bucharest
Wednesday December 7, 2022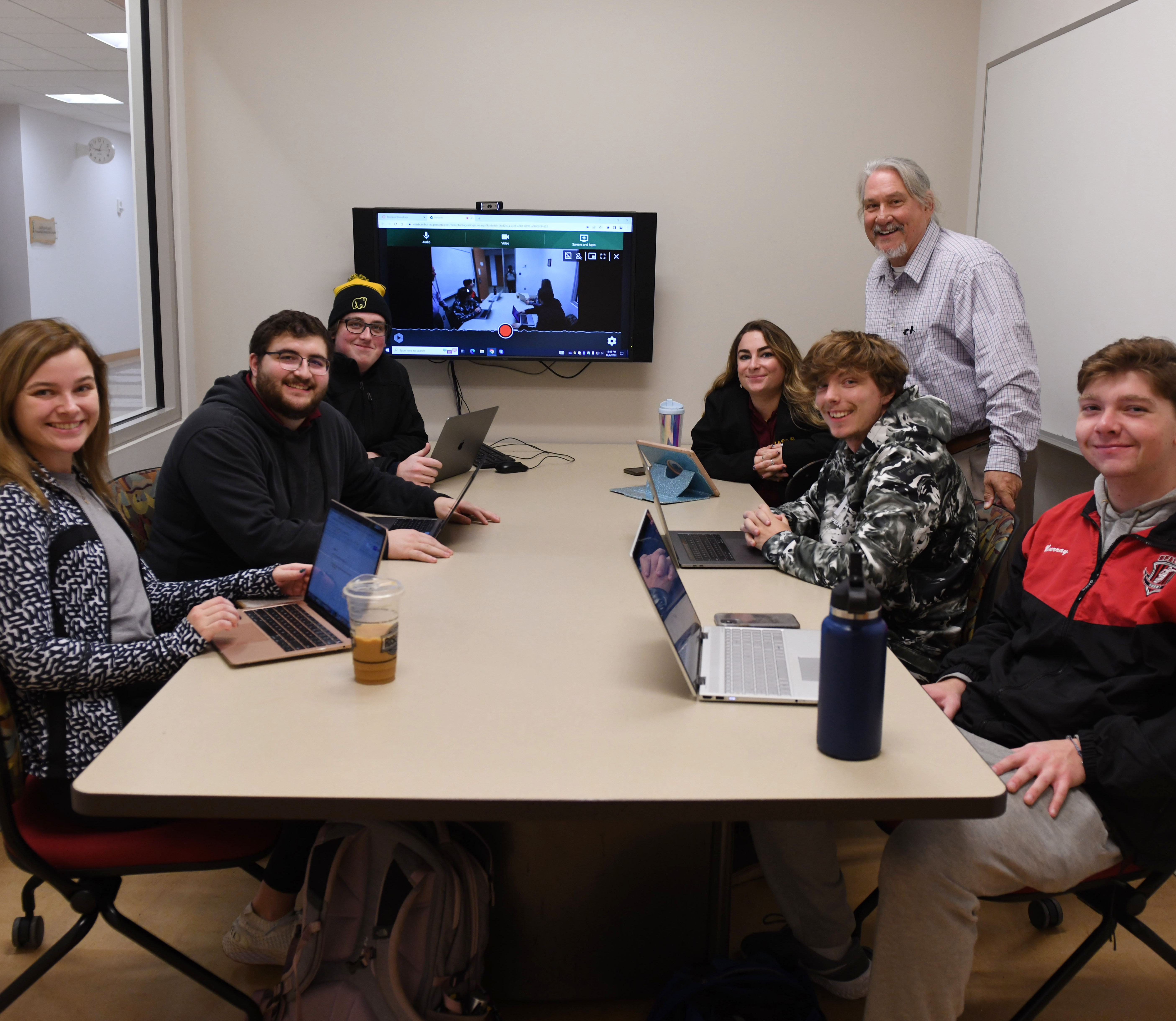 SALISBURY, MD---Cultural differences can play a major part in international negotiations.
That was one of the lessons Salisbury University students learned during the second Cross-Atlantic Negotiation Competition, a joint online venture between SU's Franklin P. Perdue School of Business and the University of Bucharest School of Law.
Dr. E. Patrick McDermott, professor of management and law in the Perdue School, established the event after teaching at the University of Bucharest as a Fulbright Scholar during the 2018-19 academic year.
Professor Adriana Almasan at the University of Bucharest and McDermott paired students SU's Management 454: Negotiation class with counterparts in Almasan's law school negotiation course to maximize the cultural experience.
Following a week of preparation, the two-person teams engaged with others in real-time negotiations representing a fictional vaccine supplier and distributor. Students said the experience was demanding — in a good way.
"It's challenging connecting with your Romanian partner," said Sergio Nazzaro, a business management major from Dunkirk, MD. Beyond the time difference — which posed its own obstacles — getting to know a new partner's negotiating style with limited time to acclimate to one another was a new experience, he said.
"Working with people from different cultures is an eye-opening experience," said Alexis Strom, a business management major from Severna Park, MD, adding she thought the interactions she navigated would prove useful in her chosen field of human resources.
For some students, the exercise allowed them to expand their comfort zones when it came to the art of business.
Chloe Dize, a marketing major from Salisbury, noted that during the semester-long negotiation assignments, "Sometimes tensions got high. You learn a lot about yourself and how you react to certain situations."
"You learn a lot about how to communicate with people to reach a common goal," agreed Steven Kalamets, a business management major from Middletown, MD.
Kaylynn Boswell, a management major from Brandywine, MD, hopes to use the skills she learned in McDermott's class — including lessons from the competition — following her anticipated graduation from SU in May. She already has been offered a job focusing on procurement and negotiating skills.
In addition to negotiation skills, the exercise also taught students about licensing and other business issues that intersect with the law, McDermott said. Student Heather MacMaster of Sykesville, MD, said the competition also incorporated facets of her major: psychology.
"It was cool to have my eyes opened to a different culture, especially with something as universal as negotiating," she said.
Students from the University of Bucharest also found the exercise helpful.
"I feel like it was more than a negotiation session … we also had the experience of intercultural bonding," said participant Melisa Gun. "It was great to have an insight into how culture plays a huge role in negotiations. It was an amazing experience."
Fellow student Andreea Nedelcu agreed: "It was an enriching experience. The fact that we managed to avoid the cross-cultural pitfalls played an essential role in reaching an agreement."
"With the help of the coordinating teachers, the different nationalities and mentalities blended perfectly, resulting in balanced and competitive teams negotiating both styles — American and Romanian — in a friendly atmosphere," said student Ioana Buchur.
Almasan noted the benefits of the experience to all participants, especially in an increasingly expanding world of business and law.
"This negotiation exercise abundantly proves its educational and professional value," she said. "Stressing the importance of cross-cultural negotiation in the current globalization environment [unveils] the students' complex negotiation abilities as well as the fun in learning negotiation."
Learn more about opportunities to Make Tomorrow Yours at the SU website.