SU's Ravizza Earns Reeve Foundation Grant for Sport Wheelchairs to Better Prepare Students for Inclusive Teaching
Tuesday December 6, 2022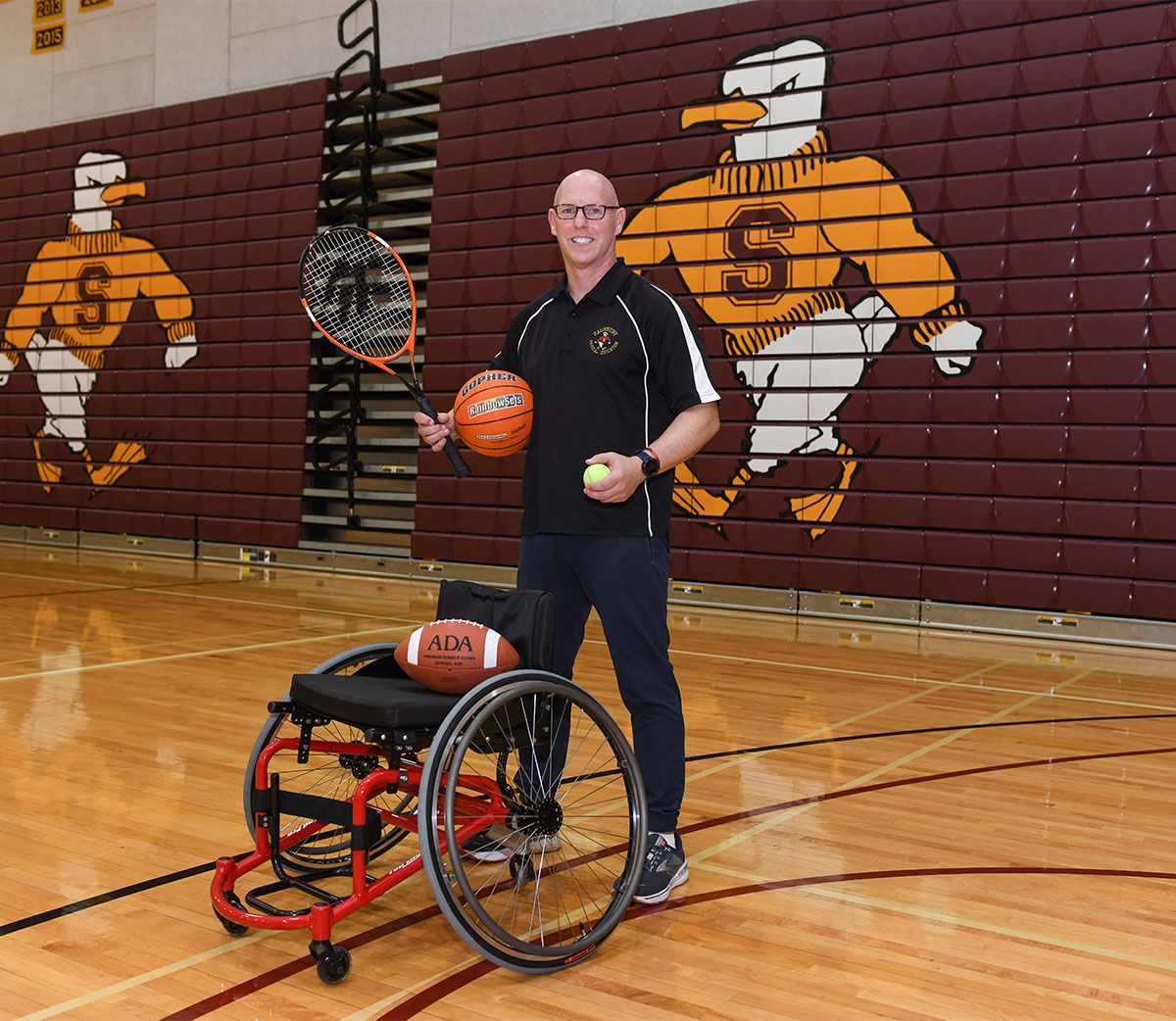 SALISBURY, MD---Dr. Dean Ravizza, professor of physical education in Salisbury University's Samuel W. Seidel School of Education, has long been a proponent of inclusive teaching and preparing his students to be able to adjust their programs for whatever may come their way.
He has shelves filled with smaller equipment, needed to teach adaptive sports like goalball and beep baseball. Now, thanks to a $25,000 Direct Effect Quality of Life Grant from the Christopher and Dana Reeve Foundation, Ravizza is going a step further in helping SU's physical education students learn to work with adaptive sports in a hands-on fashion.
The award has allowed him to purchase of eight sport wheelchairs for the program. They will help future teachers to work with students with paralysis by allowing Ravizza's SU students to experience firsthand what it's like to participate in athletics from a wheelchair.
"We want to give our students as many experiences as possible to work with adaptive sports because of the push for inclusion into the general education programming," said Ravizza. "We tend to make accommodations for the student with the disability to they can participate the way their same-age peers are. But what we don't do is flip that and have the general population participate like their same-age peers with disabilities. I want to prepare my students to be able to do both when they are in their own classrooms."
Along with the wheelchairs themselves, the grant allows for the purchase of spare parts to keep them in good condition, along with additional funds to collaborate with others on campus and in the community for events.
Ravizza is coordinating with SU's intramural program for some integration of adaptive sports, like pop-up wheelchair basketball tournaments or similar events.
He believes the teaching opportunities are endless, both on campus and off. He intends to hold local workshops for local teachers with the equipment, allowing them to experience the wheelchairs and see how they could be integrated into their own curricula.
"That was probably one of the driving forces of this grant," he said. "I can do a lot on campus, but how can we impact the greater community? This is just one way to be able to do that."
In speaking with local physical education teachers, some of whom are his former SU students, Ravizza has learned about local primary and secondary school students with mobility issues who could benefit from this equipment. He is willing to take the wheelchairs and his expertise on the road to co-teach with local teachers and assist in their programs to ensure local students receive these opportunities.
The equipment has already had a profound impact on one local family. Twelve-year-old George Goodridge, who was diagnosed with spina bifida, participates in physical education classes at SU through the homeschool program. When the sport wheelchairs were introduced, it enhanced his opportunity to be involved in class.
"It was great to see George be able to participate more and watch less," said his mother, Michelle Goodridge. "I feel like he is more motivated with the program at SU then he has been in previous conventional programs we tried. When they first brought out the chairs for basketball I cried. It was amazing to see other kids adapting to the way George does things, usually it's George that has to find a way to adapt. He looks forward to Gym every week and to seeing what they have planned."
While the Special Olympics has a heavy presence in the area and many locals have the opportunity to go on to regional, national and even international competitions through the organization, little is available for younger individuals with physical disabilities.
"We don't have that opportunity for kids who want to go on to adaptive sports, perhaps Paralympic sports," he said. "I was thinking, 'Wouldn't it be great if children had the opportunity to get some basic experience through physical education and then even expand further through the school system?'"
Paired with Ravizza's expertise and passion, the grant will allow him to impact many generations of physical educators and, more importantly, those who may not have had a chance to be included in class or sport before.
Learn more about SU and opportunities to Make Tomorrow Yours at www.salisbury.edu.