MASMI Advertising Challenge Helps SU Students Sharpen Sales Skills
Thursday November 17, 2022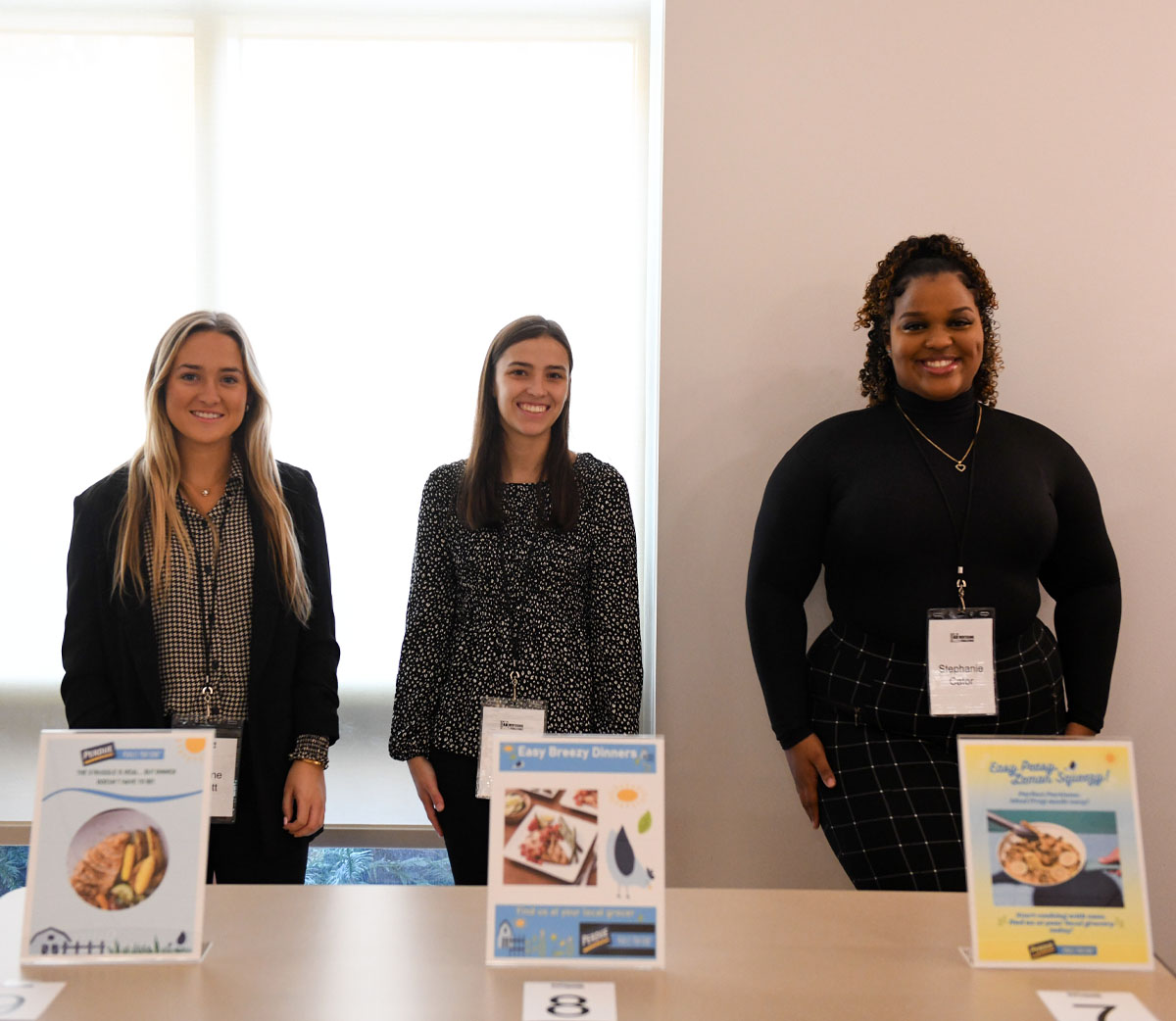 SALISBURY, MD---Making winning sales pitches for multinational companies like Perdue Farms and Stanley Black & Decker takes practice. Just ask the competitors at this year's Advertising Challenge, hosted by Salisbury University's Mid-Atlantic Sales and Marketing Institute (MASMI).
"I competed last year, but didn't make it to the finals," said senior marketing major Grayson Fipps of Mt. Airy, MD, who stayed after being eliminated to watch last year's finalist presentations for inspiration. "That motivated me for an entire year and made me think about what I really wanted to say for the U-Pitch challenge this year."
That dedication paid off. In addition to winning the U-Pitch challenge, during which competitors pitch themselves as the best salesperson to a panel of judges, Fipps also placed second in the competition's print ad challenge and third in its video ad challenge. She became the first student ever to place in all three challenges, earning $600 in prize money ($300 for first, $200 for second and $100 for third).
"The competition really puts you in a professional setting," she said. "It allows you to present yourself in a very polished way" — an attribute she hopes will be useful as she pursues a career in consumer products, omnichannel marketing or corporate law.
Senior business management major Marlon Tucker of Damascus, MD, also learned from his participation in previous MASMI competitions. New to the world of graphic design, he placed first in the print advertising challenge, through which competitors were charged with producing an ad for Perdue Farms.
"It didn't feel real to me at first," he said of his big win. "I think I can ultimately do anything now."
That includes the possibility of producing more print materials for his detailing and pressure washing business, he added.
Senior marketing major Abigail Bloomer of Aberdeen, MD, who placed first in the video advertising challenge, agreed that her victory helped boost her confidence in her sales abilities.
"Throughout the competition, you don't really know where you stand until they announce the winners," she said. "It definitely made me a lot more confident in myself and the content that I created."
She joined fellow competitors in creating a promotional video for Stanley Black & Decker, which, like Perdue Farms, was an event sponsor.
"While it's nice for students to take home prize money, the real win is the experience they receive and the networking opportunities with future employers that the competition presents," said Dr. Amit Poddar, MASMI founding director and chair of the Marketing Department in SU's Franklin P. Perdue School of Business.
Bloomer couldn't agree more.
"The competition made it easy," she said. "I've already reached out to some of the companies that were there."
Additional winners included marketing majors Austin Foard of Ellicott City, MD, placing third in the print advertising challenge; Charles Coates of Berlin, MD, in second in the video advertising challenge; and Madison Grover of Port Republic, MD, in second in the U-Pitch challenge. Marketing major Larenai Swan of Washington, D.C., received the $250 Audience Choice Award in the print advertising challenge.
For more information about MASMI programs, visit the institute's website at www.salisbury.edu/academic-offices/business/masmi.
Learn more about opportunities to Make Tomorrow Yours at the SU website.