Perdue School's Office of Professional Development at SU Gives Students Career Head Start
Wednesday November 16, 2022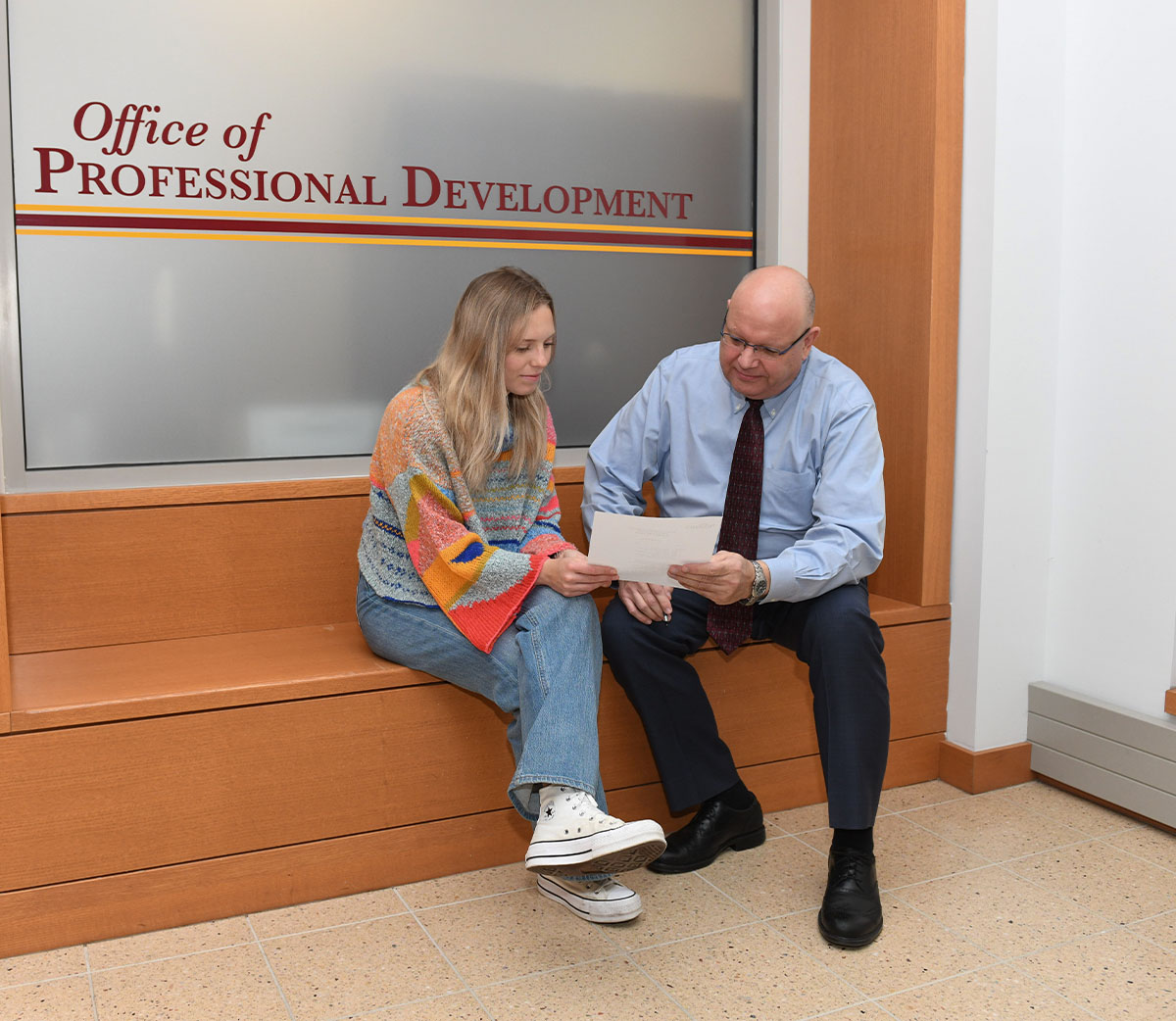 SALISBURY, MD---As Salisbury University students approach graduation and consider what their tomorrows may hold, faculty and staff are helping to set them up for success.
For business-related majors, that preparation begins with the Franklin P. Perdue School of Business' Office of Professional Development. Its founding director and career coach, Erik Larsen, personally connects with hundreds of students and recent alumni each semester.
"The department was very important to help me get where I am now," said Kerra Bennett '22, who holds a degree in finance and now works at Northrup Grumman. "I worked with Mr. Larsen a lot to craft my resume, and when I got the interview, he helped me articulate the things I wanted to get across.
"Working with him has helped me get to this position. It's put me in a good position for success now and in the future."
The office was established in spring 2020, funded in part through a $250,000 endowment established by members of the Perdue School Executive Advisory Council and Career Advisory Board, to give students an edge in their career preparation and marketability, with an emphasis on training for business success.
"I wanted to implement a unique approach overall for our students," said Larsen. "It not only needed to coincide with university career services, but to complement what's happening in and out of our classrooms, with Perdue School faculty and all of our experiential-learning programs."
It was something SU had never seen, with a particular field of study in mind.
One of the first efforts was the integration of a self-assessment called CareerLeader, developed at Harvard University for both business professionals and students. Two early pilot groups quickly saw the benefit of the product that increases awareness of 35 different fields of business, motivational factors and key leadership skills.
It is the only self-assessment Larsen has seen in which corporate culture is taken into account. Students each end up with an in-depth, personalized, 18-page report from CareerLeader.
The office's early success led to its integration into the curriculum. Though it began as a resource that students could use in planning their careers, all Perdue School students now must interact with the office and CareerLeader as part of their required 200-level course curriculum. This semester, nearly 300 students are enrolled in the course.
Larsen is helping students land their first professional positions in part by introducing them to Applicant Tracking Systems (ATS), an employment recruiting technology.
Students learn how ATS sorts, interprets and ranks potential hires, and then receive hands-on experience with a recruiting platform used by more than 6,000 employers. They practice one-way video interviewing, which often incorporates artificial intelligence into the early stages of the process.
"To not be compliant with ATS can lead to an automatic rejection," Larsen said. "Bringing ATS and video interviewing to the forefront has been an emphasis on my part and the office's part to be sure students have that exposure."
"Professional development is not just for those already working in a professional capacity," said Dr. Christy Weer, dean of the Perdue School. "What Erik and the Office of Professional Development are doing is giving our students a leg up in the recruitment and interview process. He's also a resource to our alumni in the field."
Larsen spends significant time with students on initiatives including industry research and employment strategy, interview preparation, business writing, including cover letters and resumes, and mentoring, resulting in over 600 student appointments each year.
"From day one, he was completely committed to helping me," said Matt Lamm '21, who began his career at Morgan Stanley in Baltimore before securing a position with Carvana in Arizona as an analyst with its capital markets team. "I gave him my plan and timeline of what I was hoping for, and it was 'game on' from there.
"I think every step along the way, he went out of his way to be understanding and helpful as he possibly could. Without the office, I'd like to say I would be out here, but probably not this quickly."
Perdue School alumni like Bennett and Lamm often continue to tap into Larsen's knowledge after graduation as they further their education and careers. For example, he currently is helping Bennett prepare for graduate school.
"I think it's extremely important to keep that connection," said Larsen. "It's a distinctive feature of our office. While it's true that faculty across the board at SU are willing to provide support, we felt it was important to have that as a focal point."
Alumnus Roman Fuentes '21 transferred to SU for his senior year and credits the Perdue Office of Professional Development for helping him get hired at Amazon, where he works as an area manager in the fulfillment center in Baltimore. He hopes other students get involved early.
"I wish I had something like this at my previous school. I think that would have been a great resource to have early on," he said. "Especially if you're a business student, there is no excuse not to be in that office all the time."
To learn more about the office, see the information page at https://webapps.salisbury.edu/admissions/one-sheets/SU-Perdue-School-Office-of-Professional-Development.pdf.
Learn more about SU and opportunities to Make Tomorrow Yours at www.salisbury.edu.