Five Earn SU Alumni Association Faculty Appreciation Awards
Saturday December 18, 2021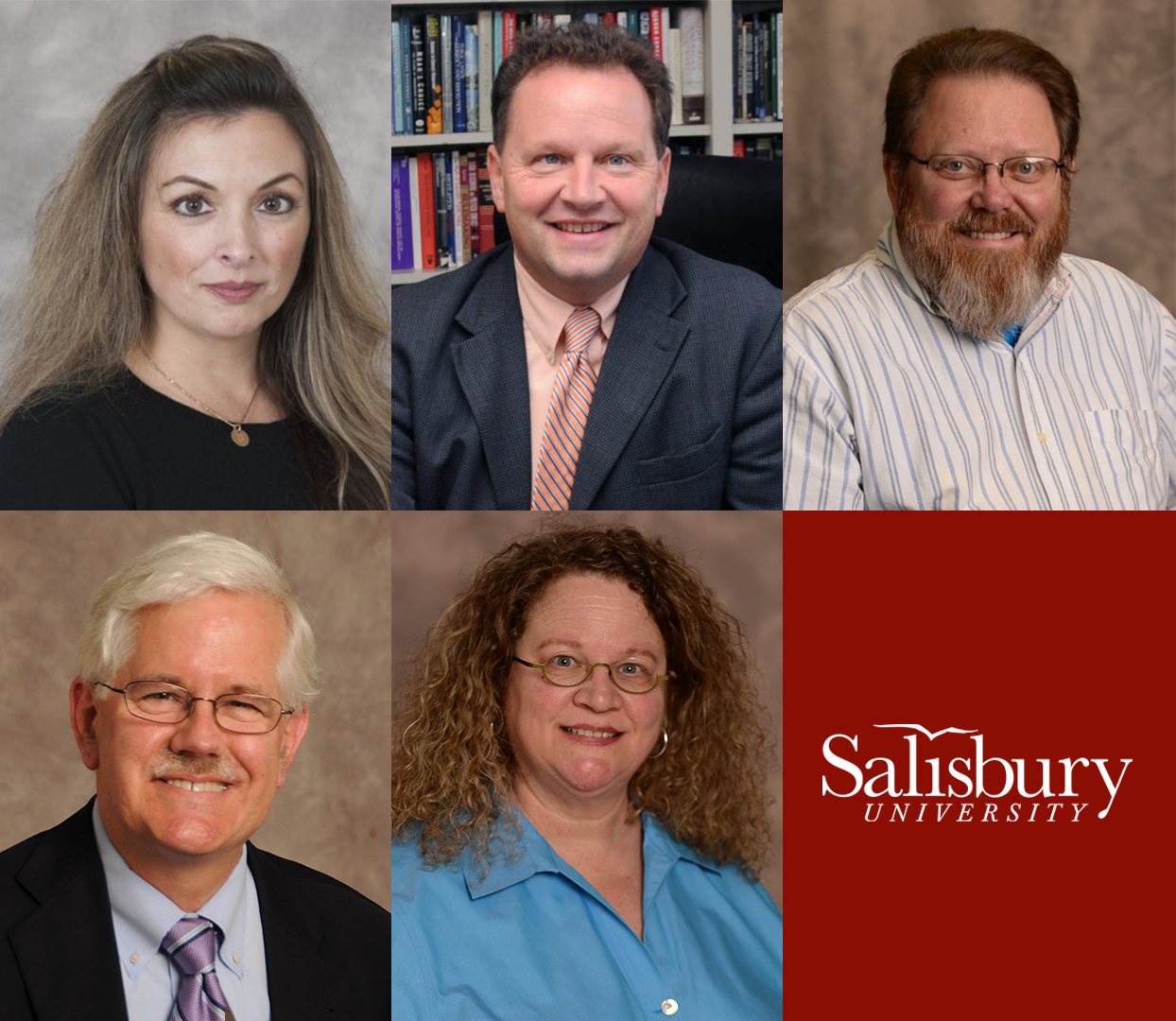 SALISBURY, MD---This year's Salisbury University Alumni Association Faculty Appreciation Award winners are "profound," "fantastic, "influential," "inspiring" and "tireless," according to their former students.
The association honored five with the accolade as part of SU's annual Fall Commencement celebration. They include Drs. Stephen Adams, Management and Marketing, of the Franklin P. Perdue School of Business; Claudia Burgess, Early and Elementary Education, of the Samuel W. and Marilyn C. Seidel School of Education; Brandye Nobiling, Public Health, of the College of Health and Human Services; Brian Polkinghorn, Conflict Analysis and Dispute Resolution, of the Charles R. and Martha N. Fulton School of Liberal Arts; and Eugene Williams, Biological Sciences, of the Richard A. Henson School of Science and Technology.
"SU has incredibly dedicated professors who are deeply invested in their students," said Lili Leonard, Alumni Association president. "Each year, the Alumni Association's Awards and Scholarship Committee spotlights five of them, representing each of SU's academic schools and colleges."
In their nominations, alumni frequently gave eloquent and heartfelt praise to this year's recipients, whom many said helped shape their experiences at SU.
Adams "is a constant source of inspiration and wise counsel to his students," said one alumnus. He "is a brilliant author … [and] values his students' ideas and helps them to refine and develop their entrepreneurial talents."
"Dr. Burgess is, without a doubt, the most influential instructor I had during my time at SU," said her nominator. "More than anything, I'll never forget how she challenged us to think about what our roles as teachers really were."
"I would not have achieved many of my academic and professional successes if it were not for Dr. Nobiling," said a former student. "As a professor, advisor and chair, she has shaped the program into what it is today. Her countless efforts and time spent working hard pays off with each graduating student."
Polkinghorn's "ability to teach through story, inspire the uninspired and imprint a profound sense of feeling educated … changed my life and has changed the lives of countless others," said an alumnus. "He is a go-getter, a builder and a uniter."
"Dr. Williams is a true educator who loves science," said a former undergraduate and current graduate student. "His commitment and dedication to teaching is unwavering, and any student is lucky to have him as a professor."
Learn more about how SU students and faculty are exploring opportunities for greatness and making tomorrow theirs at the SU website.