SU's New Chemistry Support Center Provides Valuable Tutoring Services for Students
Thursday November 4, 2021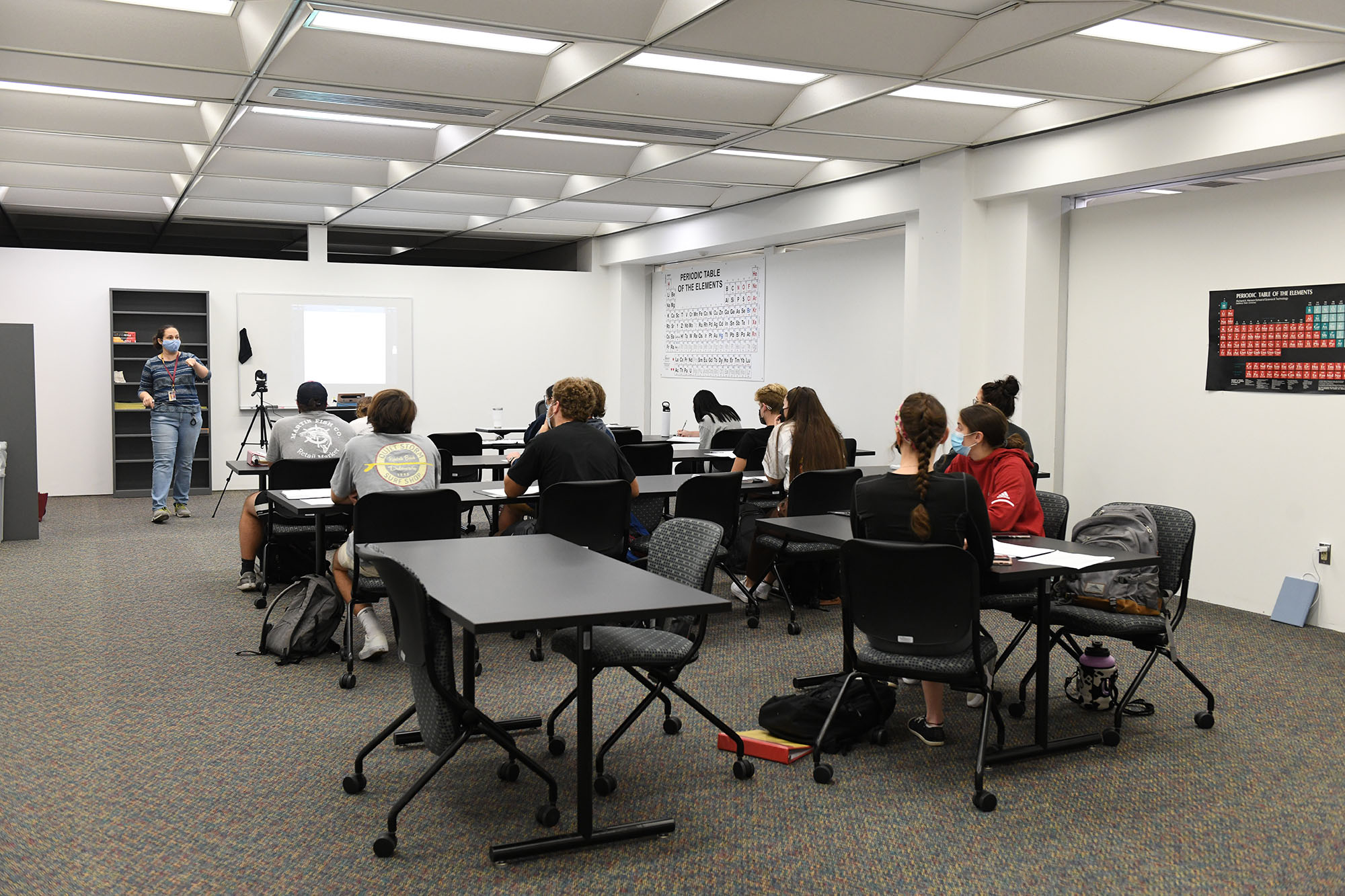 SALISBURY, MD---Salisbury University students have a new place to turn to for all their chemistry questions thanks to the new Chemistry Support Center in Blackwell Hall.
The center is an expansion from traditional office hours offered by chemistry instructors in SU's Richard A. Henson School of Science and Technology; the designated classroom offers over 30 hours of in-person and virtual chemistry assistance by SU instructors and student tutors Monday-Friday.
"The center is not only representing the Chemistry Department but servicing all areas of science, technology, engineering and mathematics (STEM) across campus whether students are in these programs or completing general education requirements," said Dr. Stephen Habay, chair of SU's Chemistry Department. "The hope is that we are setting a solid foundation for students' futures in the sciences, and if they have the tools to be successful in these courses early on, they are more likely to not only remain in the programs but continue to excel."
Support offered currently covers six chemistry courses ranging from Chemistry 101 Physical Science to Chemistry 321 Analytical Chemistry, with more than 10 instructors and tutors volunteering throughout the week.
"It's so nice to see the progression of what was once an idea years ago grow from faculty office hours, to now a physical space dedicated to helping students in these courses," said Brent Alogna, senior lecturer and director of the center. "We found that having a space that we are able to direct students to that's open to all, offers schedule flexibility, and is more inviting and less intimating than one-on-one office hours has proven much more successful in garnering student interest and attendance."
Students can stop by the center to ask a quick follow-up question or clarification regarding something taught in class or set aside time to do homework and study for exams knowing there's an instructor or tutor nearby should a question or challenging equation arise.
"The early success of the center is a testament to our dedicated faculty going above and beyond in order to volunteer their time to helping not only their own students but any students that need assistance," said Alogna.
Students may attend support hours that coincide with their course instructors, or learn from peers who are tutors or from a different instructor to have varied explanations and prospective outside of the course. Organizers hope this will provide students with new ways to approach topics they may have trouble with.
SU senior Gerard Boyd is familiar with the earlier options of study groups and faculty office hours during his time in chemistry courses. Now, as a tutor, he is able see the benefits of the new center firsthand as he helps fellow students.
"It's rewarding to be able to assist students in a variety of chemistry courses at a greater level than what was available before," said Boyd. "I get to not only meet a lot of new people, but I'm still learning new things and am able to have a refresh of lessons I may have otherwise forgotten if I didn't continue to use the content I learned in those classes. Working through problems with students and seeing the moment when a topic clicks and knowing you helped them is a great feeling."
For more information about the chemistry program and support center hours visit the SU Chemistry Department webpage.
SU's Center for Student Achievement also supports student learning, academic success and personal growth through an array of programs, including success coaching, academic workshops, supplemental instruction and tutoring for a variety of courses across the disciplines.
Learn more about how SU students and faculty are exploring opportunities for greatness and making tomorrow theirs at www.salisbury.edu.