SU Biological Sciences Partners with National Phenology Network for SU Phenology Project
Thursday November 4, 2021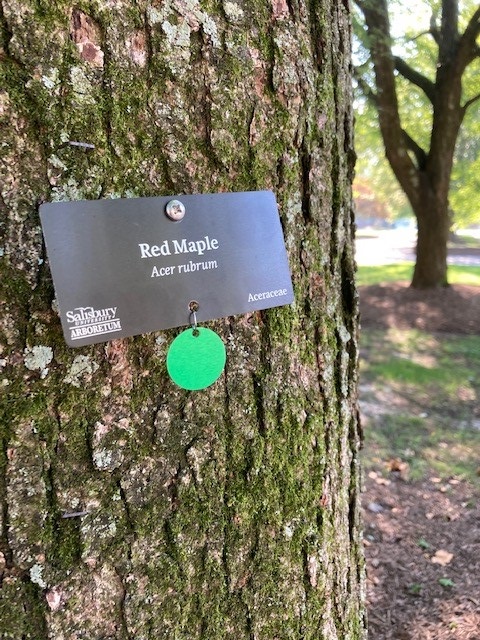 SALISBURY, MD---After numerous virtual courses and video meeting fatigue during the COVID-19, pandemic many students are seeking courses that are in-person and interactive. Salisbury University's Biological Sciences Department is offering just that.
SU recently became a partner in the USA-National Phenology Network (NPN), a community-science program that harnesses the collective effort of many stakeholders to monitor the impacts of climate change on plants and animals in the U.S., and is connecting that partnership to a new course.
Biology 202 Introduction to Biology: Evolution and Ecology will allow students to conduct a semester-long project, specific to the season, documenting the phenology of 120 individuals of nine species of trees and shrubs within three sites on campus.
"I would describe this class as a gateway to science, technology, engineering and mathematics (STEM) course," said Dr. Kim Quillin, assistant professor of biological sciences. "There's a misconception that STEM is memorization and studying, but students can and should learn the real-world skills of researching and working as a team"
The course requires exploration outdoors across campus as students record data on assigned specimen changes throughout the semester, documenting not only their own research but information that will be referenced and used by fellow students in future semesters and others in the phenology network.
"I hope the students have fun working outside and are excited about their potential findings each semester," said Quillin. "Studies have shown being outdoors is therapeutic, and that's what some students need most right now."
Each semester, students will track phenophases, including change in leaf color, fruit and leaf drop in the fall. In the spring, breaking leaf buds, leaf growth, flowering and pollen release will be documented. Students will also make observations on other species such as pollinating insects and migratory birds.
"It's so important to tie curriculum to local relevance," said Quillin. "This project is extremely localized, focused on applying the concepts and skills of the course to the real world right here on campus. This local focus is extended to the sister course, Biology 201 Introduction to Biology: Molecular and Cellular Biology, which will analyze the DNA extracted from the SUPP trees."
Students will post their phenology data using USA-NPN's free app, Nature's Notebook. The data will be public and available for analysis locally and nationally.
"Sitting in a classroom discussing concepts can be hard at times, and it's a refreshing change when you're really doing the work yourself," said SU junior James Hansel. "I feel like a real scientist practicing skills that real biologists do, and as a nature enthusiast, I love working outside."
Specimens on campus included in the project are tagged and color coded with information that matches the data logged on the app.
"I appreciate the structure of the course. I'm not only learning how to complete field work in biology, but I'm finding lessons that I want to use someday in my own classroom to teach biology," said Hansel, a biology secondary education major.
The SU Phenology Project (SUPP) is an example of a course-based undergraduate research experience (CURE) designed to give students hands-on experience with authentic research early on in introductory biology. This CURE not only will provide practice with many life skills such as teamwork, problem-solving, quantitative reasoning and communication, but also will help first-year students with diverse backgrounds develop a sense of belonging and agency on campus and in the biological community.
"This is a community and team-oriented course," said Quillin. "STEM can sometimes be competitive, and this is not about that but about working together."
For more information about the project visit the SUPP webpage.
Learn more about how SU students and faculty are exploring opportunities for greatness and making tomorrow theirs at www.salisbury.edu.