Salisbury University Phenology Project (SUPP)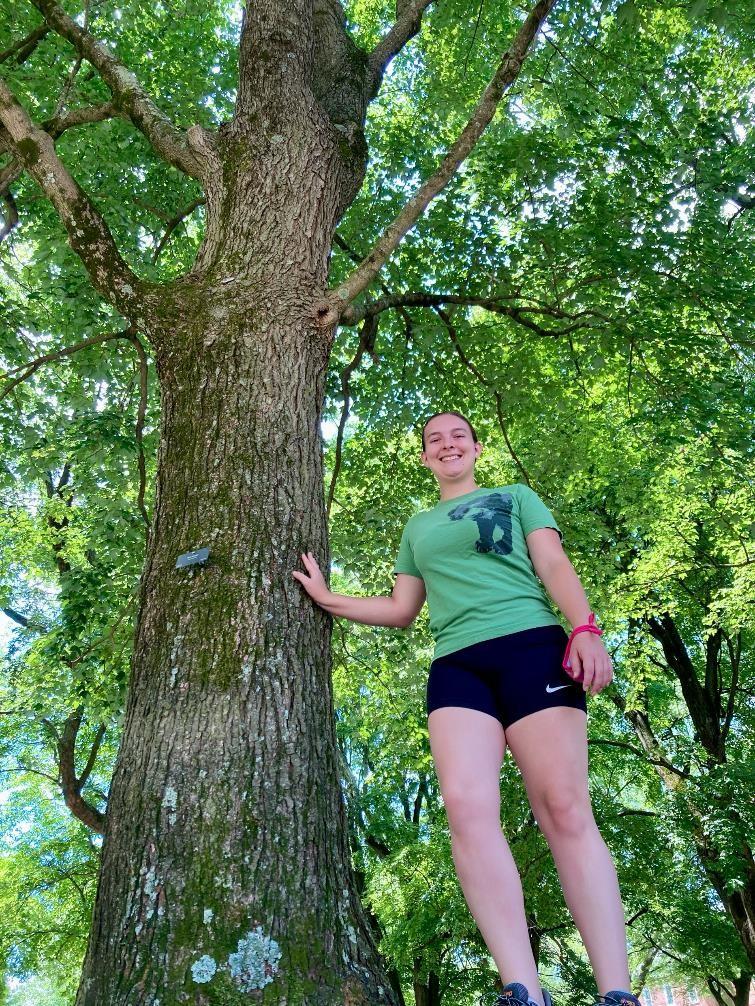 Figure 1. One of the SUPP trees, red maple CM019, with SU graduate student Amanda Rocker who helped to set up SUPP. During the summer of 2021, Salisbury University became a partner to the USA-National Phenology Network ( usanpn.org), a community-science program that harnesses the collective effort of many stake holders to monitor the impacts of climate change and land-use changes (like urbanization) on plants and animals of the United States.
What is phenology?
Phenology is the study of the timing of seasonal plant and animal life cycle events, including the flowering of plants, ripening of fruit, emergence of insects, and migration of birds.
Why study phenology?
The timing of biological events is central to interactions among species in ecological communities. For example, the emergence of insects and migration of birds is closely synchronized with the onset of leaf growth, flowering, and/or fruiting of plants. The timing of many phenological events is highly sensitive to climate change, shifting earlier or later over time and causing mismatches with other events in the ecological community. The consequences of these changes are important to humans for many reasons, for example, these changes influence:
the stability of ecosystem services like carbon capture
rates of pollination, pest load, and crop productivity
the timing and severity of allergy season
What will SUPP students measure?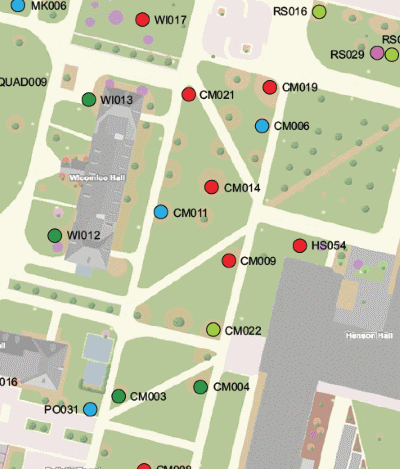 Figure 2. Sample of campus map showing trees included in the SUPP project. Each semester starting Fall 2021, students taking Biol 202: Introduction to Biology: Evolution and Ecology will conduct a semester-long project documenting the phenology of 120 individuals of nine species of trees and shrubs within three sites on campus.
In the fall, students will track phenophases such as fruit drop, change in leaf color, and leaf drop.
In the spring, students will track phenophases such as breaking leaf buds, leaf growth, flowering, and pollen release.
Students will also make observations on other species such as pollinating insects and migratory birds.
Where will the SUPP data be archived?
Students will post their phenology data using USA-NPN's free app called Nature's Notebook. The data will be public and available for analysis both locally (How is climate change affecting the timing of events at SU?) and nationally (How does the response to climate change vary in different regions of the US?).
What are the other goals of SUPP?
The Salisbury University Phenology Project is an example of a course-based undergraduate research experience (CURE) designed to give students hands-on experience with authentic research right out of the gate in introductory biology. This CURE is designed not only to provide practice with many life skills (such as teamwork, problem-solving, quantitative reasoning, and communication) but also to help diverse students develop a sense of belonging and agency on campus and in the biological community.
Thanks to the many collaborators in the SU Department of Biological Sciences, the Department of Horticulture and Grounds, the Salisbury University Arboretum, the Department of Geography and Geosciences, and the USA-National Phenology Network who made the establishment of SUPP possible. For more information contact Dr. Kim Quillin at kxquillin@salisbury.edu.
 Follow SUPP on Instagram @whatssupp1101