SU Names Center for Entrepreneurship in Honor of Philanthropists Dave and Patsy Rommel
Friday November 22, 2019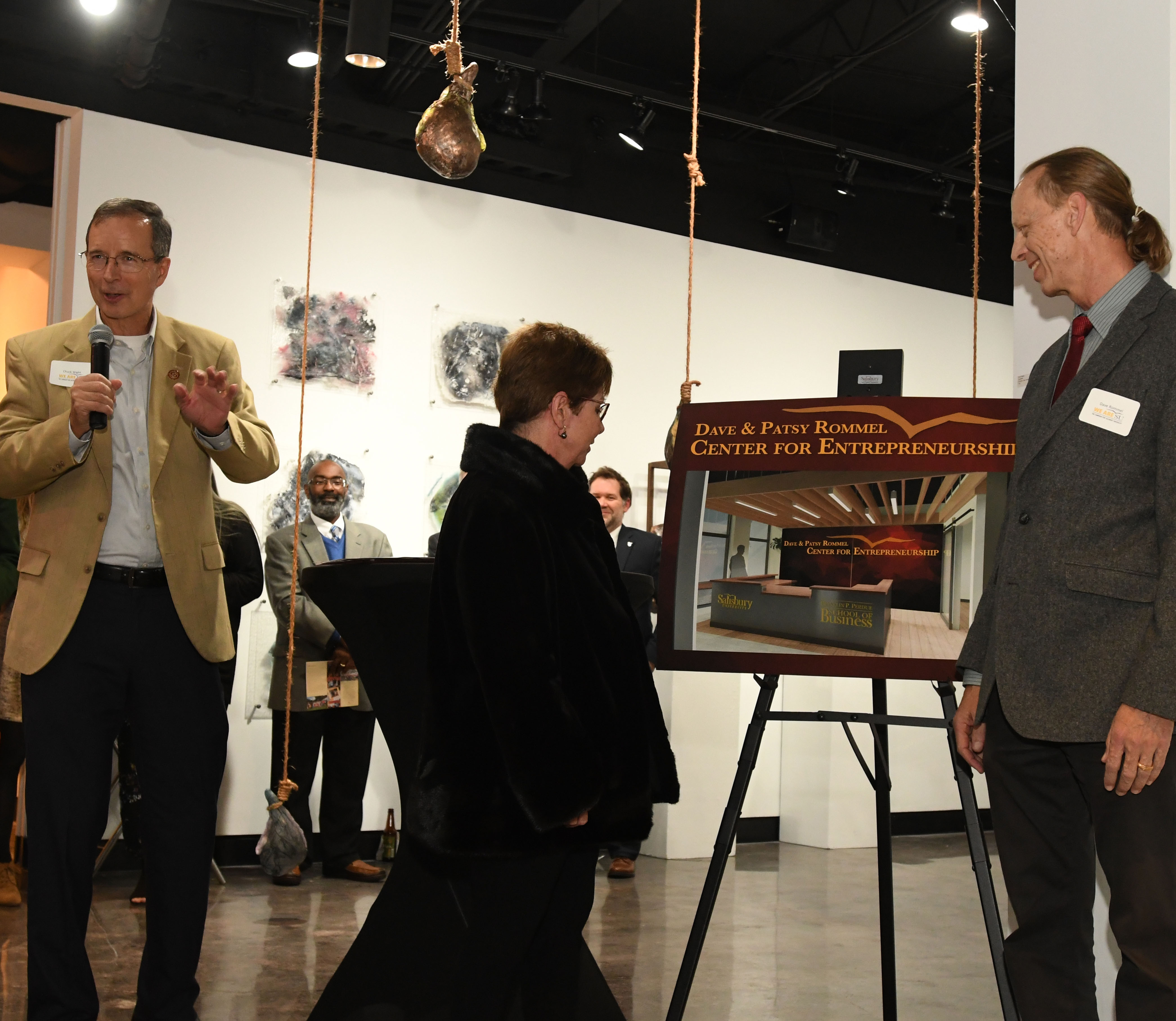 SALISBURY, MD---In 2017, local philanthropists Dave and Patsy Rommel announced a $5.5 million gift for SU, $500,000 of which will help make Salisbury University's planned Center for Entrepreneurship in downtown Salisbury a reality.
Recently, the University unveiled its own gift to the Rommels, naming the new facility in their honor. The Dave and Patsy Rommel Center for Entrepreneurship is scheduled to open at SU Downtown in 2020.
"Beginning with Rommel Electric Company in 1976, Dave has a long history of entrepreneurship," said Jason Curtin, SU vice president of university advancement and external affairs and executive director of the SU Foundation, Inc. "With multiple businesses now under the Rommel Companies umbrella, Dave and Patsy not only exemplify the success entrepreneurs can achieve; they also demonstrate the importance of giving back to the community. Their generosity will benefit generations of entrepreneurs to come."
"From its student Entrepreneurship Competitions that have spanned more than three decades to the Philip E. and Carole R. Ratcliffe Foundation Shore Hatchery program that provides funding and mentorship to entrepreneurs throughout the Mid-Atlantic, SU is a major component of the Eastern Shore's entrepreneurship ecosystem," said Dave Rommel. "Patsy and I are proud that this center will bear our name, and we look forward to seeing the great products, services and businesses it will help inspire."
The Rommel Center for Entrepreneurship will feature a shared co-working space for SU student entrepreneurs, including four studio offices and eight individual "garages" for winners of the Ratcliffe Shore Hatchery and the Student Entrepreneurship Competitions.
Additional planned features are a "wet lab" geared toward science startups such as agriculture, medical technology and biotechnology, as well as a "makerspace" for robotics, small product assembly and technology-enhanced products with 3-D prototyping, including a textile workshop for fashion and theatre creations. An on-site retail store will sell products developed through the center.
"While students will be the center's primary users, this new complex will present a number of opportunities for local businesses, as well," said William Burke, SU executive director for economic development. "Current business owners will have the chance to share their expertise, resources and insights with budding entrepreneurs while reaping the benefits of working with a new generation of business leaders."
"Since 1987, SU's Franklin P. Perdue School of Business has sought to enhance students' knowledge of all areas of business, including entrepreneurship," said Dr. Christy Weer, the school's dean. "Thanks to the Rommels' assistance with the Center for Entrepreneurship, plus $5 million to support additional Perdue School initiatives, we are able to take that mission to the next level."
Additional sponsorship opportunities within the center are available. For more information call Christina Howard at 410-548-2311 or email ckhoward@salisbury.edu. To learn more about the Rommels' gift, visit https://campaign.salisbury.edu.
SHARE