New Exhibits 'Geologic History of MD' and 'Fossils of the Chesapeake Bay' on Display in Henson Hall
Friday November 22, 2019
SALISBURY, MD---Decades of collections and hundreds of geologic specimens from Maryland and beyond finally have come together for all to see in Salisbury University's Henson Science Hall.
Dr. Brent Zaprowski of SU's Geography and Geosciences Department began collecting local samples and cataloging those already owned since he arrived at SU in 2001. The collection of samples ranging in sizes, origins and categories has grown to thousands of pieces today.
"We have received so many generous donations over the years, and having a display that represents the most visual aspect of the Geography and Geosciences Department not only is attractive to prospective students, but is intriguing for all who visit Henson Hall," Zaprowski said.
The most impressive collections of minerals, fossils, mining deposits and rocks, titled "Geologic History of Maryland" and "Fossils of the Chesapeake Bay" can be found in a new central display on the building's first floor thanks to years of planning and organization by Zaprowski.
He said it is impossible to pick one favorite, but there are many standout items on display, including a megalodon tooth, mammoth bone, and azurite, cavansite and chalconthite minerals.
The one exhibit includes one billion years of Maryland geologic history. The various rock samples are organized oldest to youngest to correspond with a visual geographic timeline and map showing how Maryland's land changed over time.
The Jedlicka Collection is comprised of fossils from the Chesapeake Bay. These samples originally were owned by John F. "Jed" Jedlicka, a Baltimore science teacher and principal who had a passion for geology and collecting. Upon his passing, his collection was given to retired Caroline County educator David Stevens, who subsequently donated it to SU. Other fossils from the western part of Maryland are also on display.
The Lance T. Biechele Memorial Mineral Collection, donated from the late SU alum in 2016, showcase rare mineral samples originated from numerous countries including China and India.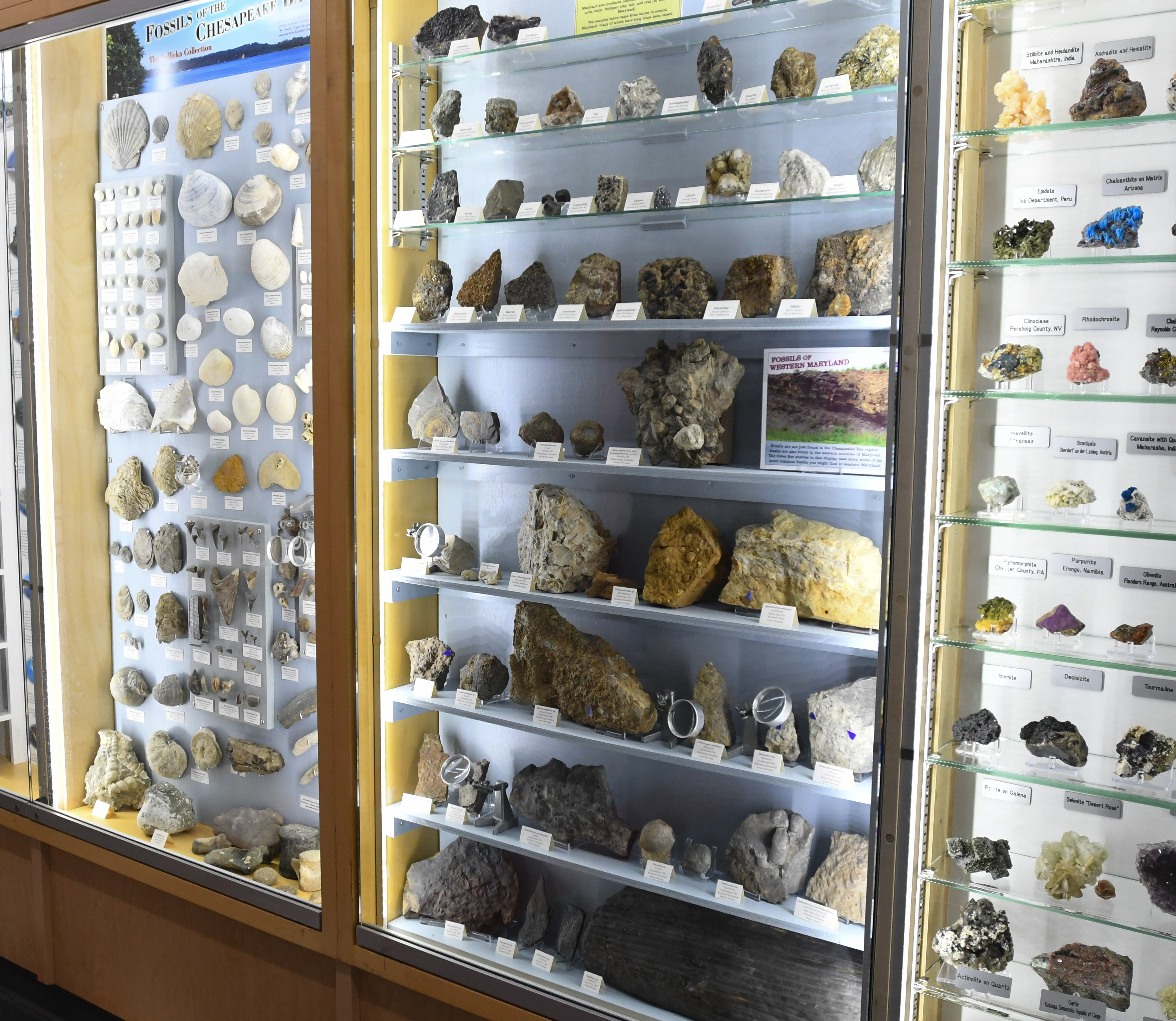 The Maryland's Mining History Collection showcases samples from the state's now-closed mines and will include a map of mining locations. Iron and chromium were mined in substantial quantity in Maryland. The mines also produced some gold, lead, talc, coal, and many other metals and non-metallic materials.
The hundreds of samples on display are a small fraction of those owned by the department. Zaprowski is paying it forward when he receives duplicates, donating them to graduating seniors who are embarking on the daunting task of stocking their own science classrooms.
"Helping our graduates succeed is one of my top priorities," said Zaprowski. "It's hard for young science teachers to have samples and displays for their classes. It's not the school supply many think of when donating to teachers, so I'm able to help them out by getting their collections started with our extras."
This is just the beginning for the eye-catching Geography and Geosciences hallway. Zaprowski already has his next display project in mind: a special case to display the glowing effects of department's florescent minerals.
For more information call 410-543-6030 or visit the SU website.

SHARE