Egan, Ravizza Receive 2018 Distinguished Faculty Awards
Wednesday September 5, 2018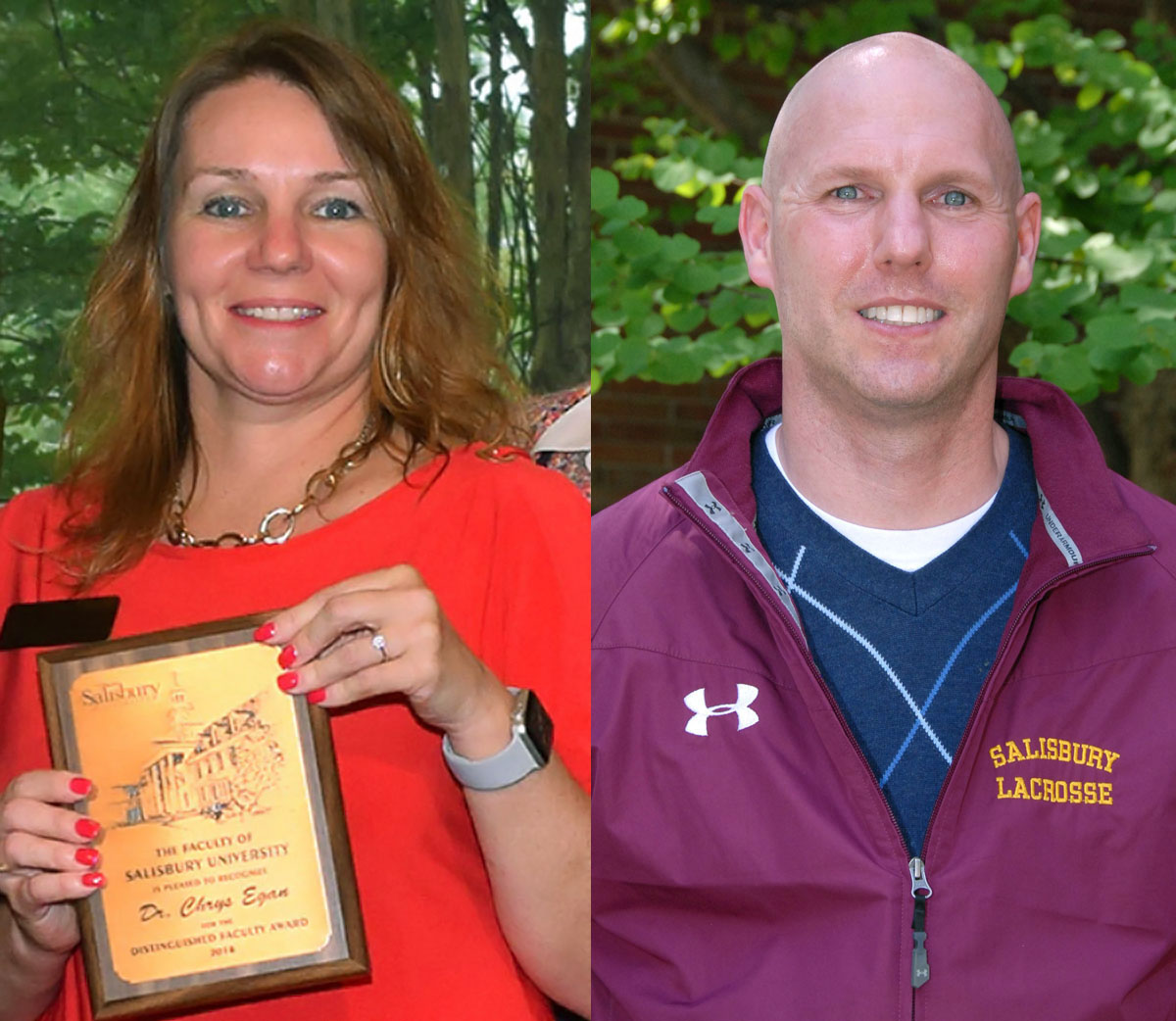 SALISBURY, MD---"An excellent role model … who values the principle of lifelong learning" and a "consummate professional" whose "contributions to his students, the University and the international community are multiple and amazing" — this is how colleagues described this year's Salisbury University Distinguished Faculty Award winners: Drs. Chrys Egan of the Communication Arts Department and Dean Ravizza of the Secondary and Physical Education Department.
The prestigious tribute is given by faculty to faculty. Egan earned praise for, among other things, "a level of scholarly engagement that supports ongoing teaching excellence," and a record of securing grants, and presenting at state, national and international venues. "Colleagues from around the country, and indeed internationally, testify to the impact and importance of her work," said her nominators.
She also was lauded for her "Herculean" service to SU, including her current position as co-director of the Office of Undergraduate Research and Creative Activity, which, in the past year, led a large group of students to the National Conference on Undergraduate Research and allowed them to present their research to state leaders during a "Posters on the Bay" conference.
The current president of the Faculty Senate, Egan also served as a leader of the Girls Innovation Academy through SU's Center for Extended and Lifelong Learning, helping area middle school girls enhance their competence and confidence while learning about science, technology, engineering, arts and mathematics (STEAM).
In the classroom, Egan was described as an "Impeccable communicator" who "has used her exuberant personality and expertise … to give dexterous advice and support." A project through which students are challenged to consider ways to improve the City of Salisbury has become an annual favorite, her nominators said, adding that she "goes out of her way to inspire and encourage students of all ages to be successful."
Ravizza is known for his research into and implementation of the use of sport for violence prevention; peace promotion; sustainable development; and the reintegration of children in crisis, including former child soldiers, refugees and migrants. His work in this area has been embraced by the U.S. State Department and United Nations Educational, Scientific and Cultural Organization (UNESCO), and implemented on six continents.
He also has served as a member of the United Nations Office of the Coordination of Humanitarian Affairs' Refugee Sport Infrastructure Committee, and shared his scholarship with others through books, papers and presentations worldwide.
"Whether it is in a shop with a Russian-speaking clerk, in a work setting speaking with Ugandans, or with students and faculty in person or via Skype, he seems to connect with people in a very special way," said one nominator.
Students and faculty also appreciate his work with SU's Bosserman Center for Conflict Resolution: "He can be counted on by our students to make connections, provide advice, help arrange meetings with key academics or other public figures in other regions of the world … and otherwise do things for students that leave them speechless," said a colleague from the center.
In the classroom, Ravizza uses "real-world analogies and personal experiences to convey complex, in-depth information" and has created dedicated adapted physical education labs for children with disabilities, earning consistently high student evaluations. In addition, he twice has co-chaired the annual SU Student Research Conference, and led students in working with the Special Olympics and Wounded Warrior Project.
Celebrating its 31st year in 2018, the Distinguished Faculty Award has been bestowed upon 69 faculty from 22 academic disciplines. Egan and Ravizza's names will be added to an honor roll listing all recipients since the award was established.
For more information call 410-543-6030 or visit the SU website.
SHARE