Mayo Clinic Selects SU Student for Summer Lab Science Program
Tuesday July 10, 2018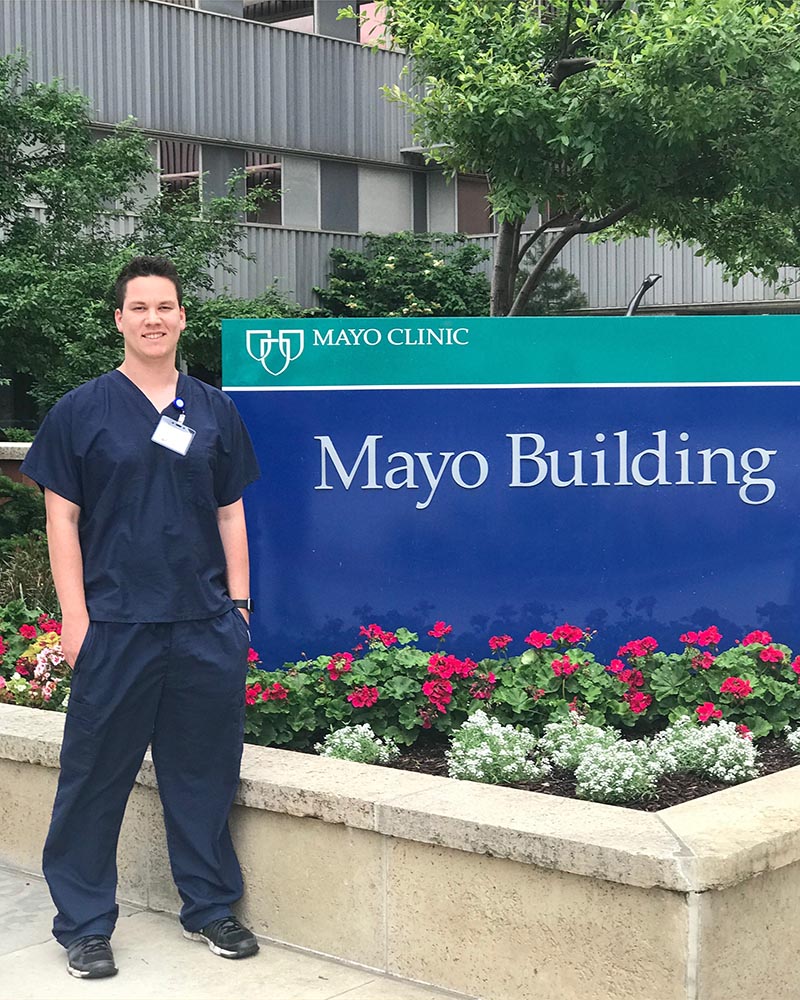 SALISBURY, MD---When doctors order lab tests for patients, their diagnoses, treatments and health often are on the line. But what really happens behind the scenes in that lab to determine the results?
Salisbury University student Garrett Gordy is finding out this summer at Mayo Clinic in Rochester, MN – the nation's top-ranked hospital, according to U.S. News and World Report.
The Salisbury native was selected for a competitive Summer Lab Science Program in the Department of Laboratory Medicine and Pathology – one of the largest clinical labs in the world, performing 27 million tests for patients and physicians annually.
"Garrett is the first SU student to be accepted," said Dr. Diane Davis, SU's Medical Laboratory Sciences program director. "Some 150 people across the country applied for only 31 spots."
Gordy is a junior medical laboratory science major at SU. Working in the field is like being a "detective" trying to help doctors figure out a problem for a patient, he said. "Doctors have a hunch and send it to a lab to investigate further. We look at their blood sample, their enzymes, their electrolytes; it's knowing what to look for, when to look for it, and what it's supposed to look like."
For 10 weeks through August, Gordy is working in the Metabolic Hematology Laboratory alongside Mayo Clinic professionals. He has gained experience using a High Performance Liquid Chromatography (HPLC) machine, helping to identify abnormal hemoglobin (a protein in red blood cells that carries oxygen throughout the body). He has been assisting with tests for such conditions as thalassemia and sickle cell anemia so patients can receive the right treatment.
Gordy also has been able to see changes in hemoglobin molecules, caused by mutations, using a mass spectrometer. In addition, he has been able to meet with physicians who are developing medicines for effective respiration. "This is cutting-edge research!" he said.
Davis agreed: "HPLC and mass spectrometry are two very sophisticated forms of analysis. Only the very largest hospitals have them, so an SU student getting extended time using these instruments is a fabulous opportunity."
Rochester is home to Mayo Clinic's most extensive lab services, with some 2,350 employees and numerous specialty labs. It does testing for other clinics and hospitals worldwide. Besides being the No. 1 hospital overall, Rochester also is ranked first by U.S. News & World Report for more specialties than any other hospital in the country.
Gordy is a 2015 graduate of James M. Bennett High School. He credits SU's professors with developing his appreciation for the field of medicine, and supporting his Mayo Clinic experience – which already has resulted in an opportunity for him to return to Rochester full time once he graduates next spring.
"I've seen a statistic that at least 70 percent of clinical decisions are made using data from a laboratory," he said. "That is a huge percentage and I want to help make those discoveries for doctors and patients, possibly even saving a life."
For more information, call 410-543-6030 or visit www.salisbury.edu.

SHARE