SU's Burns Named Scripps Howard Foundation Visiting Professor
Wednesday July 11, 2018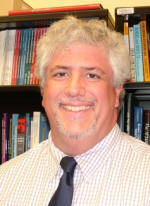 SALISBURY, MD---Dr. David Burns, associate professor in the Communication Arts Department at Salisbury University, recently was named one of Scripps Howard Foundation's six Visiting Professors in Social Media.
Burns is one of six grant recipients in the U.S. for 2018.
Through the initiative, he will spend two weeks this July serving an "externship" with the Scripps Washington Bureau in Washington, D.C. Scripps Howard externships focus on how technology is changing the way news is delivered, providing recipients an opportunity to share the most up-to-date methods with their students.
In addition, Washington Bureau Chief Ellen Weiss is expected to serve a one-week residency at SU this fall, meeting with classes and speaking about the changing landscape of the news industry.
The grant also includes over $4,000 in stipends for Burns and Weiss to cover travel expenses.
All grant recipients, including Burns, are members of the Association for Education in Journalism and Mass Communication.
Burns joined SU's Communication Arts Department in 2009, teaching multimedia journalism. He has worked for CNN and NBC News, as well as several news organizations abroad, including the IDG Wire Service. He is a past president of the Society of Professional Journalists Maryland Professional Chapter.
For more information call 410-543-6030 or visit the SU website at www.salisbury.edu.
SHARE