SU's Borges Places First in National NATS Auditions
Tuesday July 10, 2018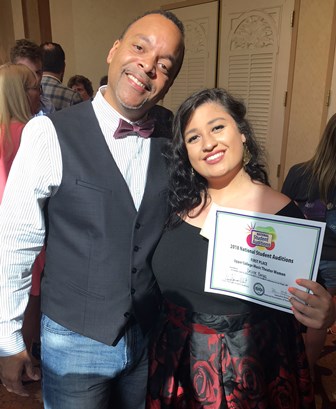 SALISBURY, MD---Recent Salisbury University graduate Desiree Borges hit the jackpot in Las Vegas.
She claimed her winnings not from a slot machine, but from a panel of judges who declared her the top vocalist in her category during the culminating round of this year's National Association of Teachers of Singing (NATS) auditions.
The music major from La Plata, MD, is SU's first national NATS winner, earning a $1,250 prize plus an opportunity to audition for a spot in a stage show aboard one of Royal Caribbean International's cruise ships.
"In college singing competition, there is no Division I, II or III," said Dr. John Wesley Wright, coordinator of the voice program in SU's Music, Theatre and Dance Department. "The playing field is level across the board. This national title is an extraordinary accomplishment."
It took about three months from her initial audition, at the state level, to get to the national stage in Las Vegas. After placing first and third in her category (Musical Theatre, Upper College Women) at the Maryland and regional competitions, respectively, she was asked to submit a YouTube video for consideration to vie at the national event.
There, she and 13 other competitors sang three songs of their choice for the judging panel. The top three were selected to perform before a live audience — Borges' final test.
"It's really important to pick music you can connect to," she said, adding that contestants must perform the same three songs at each level of auditions.
Borges chose "I Didn't Plan It" from the musical Waitress, saying she could relate to its message about accepting one's life, as well as "I'm Not Afraid of Anything" by Jason Robert Brown, noting its affirming message about the importance of facing fears.
For her third song — the one she sang on stage in Las Vegas — she picked "Sixteen Bars" from the musical Taxi Cabaret. The selection takes its name from the typical audition process during which many producers and directors make their casting decisions based on performance lasting about 30 seconds, or 16 bars.
With credits that now include a national award, Borges hopes to become more familiar with such auditions. This summer, she plans to try out for shows aboard cruise ships (Royal Caribbean was already on her list, she said) and at theme parks and resorts such as Busch Gardens and Walt Disney World. Ideally, she will land a role that will combine her loves of travel and the beach, she said.
Those who have attended SU's Musical Theatre Ensemble and Opera Workshop performances in the past four years may already be familiar with her work. Her credits at the University include the musicals I Love You, You're Perfect, Now Change and The 25th Annual Putnam County Spelling Bee, as well as operas such as Puccini's Suor Angelica.
As president of SU's Squawkapella student a cappella group her junior and senior years, she led the organization to its second top-three finish in four years at the International Championship of Collegiate A Cappella (the competition from the movie Pitch Perfect, she noted).
She attributed her vocal success at SU to musical faculty including pianist Veronica Tomanek, her accompanist for four years, and Dr. John Wesley Wright, SU voice and opera workshop program coordinator.
"Dr. Wright pushes all his students," she said. "He holds us to a higher standard. That's why we're going to nationals now. He's amazing."
While Borges claimed the top prize, she was not the only SU student auditioning in Las Vegas. Other semifinalists included music majors Jeremiah Copeland (Musical Theatre, Lower College Men) of Delmar, DE, and Jeffrey Todd (Classical, Upper College Men) of Salisbury. Both were selected among the top 14 in the U.S. from hundreds of regional and national qualifiers.
For more information call 410-543-6030 or visit the SU website.
SHARE