SU's Burke, Baker Graduate from Leadership Maryland Program
Friday December 21, 2018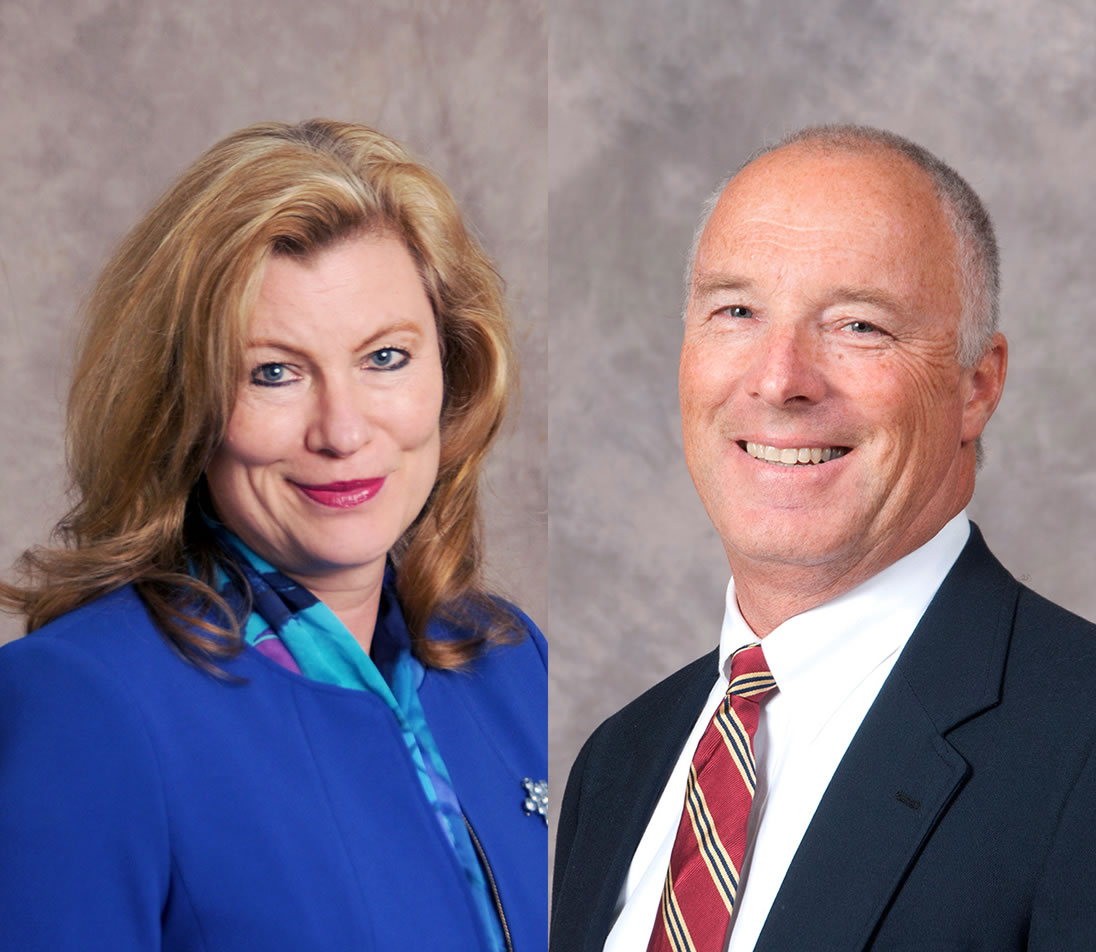 SALISBURY, MD---Two representatives from Salisbury University recently graduated from the Leadership Maryland Class of 2018.
William Burke, SU executive director for economic development, director of the University's Ratcliffe Shore Hatchery program, director of entrepreneurial activities, and professor of the practice in SU's Information and Decision Sciences Department; and Mary Angela Baker, founding director of SU's Center for Extended and Lifelong Learning (CELL), were among 50 applicants chosen by committee to complete Leadership Maryland's eight-month hands-on learning program focused on the state's most vital social, economic and environmental issues.
"As this year's Leadership Maryland cohort completes its program, their journey as a graduate of our state's finest organization of professionals begins," said Dr. Memo Diriker, Leadership Maryland board chair and director of SU's Business, Economic and Community Outreach Network (BEACON). "Over the past eight months they have learned about our state, the critical issues it faces, and above all, themselves. On behalf of the board, I congratulate each of them for completing this defining milestone and I look forward to seeing them apply these lessons to accomplish great things for our state."
At SU, Burke is responsible for entrepreneurship activities including one of the nation's longest continuously running collegiate entrepreneurship competitions, founded in 1987, and the Ratcliffe Shore Hatchery program, which was established with the Philip E. and Carole R. Ratcliffe foundation's initial $1 million contribution in 2013. It will continue for the next five years, thanks to a recently announced second $1 million gift from foundation. Together, the programs offer some $300,000 in prizes for entrepreneurs annually and have been instrumental in twice attracting auditions to campus for the hit ABC-TV show Shark Tank.
Burke also oversees SU's Innovation, Entrepreneurship and Economic Development Hub, which assists with business plans, startup advice and prototyping resources for student and community entrepreneurs. He will lead the University's new entrepreneurship center in downtown Salisbury, scheduled to open in 2020.
Baker is an experienced leader in professional development, continuing education, outreach and community engagement. Through SU's CELL, she is responsible for creating educational programs for learners of all ages. Her initiatives include the Lighthouse Literary Guild for adult writers of varying skill levels; SU @ the Beach offering classes and lectures in Worcester County; and the Girls Innovation Academy, a summer technology and leadership program for middle school students.
In addition, Baker serves on the AARP Maryland Advisory Council and is active in the Salisbury Area Chamber of Commerce and United Way of the Lower Eastern Shore. She also serves on the board of the international nonprofit Consortium for Women in Public Service.
Founded in 1992, Leadership Maryland is an independent, educational, non-profit organization designed to inform top-level executives, from the public and private sectors, about the critical issues, challenges and opportunities facing Maryland and its regions. It is one of 34 state leadership programs nationwide and has graduated over 1,100 statewide leaders.
Additional alumni at SU include Drs. Karen Olmstead, provost and senior vice president of student affairs; Dane Foust, vice president of student affairs; Clifton Griffin, dean of graduate studies and research; Robert Joyner, associate dean of the Richard A. Henson School of Science and Technology; and Diriker.
For more information call 410-543-6030 or visit the SU website.
SHARE