Five Earn 2018 SU Alumni Association Faculty Appreciation Awards
Friday December 21, 2018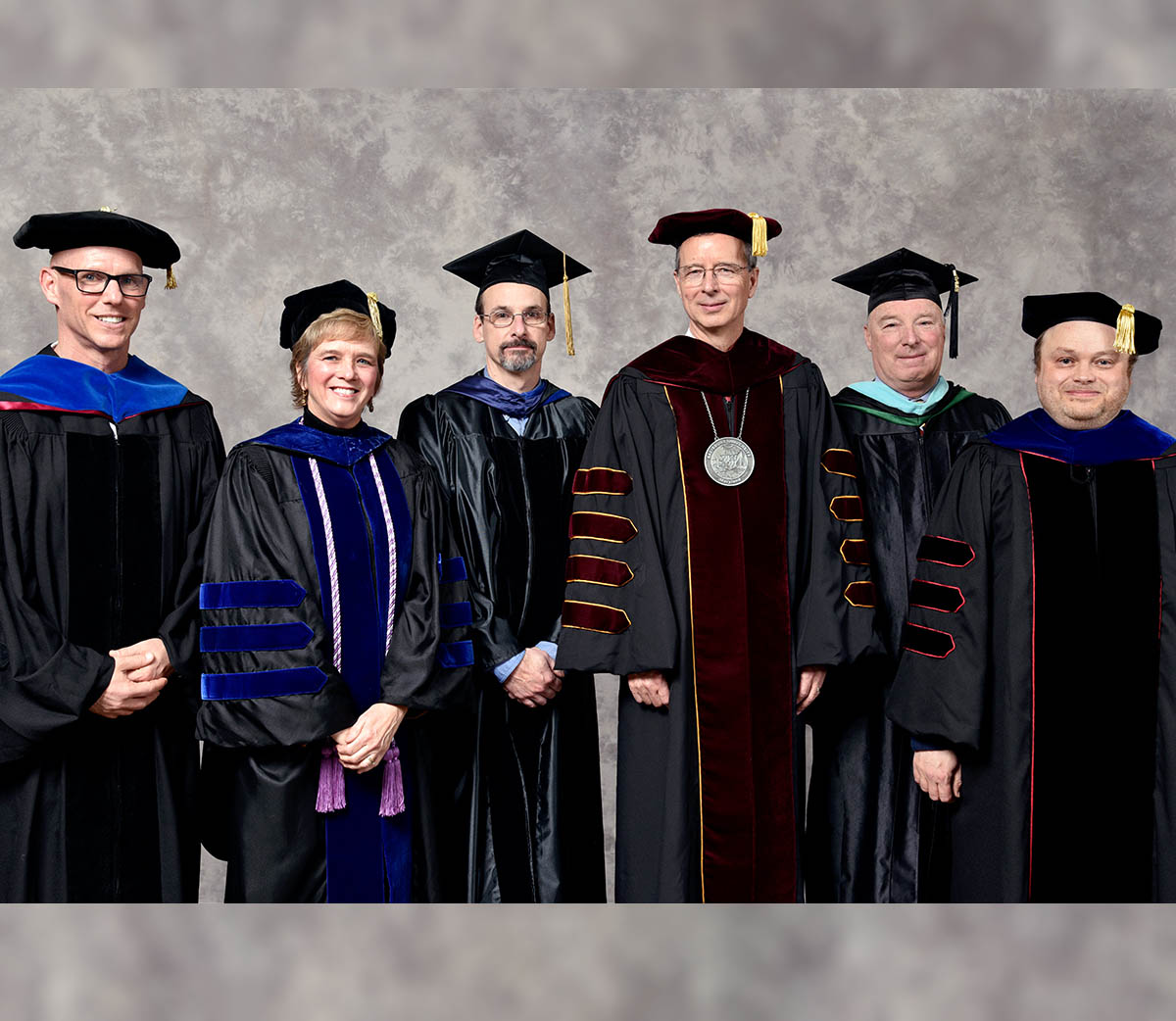 SALISBURY, MD---This year's Salisbury University Alumni Association Faculty Appreciation Award winners are "wonderful," "dynamic" and "amazing," "left a lasting impression" and "bring learning to life," according to their former students.
The association honored five with the accolade during SU's 93rd-year Fall Commencement. They include Drs. Mary DiBartolo, Nursing, of the College of Health and Human Services; Dean Kotlowski, History, of the Charles R. and Martha N. Fulton School of Liberal Arts; Donald Spickler, Mathematics and Computer Science, of the Richard A. Henson School of Science and Technology; and Dean Ravizza, Secondary and Physical Education, of the Samuel W. and Marilyn C. Seidel School of Education; and William Burke, Information and Decision Sciences, of the Franklin P. Perdue School of Business.
"These are professors whose efforts have made a lasting impression on students, who have provided dynamic classroom instruction, who exhibit attributes graduates can take with them into their careers and who have made a difference in the lives of their students," said Julius Jones, Alumni Association president.
In their nominations, alumni frequently gave eloquent and heartfelt praise to the faculty members who helped shape their experiences at SU.
"During my time at SU, Dr. DiBartolo not only taught us how to be efficient and thorough nurses, but she taught us the importance of compassion and empathy," said one former student. "Like Mary DiBartolo, I have a passion for nursing and love taking care of patients. I truly love being a nurse, and I can't imagine doing anything else."
"My relationship with Dr. Kotlowski has evolved from student to colleague and friend," said an SU alum. "I remember how postcards, photographs, buttons, films and songs brought to life readings and lectures; they helped me connect to eras that were otherwise hard to imagine."
"Dr. Spickler gives students the ability to climb up the ladder of success to reach the high bar that he sets," said his nominator. "His style of teaching involves solving problems without the aid of notes. This strategy demonstrates to his students that they are fully capable of understanding the material, and it is a lesson I carried with me through graduate school."
"Dr. Ravizza's Adapted Physical Education course left a lasting impression that changed my life," said a former student. "[He] observed my passion for the field and international travel, and provided me with information on an adapted physical activity program in Leuven, Belgium. The program led me to my current career."
"Bill focuses on the necessities of the curriculum while finding innovative and creative ways to help students learn," said his nominator. "He also assists students with life beyond SU. I run into him at my current place of employment, assisting other students with internships. This is Bill going above and beyond to ensure that his students have everything necessary to succeed."
For more information call 410-543-6030 or visit the SU website.