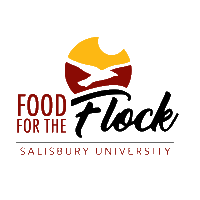 Started in Fall 2018, Food for the Flock aims to decrease food insecurity among college students. Specifically, Food for the Flock provides non-perishable food, cosmetic, cleaning, and limited dairy products to Salisbury University students in need. In this non-judgmental space, SU students may visit and fill-up two bags with any items one per week. In addition to providing items, Food for the Flock strives to make the campus and community aware of food insecurity through informational graphics and social media posts.
Location:
Commons Ground Floor--Next to University Bookstore
Hours
Monday: 9 a.m.-3 p.m.
Tuesday: 3 p.m.-5 p.m.
Wednesday: 9 a.m.-3 p.m.
Thursday: 9 a.m.-12 p.m. and 3 p.m.-5 p.m.
Friday: 9 a.m.-3 P.m.
Saturday: CLOSED
Sunday: 11 a.m. - 2 p.m.
Team Members:
Lydia Lyons,

President

Tabitha Dorr,

Vice President

Audrey McNeal,

Secretary

Luke Hartlaub,

Treasure

Owen Rosten, Dining Services Advisor