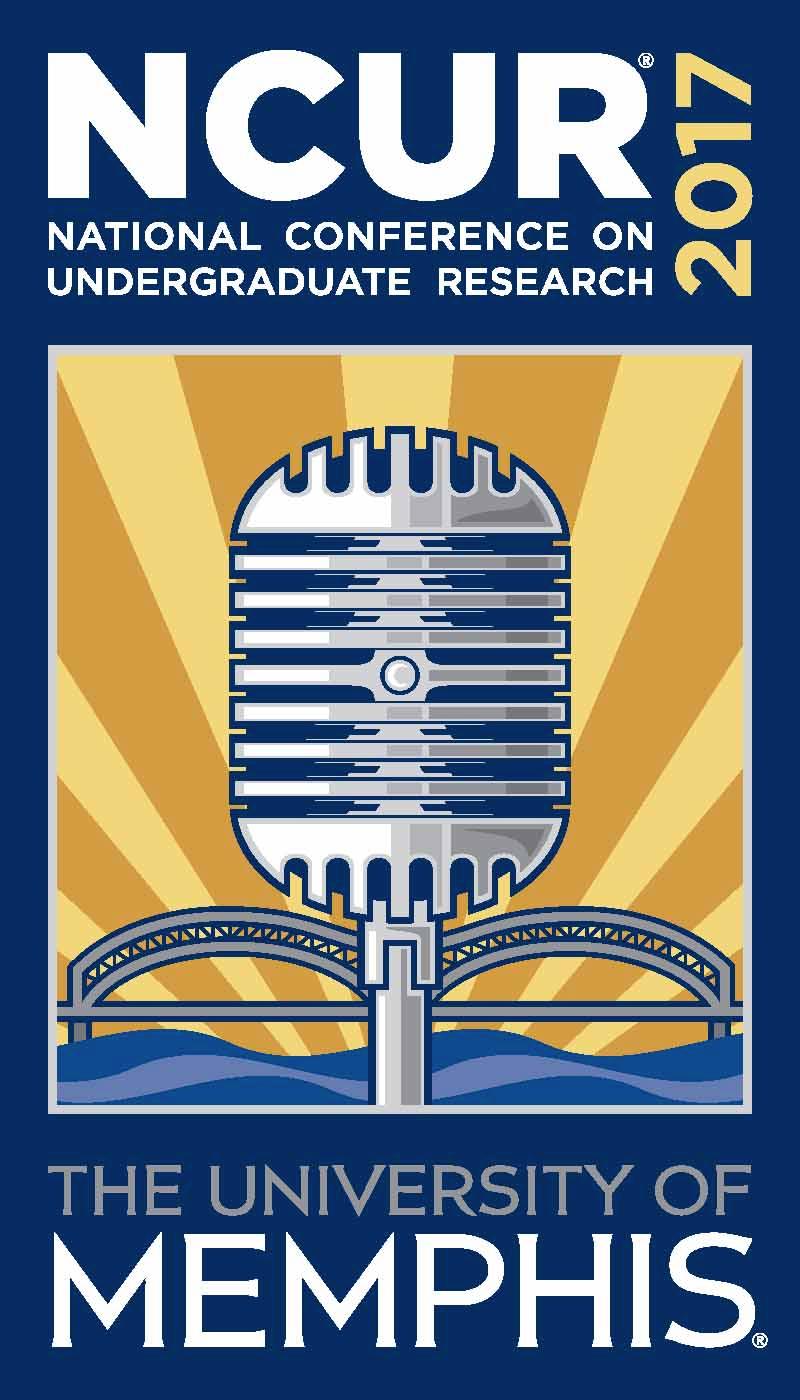 The Office of Undergraduate Research and Creative Activities sponsors a Travel Grant Award Program which enables outstanding SU undergraduate students to present their research, creative or scholarly projects at the National Conference on Undergraduate Research (NCUR).
Each year, Undergraduate students from colleges and universities across the US and representing all academic disciplines, gather to present their research, creative or scholarly projects. NCUR creates a unique environment to celebrate and promote exemplary student achievement which serves to advance and enrich undergraduate education.
The 31st annual NCUR event was hosted by the University of Memphis in Memphis, Tennessee from April 6th through April 8th. Once again, Salisbury University enjoyed great success, as indicated by the impressive delegations who attended this prestigious conference.  Thirty three SU students from all four academic schools presented their work:
Darby Joyce presented "A New Cohesion: Nigerian Regional Power on the African Continent"

 


 
Matthew Jones presented "Learning to Use Appropriate Tools Strategically for Bivariate Data Analysis"  Co-author Mary Knaub.


Julia Howell presented "Acute effects of hyperglycemia on zebrafish peripheral nerves in a genetic-chemical ablation model"  


Julia Pendola and Caitlin Cody presented "A Path Toward Multiplicative Reasoning with Understanding"  


Rachel Stadler presented "A Synthesis of a Tetra-aza Ligand for the Separation of Lanthanides and Actinides"  


Alyssa Massey presented "Exploring Utopia: imagining the possible"  


Shannon Barry presented "From 'thieves literature' and Dickens' Oliver Twist to Working Class 'Penny Readings'"  


Terin Weinburg presented "The Absorbed World"  


Patricia Miller and Tejal Bhatt presented "Implementing Nursing Evidence into Practice: Hope and Advance Care Planning in a Rural Care Facility"  


Kendall Krach presented "Juvenile Delinquency: Is There an Avoidable Pattern?"  


Lauren DeLong presented "Isolation, Identification, and Characterization of Local Wild Yeasts for Use In Fermentation"  


Taylor Morris-Bates presented "Increasing Donations from a Younger Generation: A Marketing Campaign for MADD"  


Ruth Heying and Callista Brown presented "High-Throughput, Fluorescent Analysis of Reactive Oxygen Species in C. elegans after Knockdown of mrck-1"


Jada Taylor and Amy Wigglesworth presented "Central: An Under 21 Night Club"  


Miranda Haney presented "Providing a Voice to the Voiceless through Text in Ciro Guerra's 'Embrace of the Serpent'"  


Elizabeth Withers presented an "Analysis of Trichloroethylene in Water"  


Laura Baasland presented "The Problematic Structure of the Nonprofit System"  


Alison Haley presented "Salisbury University Event App". Co-author Josey Johnson.


Martina Maya-Callen presented "Art, Pollution & Social Practice"  


Brendan Gallagher presented "Mortality Salience and Perceptions of Intimacy with Deceased Friends and Classmates


Samantha Allen presented "A Knockout Mutation in the Yeast DUF1 Gene Increases Oxidative Stress Survival"  


Amber Lahay presented "Campus to Country, is the Consensus on Climate Change Really What You Think It Is?"  


Kathleen Nizich, Hannah Davis and Victoria Messinger presented "Salisbury Farm-to-Table Initiative" Co-authors, Marybeth Bidwick and Christopher Thorn.


Emily Hawthorne presented "An exploration of students' base-ten concepts". Co-author Brittany Ilzuck.


Shannon Maio presented "Personality and charitable giving"  


Adam Jump presented "A sharp upper bound on the K-color connection number of a graph"  


Kayla Davis presented "Developing 5th Graders' Understanding of Fraction Multiplication". Co-author David Bright.